4 years with a "giant" belly
In a narrow room, hidden behind an alley in District 11, Nguyen Thi My, Nhan's mother, said that since birth, her internal organs had gathered in one place, causing her abdomen to swell. I don't have a belly button either.
At birth, the skin on Nhan's abdomen was very thin, with blue veins and the inside could be seen. After a period of treatment, the belly skin is thicker but still very sensitive, just sleeping has peeled off my skin.
The boy could not go to the toilet like a normal person, but had to pump a tube to support him. Each time, nearly three tubes must be pumped. When sleeping, Nhan usually lies on his stomach. My sister feels sorry for her children: "The baby can't lie on his back for a long time because it's hard to breathe, sometimes he can't breathe anymore."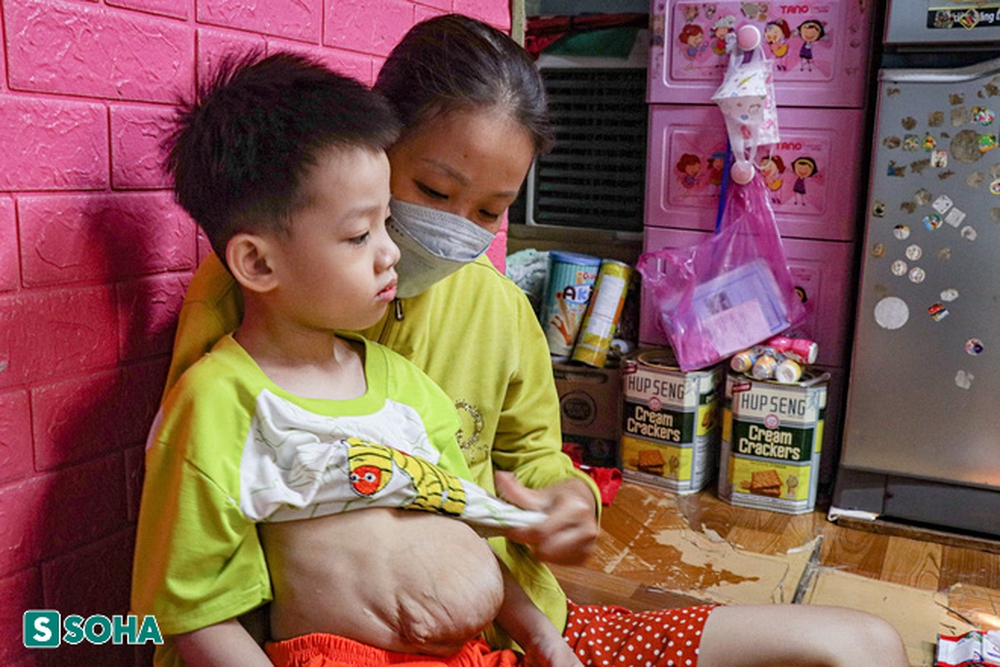 My sister always had to stay at home to take care of Nhan.
Nhan's body is also weak, often feverish, sluggish and indigestion. Even though she is almost 5 years old, she still has to wear diapers to avoid infection of her abdomen. Sometimes, My sister doesn't know how to answer her children about her belly. "Mom, why is my heart in my belly", "Mom, why do I have to go to the toilet all the time?"… When I knew I was sick, from time to time, I pointed at my stomach and said: "This is the belly of milk, mother".
Mother has not left me for a day
"When I was pregnant, the doctor could predict the baby's condition during the ultrasound, so I asked if I was planning to abort the pregnancy, I said no, I want to keep the baby. I also asked the doctor if it was possible to give birth if I was born. treat Nhan, I'm afraid my child will have to suffer like that for the rest of his life…"My sister remembers the time she was pregnant with Nhan.
As a mother, taking care of a sick child, taking care of a child with surgery is very hard, but she smiled and said that she did not feel tired. She says: "I'm sure as long as the baby is healthy, I'll be happy."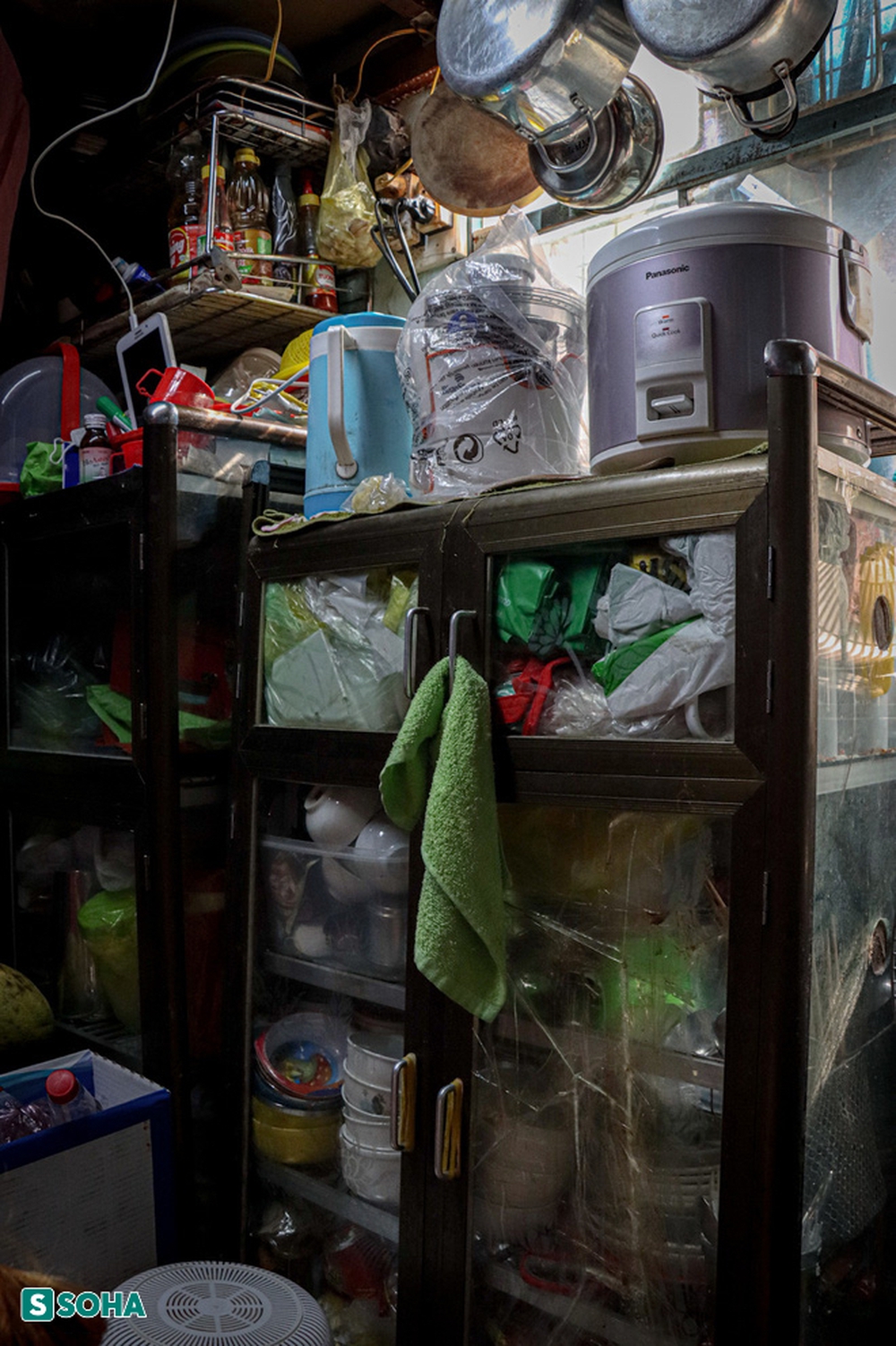 The small cramped house of Nhan's family in District 11
Mrs. My said, Nhan's father took on a job as a parking attendant for a restaurant in District 4. After losing his job, he worked for an iron frame factory. Grandfather is the main source of income for the family, but now he is on sick leave. All the burden fell on Nhan's shoulders, but now he has Covid-19 and has to be isolated at the factory. Difficult husband difficult.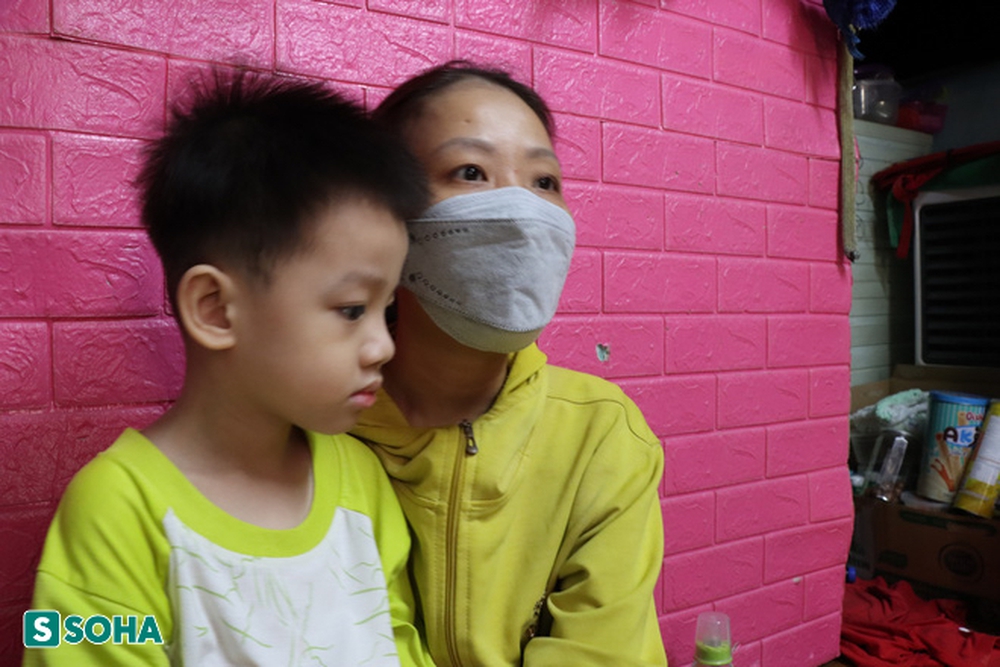 My sister talked about her dream in life
Kindergartens and daycares do not accept Nhan, so all day he hangs around in the playroom with his mother, and sometimes goes down to the yard to look at his friends. Maybe that's why Nhan is quite afraid of strangers, shy to speak. During the whole conversation, Nhan just sat in his mother's lap, rarely answering.
Currently, Nhan has undergone two surgeries, bringing his heart back to the right place. The first time I had surgery, I got an infection, so I had to have another surgery. Each time, I was hospitalized for nearly three months. Unlike the first time, I only needed water and medicine, the second time I received more blood because of anemia. In the near future, Nhan will re-examine and prepare for surgery again. My sister shared, when the surgery is done, put the parts in the right position, the doctor will make her a fake belly button.
"She wants to be like a firefighter in the future, and I just want her to be healthy like a normal person," My sister said softly about her biggest dream in life.
https://soha.vn/noi-dau-don-cua-cau-be-5-tuoi-o-tphcm-me-oi-sao-trai-tim-con-lai-nam-o-bung-20220324091059893. htm
You are reading the article
'Mommy! Why is my heart in my belly'

at
Blogtuan.info
– Source:
Soha.vn
– Read the original article
here