Kinh doanh
Prudential organizes traffic safety festival in Quang Ngai
(Dan Tri) – Prudential has just coordinated with the National Traffic Safety Committee, the Ministry of Education and Training and local partners to implement the second year "Safe School" project in Hoa Binh, Quang Ngai. in the academic year 2021-2022.
Within the framework of the project, Prudential Vietnam Life Insurance Company Limited (Prudential) organized a Traffic Safety Day at Bo De Primary School (Duc Nhuan Commune, Mo Duc District, Quang Ngai Province) to summarize the success of the project. implemented results of the project and engaged students and teachers in a thematic event on Traffic Safety.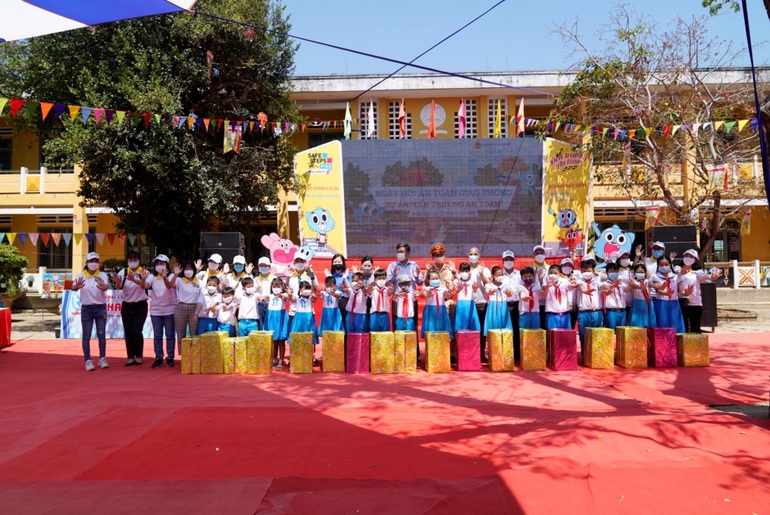 Traffic Safety Day has attracted the participation and positive response from 640 students at Bo De Primary School with many useful and exciting outdoor activities. Students participated in collective activities such as 3-step flashmob, wearing safety helmets, handling simulated traffic situations on stage. Many traffic safety-themed game zones are designed throughout the school campus for students to try out in teams. This is an effective and appropriate way to convey traffic safety knowledge to primary school students, helping them to actively absorb it.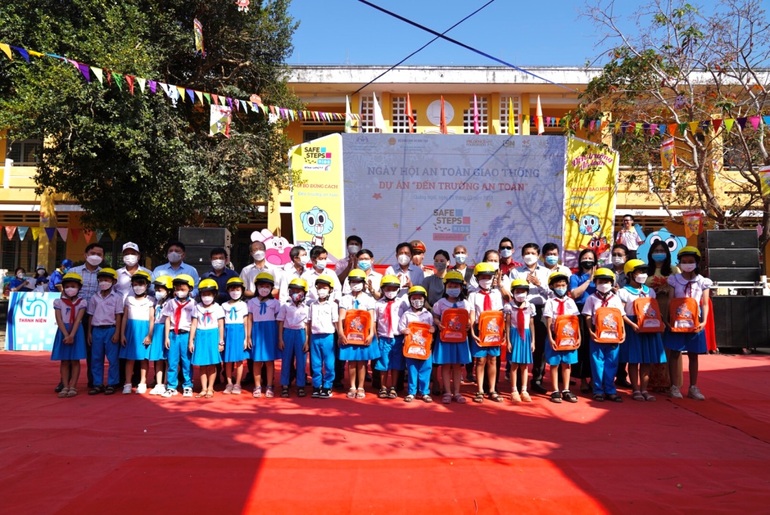 In the second year of implementation, the "Safe to School" project reached 2,800 primary school students, 160 teachers, and thousands of parents at four primary schools in Hoa Binh and Quang Ngai. The project aims to protect children from the risks of road traffic accidents through activities of providing knowledge, training in safety skills as well as improving the traffic infrastructure around the school. At the same time, millions of local people will benefit indirectly through extensive communication activities to improve the community's understanding of traffic safety in general and ensure the safety of children when going to school in particular.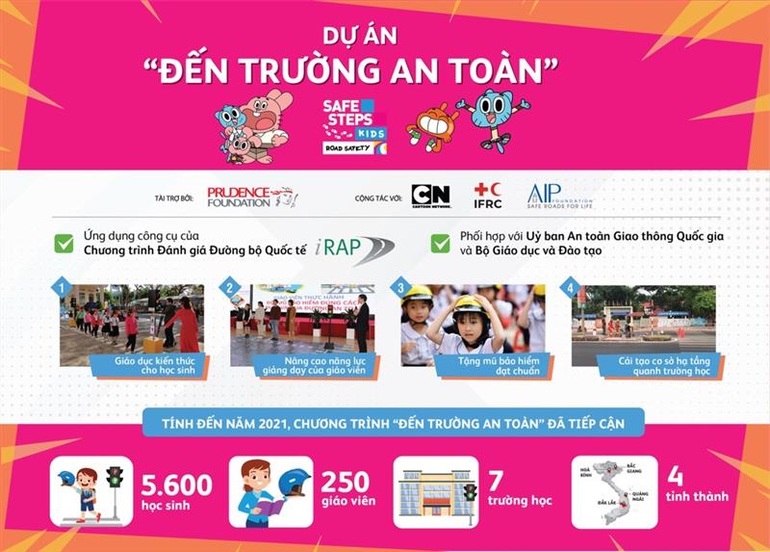 The "Safe School" project was first implemented in Vietnam in the 2020-2021 school year. The survey after one year of implementation showed that the percentage of students wearing helmets of the project schools on average increased from 26% to 88%, the level of knowledge about road traffic safety increased from 9.8% to 59, 6%.
Following those positive results, this school year, the project will continue to educate students on road safety knowledge and skills, equip students with high-quality helmets, and improve teaching capacity on traffic safety. roads for teachers and improve transport infrastructure in the area around the school.
Based on the Safety Criteria of the International Road Safety Assessment Program (iRAP), the "Safe to School" project has conducted a detailed survey in many localities to identify dangerous school sites. highest risk for traffic safety. Thereby, the intervention options are designed very specifically, close to reality to improve the traffic safety index at the school sites that the project approaches.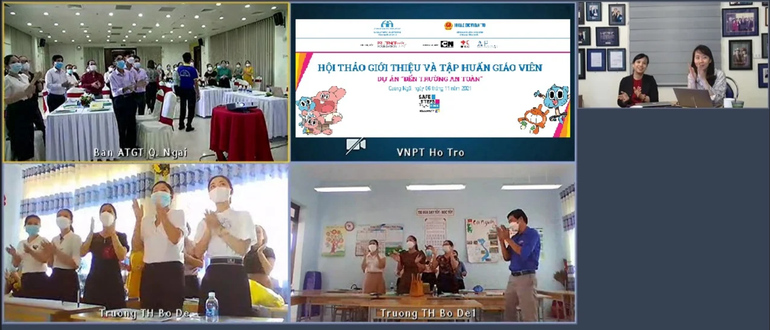 Due to the impact of the Covid-19 epidemic, this year's project also has many changes to reach the beneficiaries more effectively. The project has designed thematic training sessions for teachers in both face-to-face and online formats, helping teachers improve their ability to design lessons as well as coordinate lessons on traffic safety. The campaign "30 days of safe walking" was also held at project schools in March 2022 to support students and teachers to practice traffic safety knowledge when returning to school after a long time. long time studying online.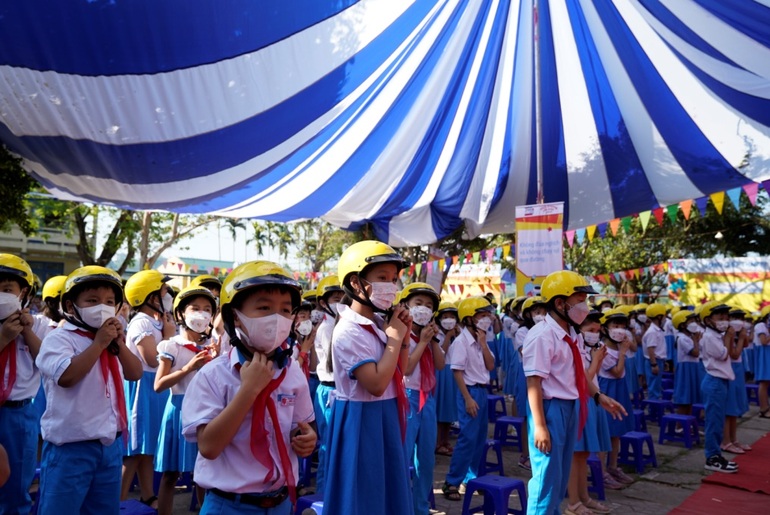 Mr. Phuong Tien Minh, General Director of Prudential Vietnam, shared: "Bringing better and safer living conditions to people, especially children and people with difficult circumstances, is always Prudential's efforts. implemented through sustainable community development projects. Following the encouraging results after one year of implementation, we hope that the project will continue to help children and the community gain more skills, knowledge as well as skills. enhance responsibility when participating in traffic so that the road to school for Vietnamese children is really safe".
SAFE STEPS Kids is developed by the Prudence Foundation in partnership with Cartoon Network and the International Federation of Red Cross and Red Crescent Societies (IFRC). The program aims to equip millions of Asian children with critical skills to respond to emergencies or disaster situations, contributing to a more sustainable future for the younger generation. The SAFE STEPS Kids program consists of 12 public service announcements, each 50 seconds long, with characters from popular animated series acting as storytellers to enhance awareness and educational information, with key messages approved by the IFRC. These short films have been shown on Cartoon Network throughout Asia with more than 34 million daily subscribers.
For more information, visit safestepskids.com and prudencefoundation.com
Prudential Vietnam Life Insurance Company Limited (Prudential) is a member of Prudential plc, a global financial group with operations focused in strong growth markets in Asia. Prudential has been operating in Vietnam for over 20 years and focuses on expanding the life insurance market and changing people's perception of insurance. As of December 31, 2021, Prudential Vietnam has developed a team of more than 220,000 professional consultants, with more than 350 general agent offices, and a network of 8 reputable partner banks that are always ready to serve more 1.6 million customers nationwide. Prudential is also a pioneer in applying modern technology to simplify processes, improve customer experience and support the community on their journey to mastering their own health and life.
With the slogan "Listen, Understand, Act.", Prudential affirms its commitment to always put customers at the center of all activities, bringing innovative and comprehensive solutions to meet increasing demands. health and well-being, while creating an easy connection to the next generation of tech-savvy customers.
You are reading the article
Prudential organizes traffic safety festival in Quang Ngai

at
Blogtuan.info
– Source:
dantri.com.vn
– Read the original article
here