Đời sống
The father in Bac Ninh spends 200 million dong "turning" an old car into a unique tank
Spending 200 million VND to buy a 16-seat old car and other materials, Mr. Truong Van Dao took advantage of his time and worked continuously for 2 months to build a "unique" wooden tank.
3 years ago, while taking his son to the park, seeing that he was very interested in small electric cars with strange appearance, Mr. Truong Van Dao (31 years old, living in Tu Son, Bac Ninh) came up with an idea. The idea of ​​​​making a wooden car for children to play.
"At that time, I was a carpenter and was active on the social networking platform YouTube. Knowing that my son was interested in four-wheeled vehicles, I began to plan to make an electric car out of wood that had the same shape as Real cars for children to play comfortably. At the same time, I can also record the process of making cars and use them as content to post on the channel for everyone to follow," said Mr. Dao.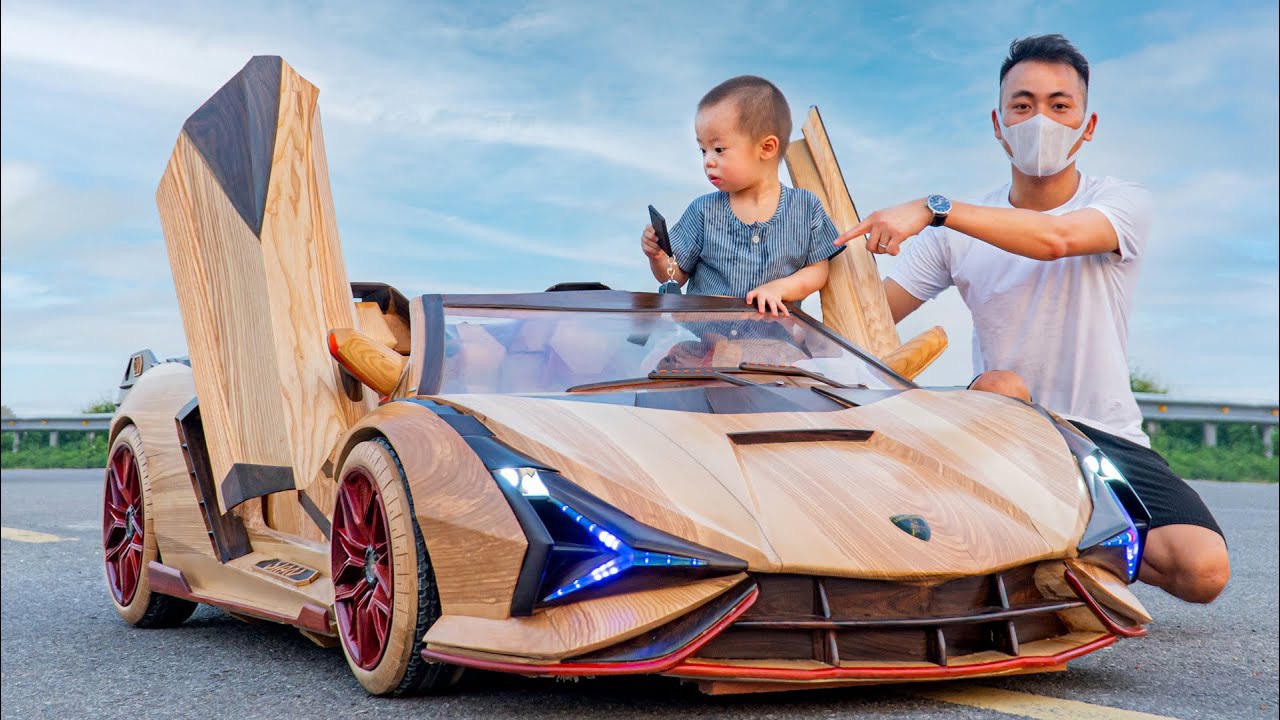 Mr. Truong Van Dao has been passionate about building wooden cars since 2019 (Photo: ND – Woodworking Art).
At first, the young father had many difficulties in making cars from wood, especially the mechanical part. He had to find parts at scrap shops and assemble them. Later, with more experience and conditions, he bought ready-made components specialized in making electric vehicles so that the car could operate strongly, flexibly, and ensure safety.
However, the Bac Ninh man could not figure out how to drive the car, so it failed right from the first product. This car is only capable of going straight and does not operate the engine.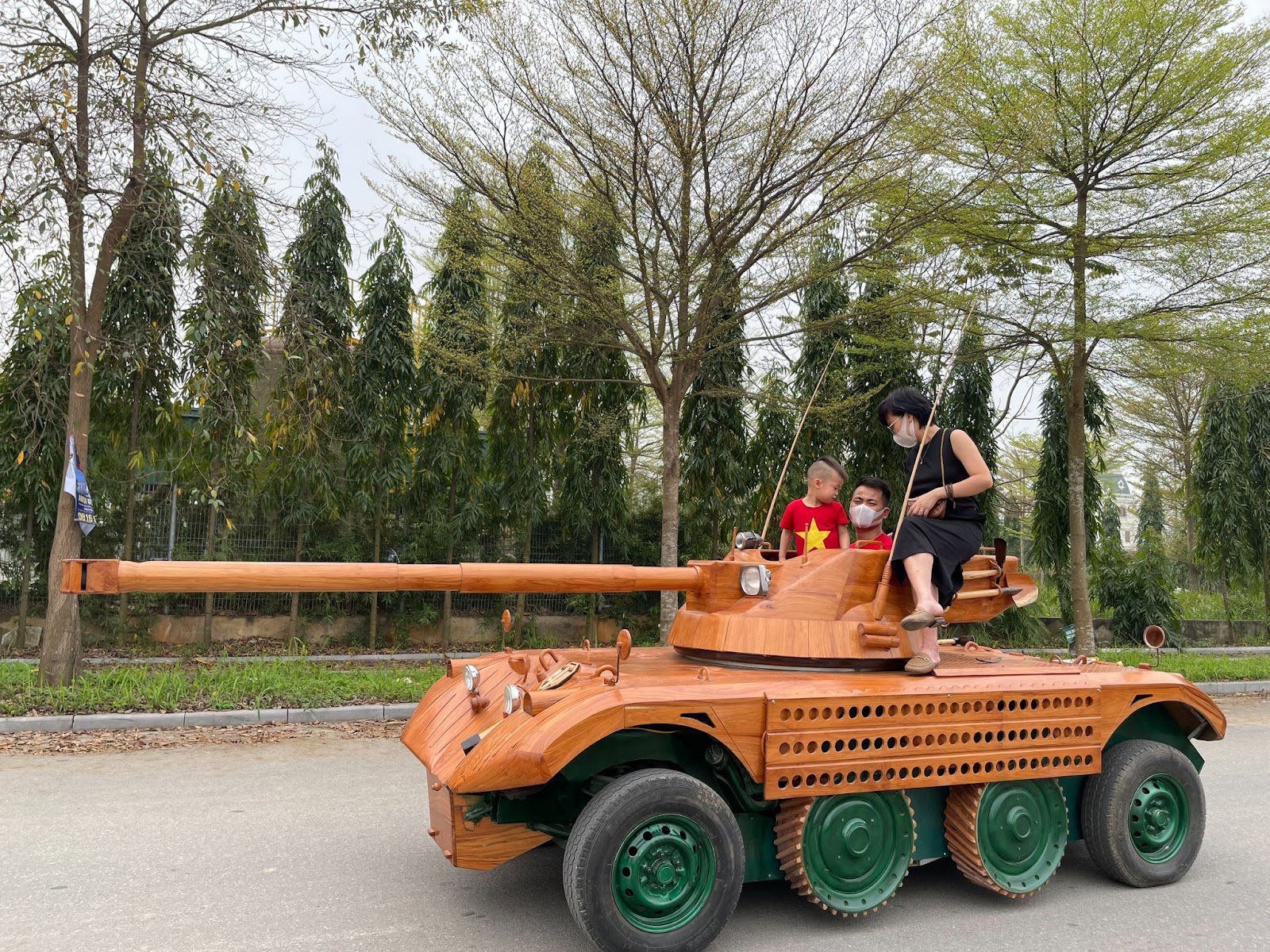 The "unique" wooden tank was recently completed by Mr. Dao and a few friends (Photo: ND – Woodworking Art).
After that, Mr. Dao had to ask for the support of some acquaintances, research and find out more documents from the internet, and then build his own steering system and engine so that the next car could roll smoothly. minus.
From the initial failure, Mr. Dao boldly conquered a series of other improved cars. To successfully build this wooden tank, he had to spend about 3 months researching, manufacturing, and searching for related equipment and materials.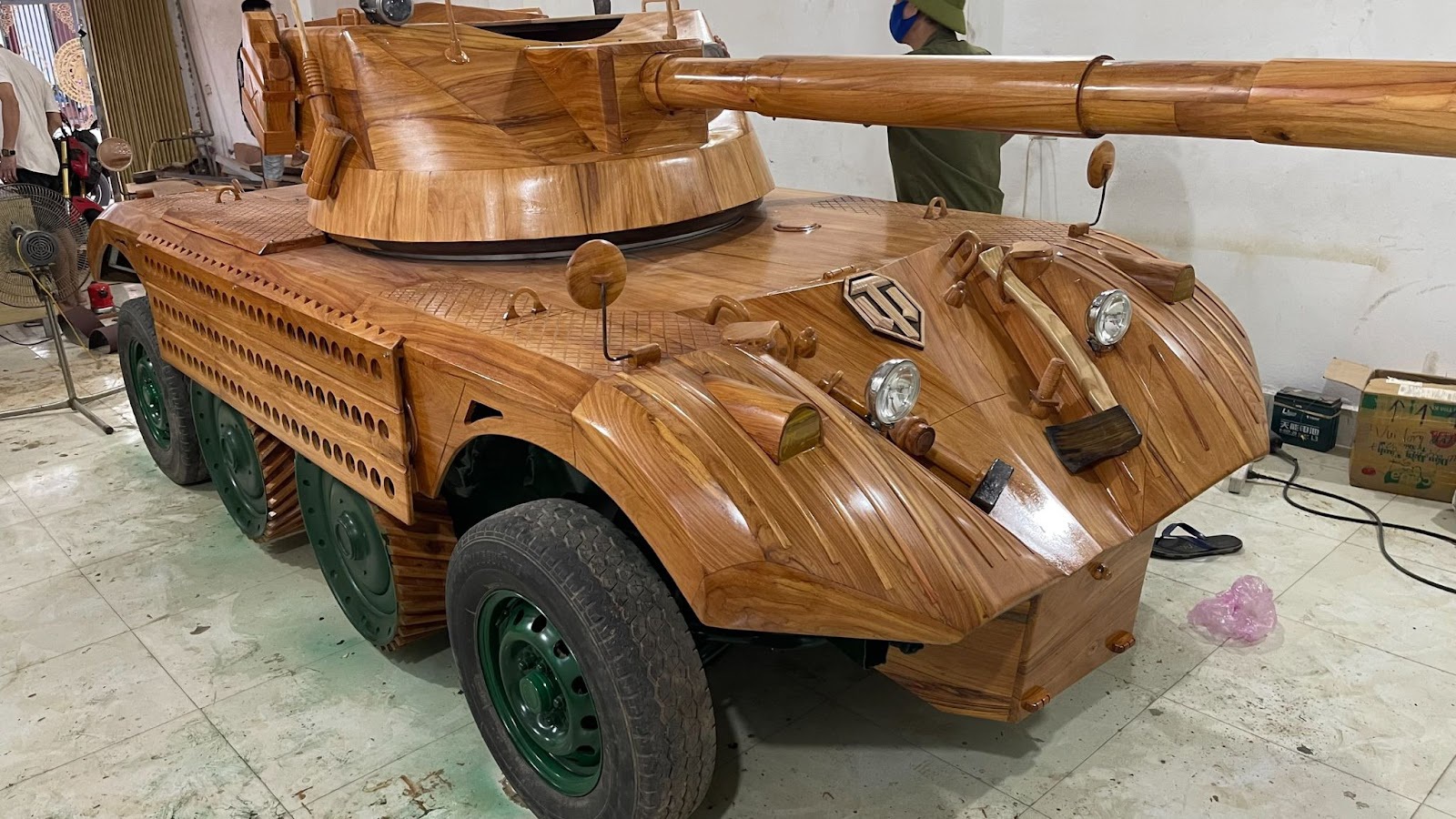 As a carpenter, Mr. Dao did not have difficulty in handling and designing the wooden bodywork. The young father also manually chiseled, meticulously every detail on the car (Photo: ND – Woodworking Art).
The tank is made up of a 16-seat old car bought by Mr. Dao for 20 million VND. Then he cut off the entire upper part, keeping only the chassis, chassis, engine and wheels. To be able to drive, he had to move the engine at the front of the car, both the transmission and the brake to the middle position.
The body is designed as a cannon cap from a large ball bearing. The young father had to weld the steel frame so that the cannon lid could be rotated and then put wood around the frame, ensuring the aesthetics of the car.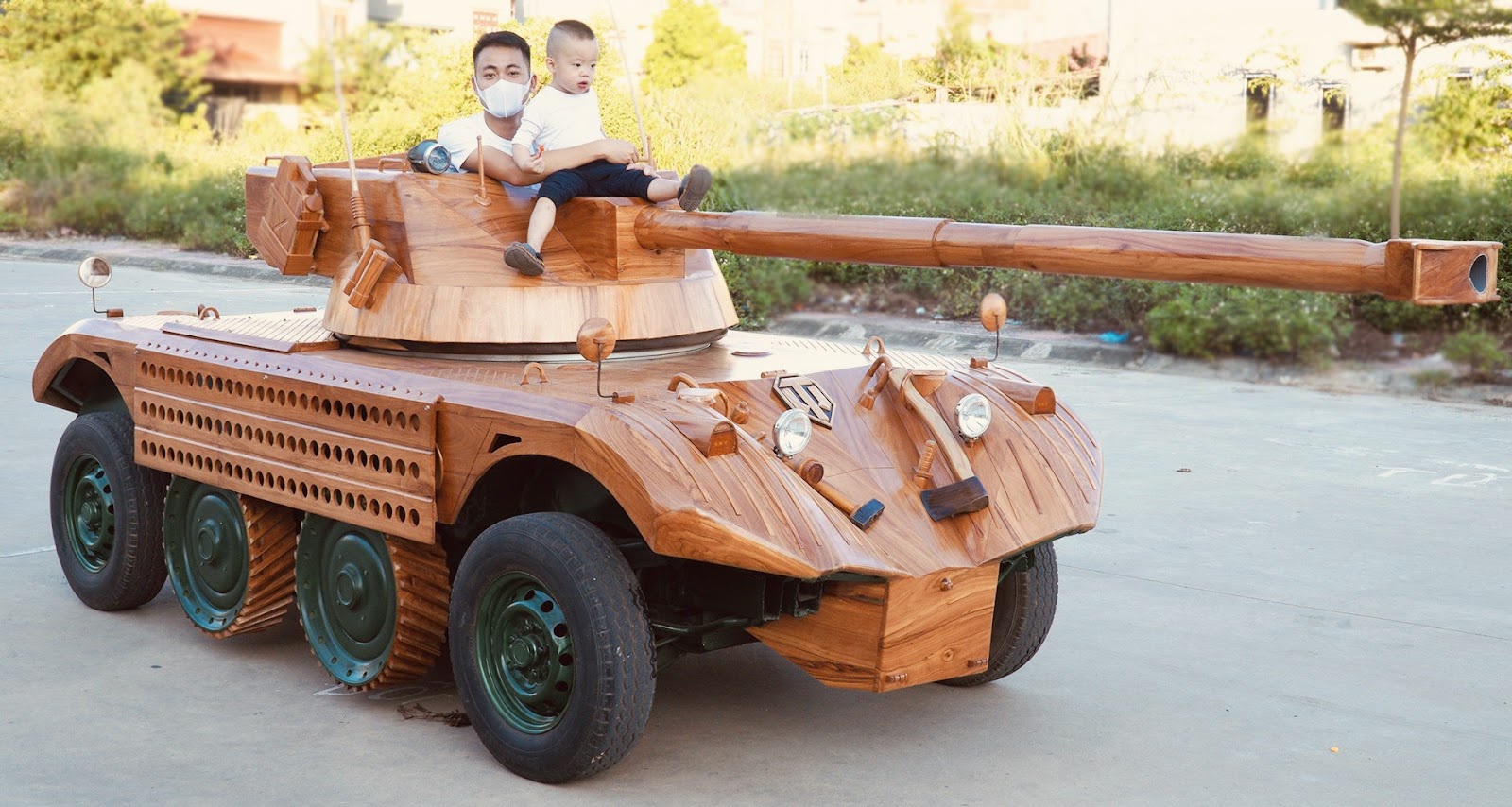 After finishing, the wooden tank can function like normal cars (Photo: ND – Woodworking Art).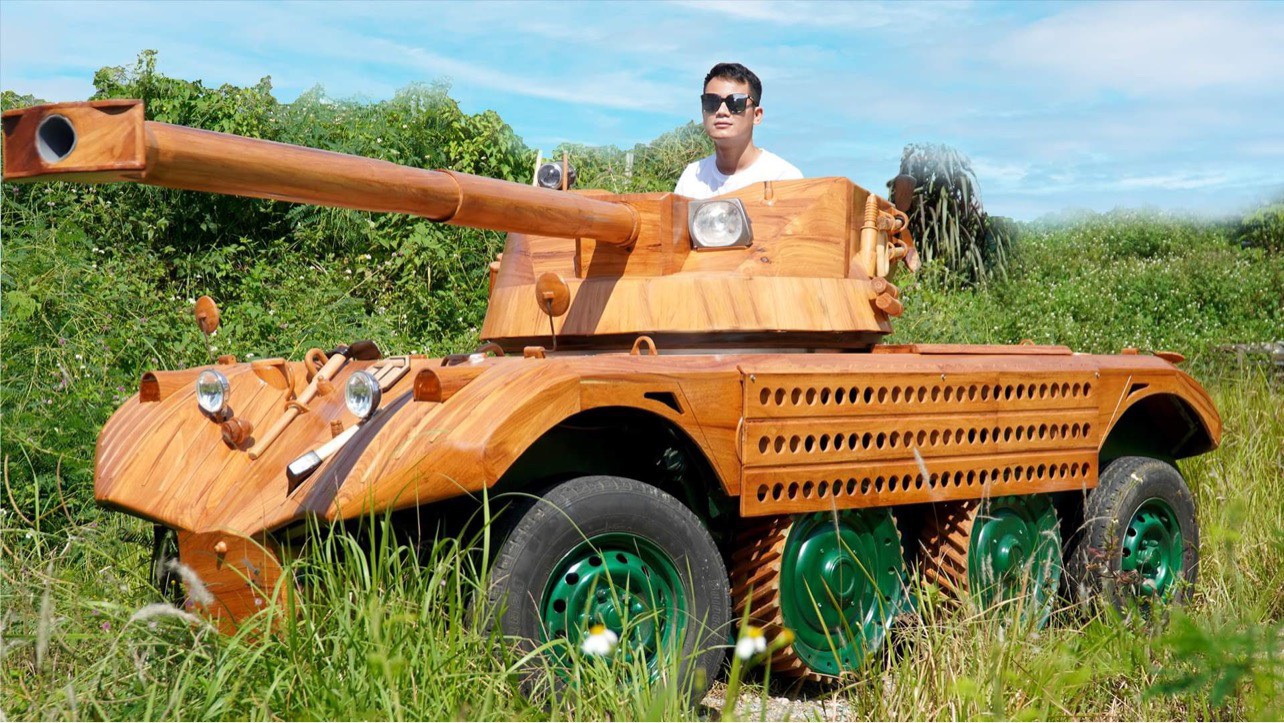 The car runs with a 5-speed gasoline engine and has full safety features such as brakes, horns, left turn warning, right turn warning,… (Photo: ND – Woodworking Art).
"The hardest part is handling the chassis and having to change the design, position of the steering wheel, gear lever, brake, to the middle. Some parts that can't be moved have to be cut, but this step can be done. Therefore, I have to study it carefully and ask an expert for further advice," said Mr. Dao.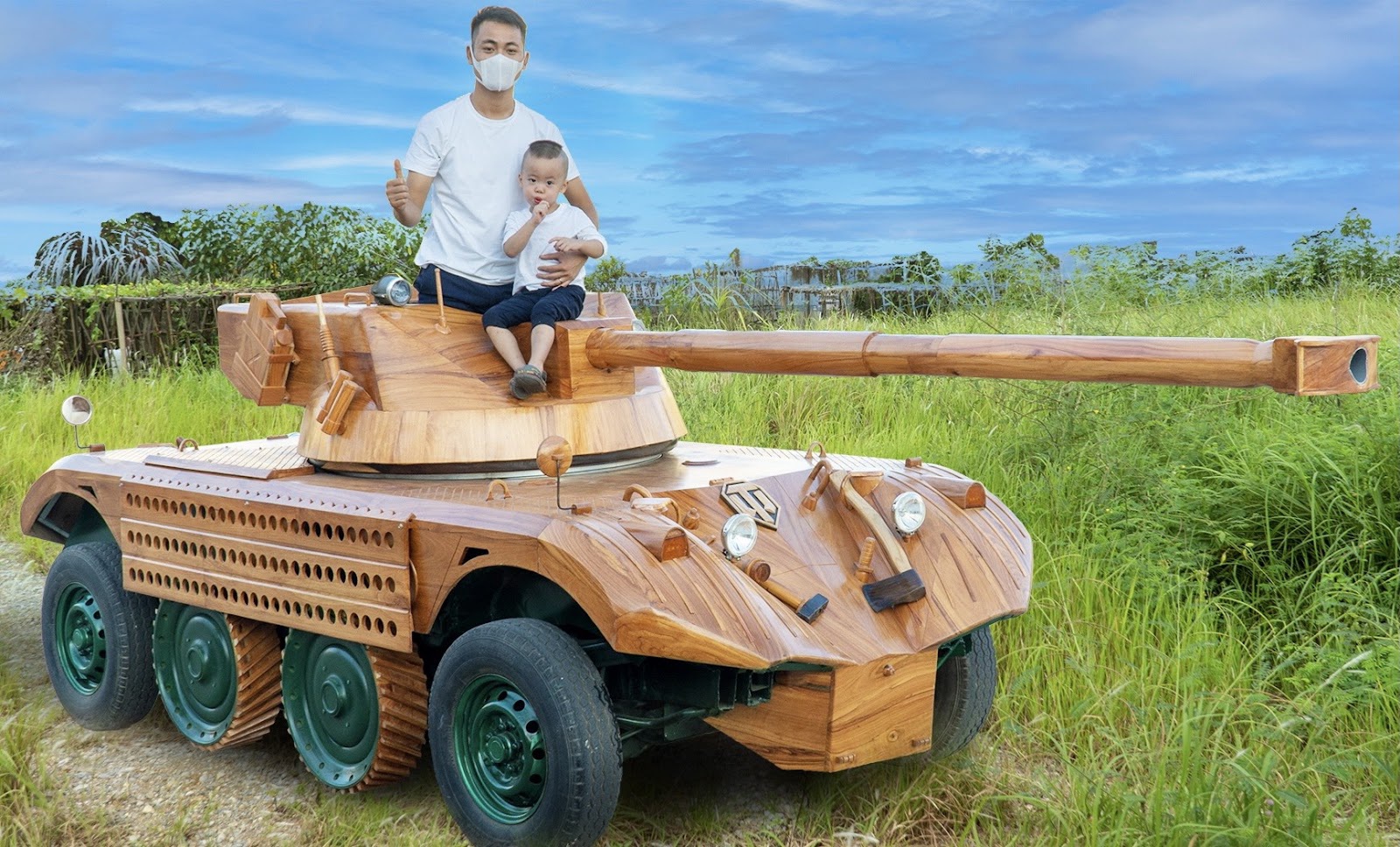 Mr. Dao said that the cost to produce a car is about 150-250 million VND. This is a huge amount for a wooden car (Photo: ND – Woodworking Art).
After nearly 3 months of continuous work, Mr. Dao finally completed the "dream" tank with a budget of about 200 million VND. According to him, this amount is completely worth the value that the product brings.
"To build this car, I have to trade a few things. The first is money because the cost of making a car is quite large, can be up to 200 million VND. Second is time, I have to take advantage of the time. Children sleep or not at home Thirdly, you also have to give up some previous habits and hobbies such as going to coffee, hanging out with friends, etc. ", the 9X father shared.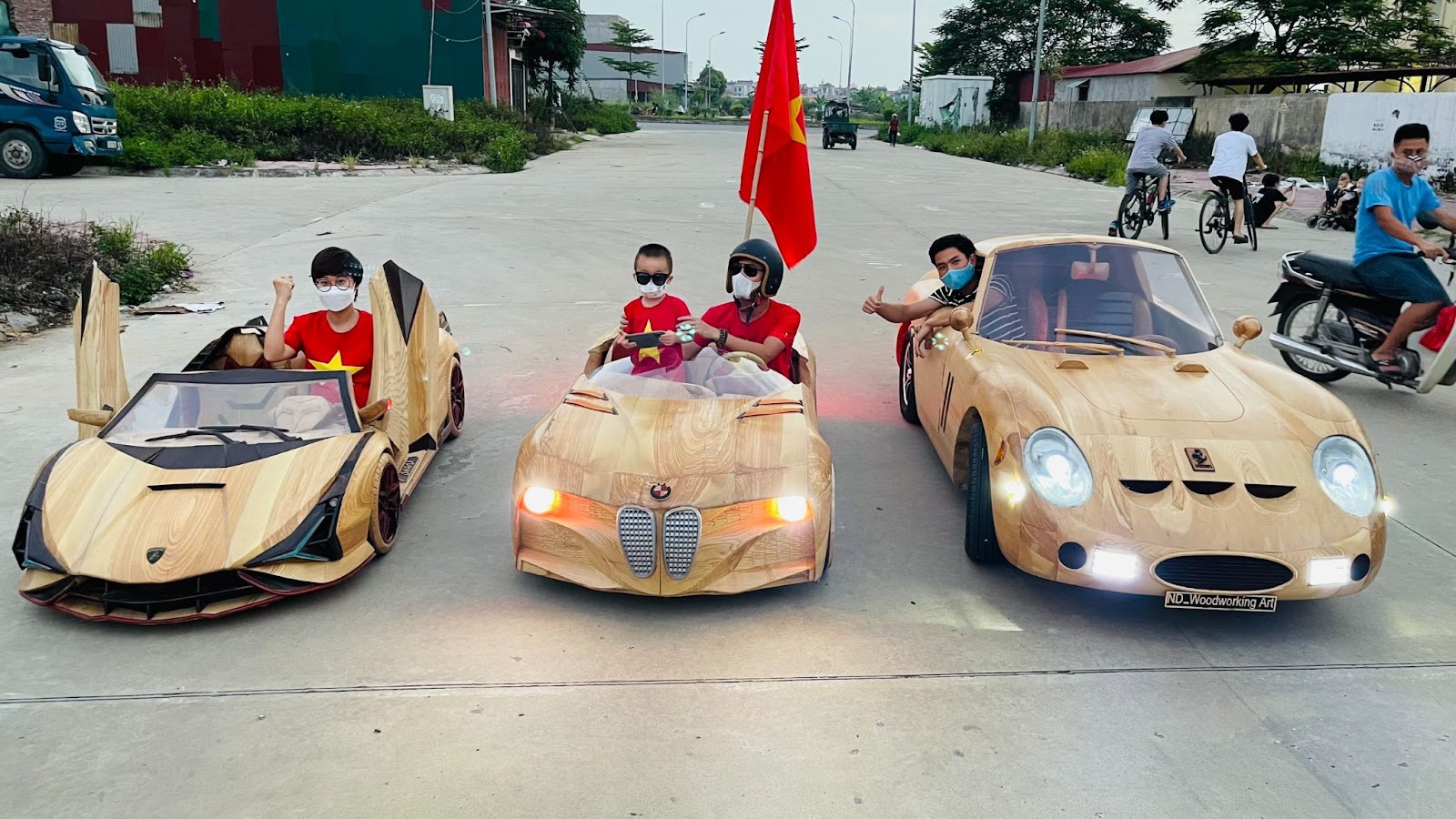 In addition to satisfying his interests and creating fun for his children, the young father also earns revenue from publishing videos with content about the car-making process, enough for himself to maintain his passion (Photo: ND – Woodworking Art).
His son was extremely interested in the tank that his father built. The boy is eager, waiting to be driven around the house by his father in a beautiful "exclusive" tank. In addition to this tank, Mr. Dao also completed a number of other wooden models.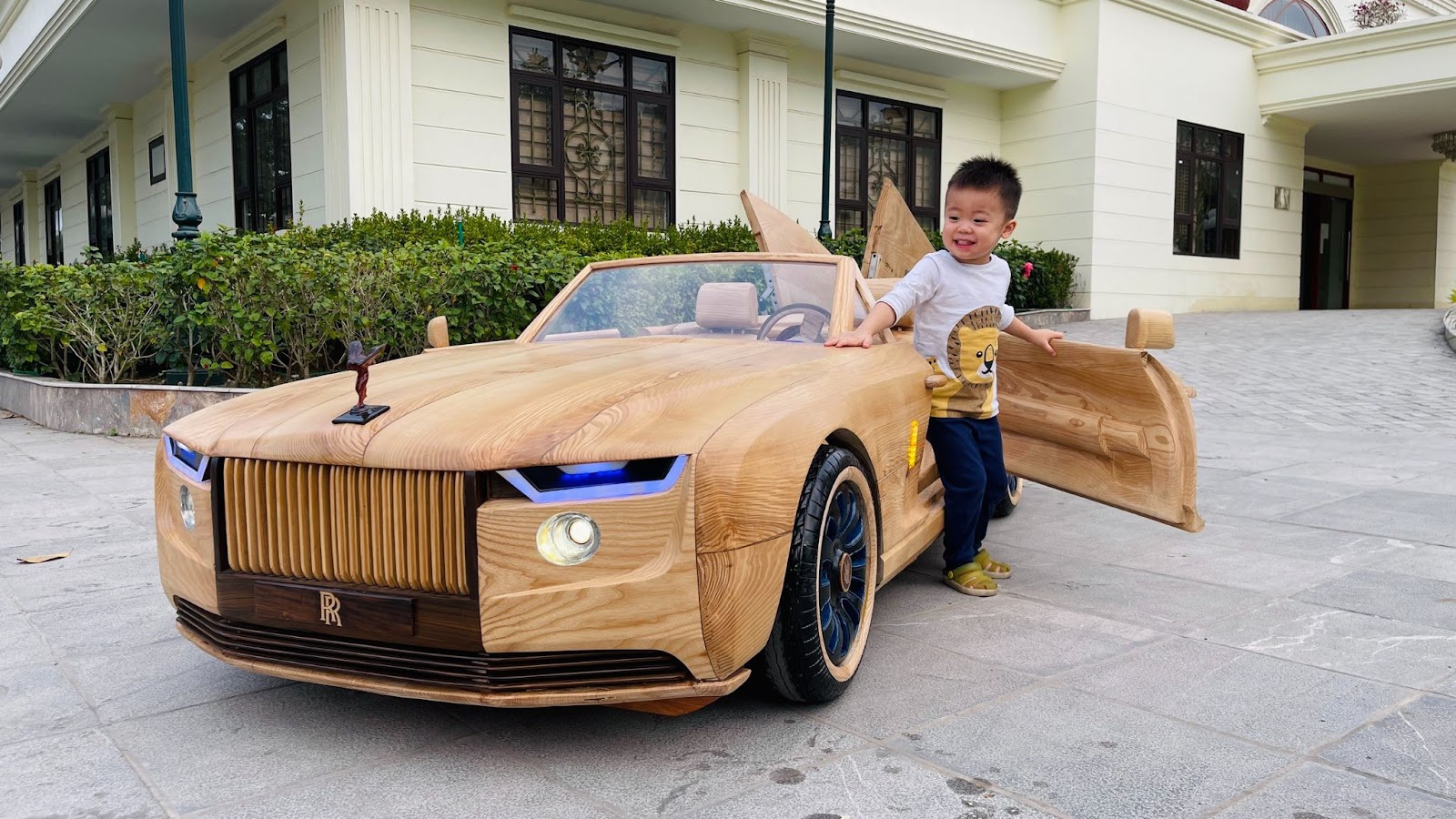 The most favorite Rolls Royce that Mr. Dao and 2 other members took 68 days to complete (Photo: ND – Woodworking Art).
Most recently, the young father launched a Rolls Royce designed based on the actual shape and design of the Rolls Royce Boat Tail product with a weight of about 450 kg, a maximum speed of about 20 km / h.
"The most complicated stage is the hood, I have to design it so that it can both hold the fuel tank and also make a tray for cups, water… and the electric adjustment lid calculates so that when closed, it fits snugly. with the chassis", the owner of the car further revealed.
Currently, the 31-year-old man owns a collection of "unique" wooden cars. He intends, at some point, to auction these "spiritual children" to set up a charity fund and then go around with his wife and children, helping people in difficult circumstances.
According to Dan Tri
You are reading the article
The father in Bac Ninh spends 200 million dong "turning" an old car into a unique tank

at
Blogtuan.info
– Source:
vietnamnet.vn
– Read the original article
here