Business
Calculating the cost of every centimeter of toilet paper, not even washing the pot after cooking
Over the past two years, the pandemic has caused many people to become unemployed, and their incomes have dropped significantly. People are starting to look for ways to reduce spending during these difficult times and that's why the keyword "savings" has become the most searched word on the Internet.
In Japan, Ms. Yoko Ogasawara (71 years old) living in Tokyo is considered "saint of thrift". She has published many books and shared her spending secrets in magazines and TV channels.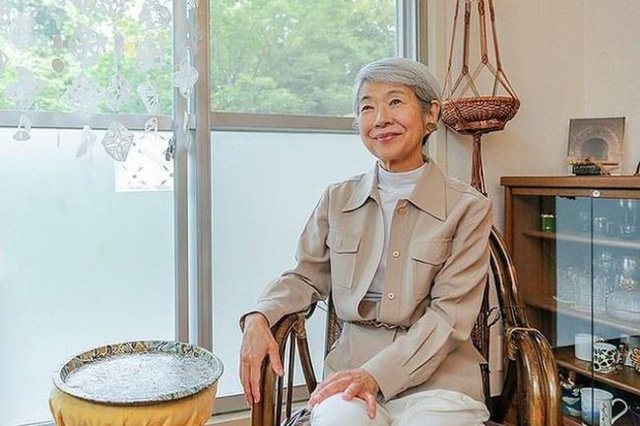 Ms. Yoko Ogasawara confirmed that, for the past 40 years, the average "saving" day is only 1,000 yen. However, we all know how expensive prices are in Japan. A bowl of Donburi rice costs 700 yen (more than 130,000 VND), a normal bowl of Ramen noodles costs 600 yen (about 112,000 VND), a regular movie ticket costs 1,800 yen. Therefore, Ms. Yoko's spending level is considered quite frugal.
Excluding basic expenses such as rent, electricity and water, Ms. Yoko only spends 31,000 yen per month (more than 6.3 million VND). Meanwhile, the average person will need about 73,705 yen per month (more than 15 million VND). Indeed, her cost of living is only half that of the average person in Japan.
So it is not surprising that she is very famous in Japan when it comes to saving money. She has unique money-saving tips and although many people say she is stingy, she feels comfortable with this method.
She shared: "From the age of 30, I started thinking about how to save money for retirement. Through years of studying savings, I have forged a money saving secret based on a dark lifestyle. This helps me win people's hearts, and in addition, I publish it as a book so people can learn from it."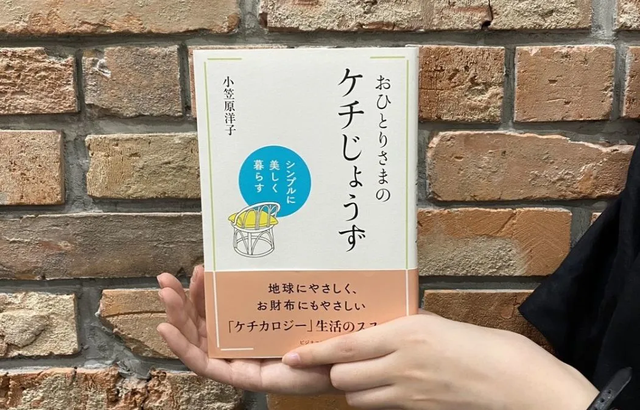 Not only does she share her secrets in magazine interviews, but she even publishes books that teach people how to save money.
Recently, receiving an interview on Fuji TV's good morning program, she shared great spending tips to save unnecessary expenses in life.
1. Only roll toilet paper
In Japan, rolled tissues are usually only used in toilets. However, Ms. Ogasawara used rolled toilet paper in all cases. She explained that a toilet paper roll in Japan is about 25 yen, can be used 300 times with a size of 20cm, while canned tissues are sold for 65 yen, almost three times the price of a toilet paper roll, but only 20 sheets.
Therefore, roll paper is not only cheaper, but also can control the amount used. Each time she used it, she only took one pre-cut piece, equivalent to 20cm of paper. Thus, much more economical than ordinary napkins.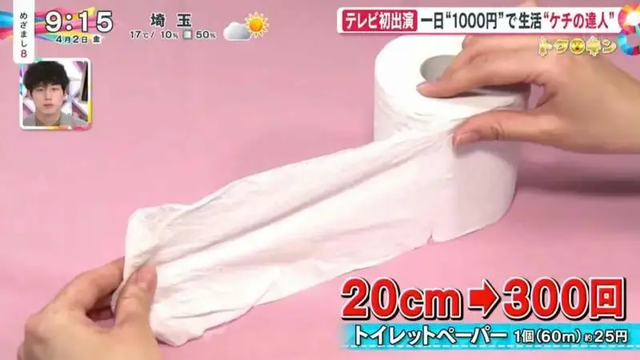 The "saint of savings" holds that money should not be wasted on unnecessary household items. They seem small, little money, but in general, those things "eat" the most money, knowing how to save can collect a large amount of money.
2. Use flyers instead of tablecloths
Instead of using tablecloths that cost money to buy and clean, she will use food flyers instead. This will save money on soap and water to clean tablecloths. Ms. Ogasawara said that eating while watching food ads like that, even just eating rice and tea, you will feel like enjoying the delicious taste.
3. Plan your shopping and "surf" it fast
Yoko Ogasawara suggests that everyone should set a limit for the amount of money they should spend in a day, a week, or once going out, shopping, and the rest should be kept separate to avoid overspending.
When she needs to shop, she will make a list of items to buy, then go to the right counter to pick up that product and then quickly return to checkout, avoiding wandering around and shopping for things that are not expected.
This is a very practical tip because the reason many people don't save money is because they don't plan ahead, don't buy what they need, and bring back what they don't need. Such a waste of money.
In addition, she also has an amount of money that is allowed to be used when shopping to remind herself not to spend indiscriminately. Those who do not use cash but only use bank cards when shopping can still apply this method. You can transfer the amount used to 1 card and use that card to make purchases.
In particular, at the checkout counter, Ms. Yoko also forced herself to choose to return an item in the basket, this habit helps to reduce spending.
4. Don't buy seasoning
Ms. Yoko insists that she has never spent money to buy a single condiment. Instead, she keeps the condiment packets that come with foods like instant noodles, natto or the free sauce packets from the restaurant. Besides, she will also dry orange peels to make other foods.
5. Recycle apps
Things that Mrs. Yoko renovated herself
Ms. Yoko said that she always takes advantage of the discarded things and reuses them to create household items. For example, using old clothes to make chair covers, food containers from restaurants to replace food bags. She also uses them to place prepared vegetables in lieu of plates. Old paper cereal boxes are used to store folded nylon bags. That way she also saves quite a bit.
6. Use invoices to take notes instead of sticky notes
To save money, Ms. Yoko never throws away the receipts after shopping, but always collects them and clips them into small files to make sticky notes, to use to record daily work. So she also saves an unnecessary amount.
7. Brew tea in a cup and eat rice with tea
The Japanese especially like to drink tea, most people use a kettle to make tea and then pour it into a cup to drink. However, Ms. Yoko brews tea directly in the cup to save on the cost of washing the kettle. Not only that, with the amount of tea still in the cup, she used it to eat rice. It's a traditional Japanese Chazuke dish, helping her save money on food.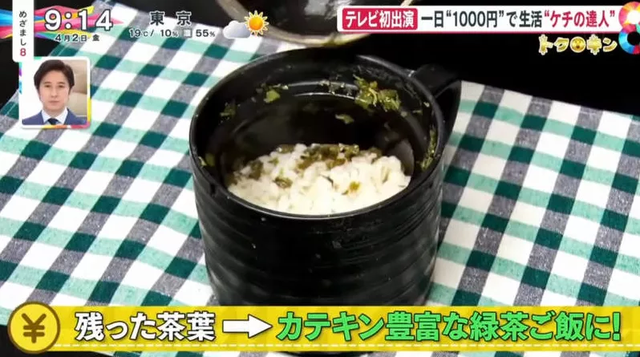 Instead of using a teapot like everyone else, Yoko Ogasawara will pour the tea directly into the cup. Moreover, during the meal, she also only uses one bowl, in order to save money on dishes and water.
8. Do not wash the pot after cooking
For Ms. Yoko herself, the daily pot may not need to be washed, just put in fresh food and cook it directly. Because she thinks this method is similar to eating hot pot with different flavors every day, while saving on washing costs.
For example: the first day eat pork cabbage with kelp; Add the chicken and scallions to the pot the next day to continue cooking; On the third day, continue to add food to cook… Continue to use it like that until you feel the pot really needs to be washed (sometimes the pot lasts up to a week).
The frugal lifestyle that Ms. Yoko has maintained for the past 40 years. She said thrift is the philosophy that helps her to live a relaxed life, free of debt. Her motto is "Young people live thrifty, old age comfortably".
Many people feel that a frugal life like hers is miserable and tortured. But she thinks it's a way of life that both protects the environment and resources, and helps her save money to do the things she likes, like traveling abroad.
She believes that 1,000 yen can also make a difference if we work hard every day. When we maximize the value of a small coin, it makes a big difference.
Sources and photos INF and Toutiao
https://cafef.vn/bi-quyet-lam-giau-cua-thanh-tiet-kiem-nhat-ban-khien-ai-cung-phai-thot-len-king-ngac-tinh-toan-chi- ly-do-tung-cm-giay-ve-birth-tham-chi-khong-rua-noi-after-khi-nau-20220328174951459.chn
https://cafef.vn/bi-quyet-lam-giau-cua-thanh-tiet-kiem-nhat-ban-khien-ai-cung-phai-thot-len-king-ngac-tinh-toan-chi- ly-do-tung-cm-giay-ve-birth-tham-chi-khong-rua-noi-after-khi-nau-20220328174951459.chn
You are reading the article
Calculating the cost of every centimeter of toilet paper, not even washing the pot after cooking

at
Blogtuan.info
– Source:
cafebiz.vn
– Read the original article
here