Le Hoang Uyen Vy, born in 1987, is probably not a strange name to the Vietnamese startup world. Uyen Vy is considered a strong woman in this field with her career always associated with senior management positions at large enterprises or owning her own business. At the age of 13, Uyen Vy founded the first company, at the age of 21 founded the first e-commerce platform, at the age of 27 became CEO Adayroi, at the age of 31 became the CEO of ESP Capital fund…
In 2020, Le Hoang Uyen Vy and Shark Dzung co-founded their own venture capital fund called By Ventures. The fund focuses on investing in early-stage technology companies in Vietnam and Southeast Asia, with a capital size of $50 million. Currently, Uyen Vy is holding the position of Director of Do Ventures investment fund.
And most recently, the female CEO of Do Ventures also officially became a member BGK Get rich at the age of 20 – The first content creation contest exploiting the topic of Youth Finance jointly organized by Kenh14, CafeF takes place from February 17, 2022 to May 3, 2022.
Let's chat with this talented young female director to better understand the investment journey Uyen Vy has gone through. At the same time, listen to the stories of the generation of investment making money today!
Hi Uyen Vy,

For you, how much role does consistency play in the success of a young person doing a startup? How have you shown that in every step that you have gone through?
First, I think consistency is the most important factor determining the success of startups. That's why, Do Ventures chooses the operating philosophy of "Grow by doing". We believe that when you are determined to do something, even if you are not afraid to try again and again, founders will have more chances to find their own formula for success and soon rise to the top. head.
Moreover, startups often start in niches that are not yet explored by many people. Therefore, they also face many challenges and risks. If they are not consistent, it is highly likely that they will not be able to reach the end of the journey and create breakthrough products that are still relevant to market needs.
Recall, I started to participate in venture capital in 2017. At that time, the Vietnamese market was still very new, opening up opportunities, but also containing many challenges. My goal at that time was to help startups build technology products that have a great impact on society. Of course, until now I am still steadfast on that journey.
Actually, in the process of meeting startups, I also see many stories of founders starting a business and failing many times, but they continue to create new products. For example, Thong Le Anh Tuan, founder of the company Selly that we recently invested in. Tuan started his business in his early 20s with many different technology products.
Selly is Tuan's 4th company, which has already achieved initial success in helping hundreds of thousands of Vietnamese people earn extra income. I think Tuan is one of the most consistent founders I've had the opportunity to work with. I also believe that with perseverance, perseverance, and working to the end, Tuan will lead Selly to become a leading company in the field of social commerce in the near future.
You did Get rich in your 20s how, tell me!
Step 1: Share the story on the topic "Money makes money" in the form of an article or video.
Step 2: Upload the contest on your personal page in public mode with the hashtag #LamGiauTuoi20 #CafeF #Kenh14 or send it to the BTC via the website Get rich in your 20s email [email protected] or fanpage Kenh14.vn and CafeF.
She said that she herself entered the venture capital field quite early. So why did you choose to join an investment-oriented company? Especially when you know that it is quite risky because Do Ventures mostly invests in startups?
Like I said above, I like the technology sector and also believe that the future will focus on this field. More than that, technology companies will be an important growth engine for the economy. Therefore, I chose to work in the investment field to contribute to the process of promoting the development of Vietnamese startups.
Because Ventures focuses on early-stage companies because we see this as the foundational stage for a company's success or failure. There are not many domestic investment funds in Vietnam, while foreign funds usually do not pour much capital into early-stage companies. On the other hand, the initial stage is when startups need the most support both financially and professionally, the presence of an internal fund like Do Ventures at this time becomes even more meaningful.
Besides, we also realize that we have many advantages, such as geography, deep understanding of the domestic market, as well as a large network of domestic partners.
Who was your first financial teacher? Is there a lesson from that teacher that you can still apply in work and life?
When I was in university, I was fortunate to receive formal financial training from highly qualified teachers. Moreover, they are all people with real combat experience, such as fund managers of big banks. Therefore, it can be seen that I have many important teachers and also learned a lot from them during my study and work.
I have always believed that learning should be done everywhere, with everyone. Right from the time I was in school, I had the lesson that I consider to be the biggest lesson of my life. That's when the investment needs to understand the nature and apply the background knowledge. Don't just rely on information you hear on the market or in today's language "row key" to make investment decisions.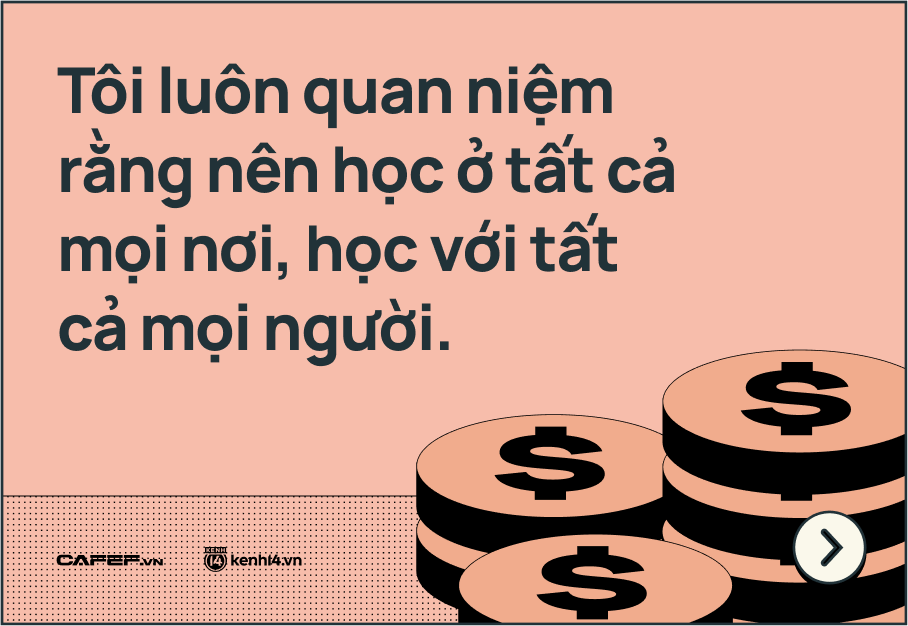 Investing in startups is quite risky, so what do funds like Do Ventures do to minimize the possibility of losing money? And what do you most often lose money on?
Investing will always come with risks. However, when we invest at an early stage, we can proactively create an impact that brings a lot of value to the company. We minimize risk by devoting all resources to helping the company achieve success.
As for personally, before working as an investment fund, I personally invested in some early stage technology products, some of which were unsuccessful and I accepted the risk. On the contrary, I also have relatively successful investments, such as ELSA.
In your opinion, does family background really affect a person's desire or motivation to get rich?
In my opinion, getting rich, or in other words the desire to improve the quality of life, is a natural need of each person. However, it is difficult to say or have an absolute formula for the relationship between the motivation to get rich and the family background. I observe that many young people have a very strong will, which is the driving force to build their career instead of the family background.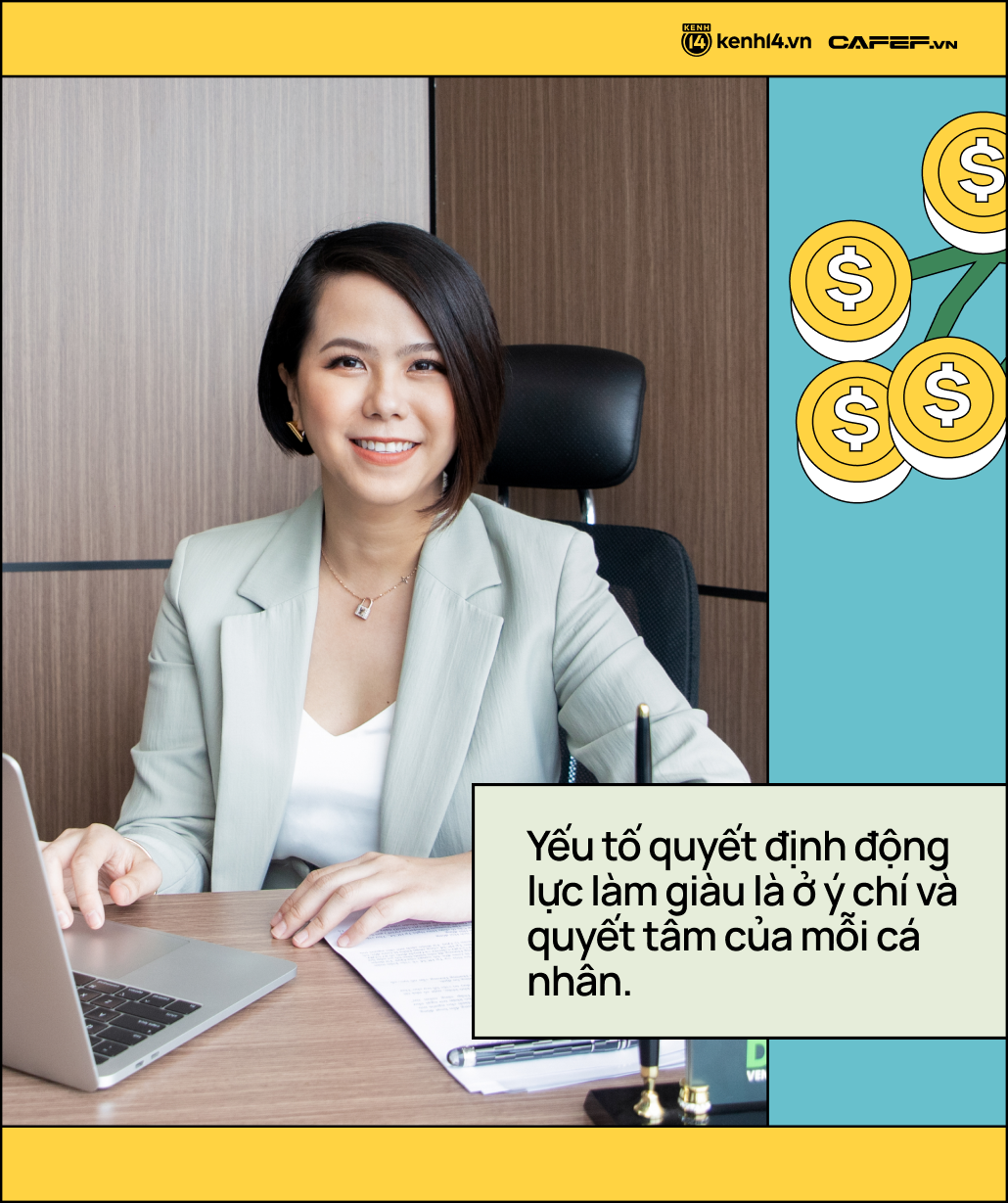 Many people believe that, when "born at the finish line", young people often don't need to try anymore. However, I have met friends who have good conditions but are still under a lot of pressure to earn money on their own, not depending on their family. Therefore, I think that family influence is not too great, the decisive factor is the will and determination of each individual.
Today, there is still pressure about money on people who already have a lot of money, don't you see that? What about yourself? And what about those you've observed?
In my opinion, pressure is not necessarily negative. It's natural to challenge yourself. For successful people, I have observed that they will continuously set higher goals to create more value for society. So there will always be new pressures if your ultimate goal is to create value, not simply get rich.
As an early successful person, how did you feel when you became a judge of a contest about making money at the age of 20?
I think it is very beneficial for young people to have access to financial management knowledge from an early stage in life. The earlier you start with a solid foundation, the more opportunities you have to build a sustainable financial plan for yourself.
That's why I am very excited to participate as a judge of the "Getting rich in 20" contest, where I will have the opportunity to listen to many interesting stories about your journey to create value. young.
Moreover, I find that, with better education and open access to the world, today's young people have very sharp minds and have many unique business ideas. I hope you will take advantage of those qualities to solve the open problems of the market and create a lot of value for society.
What do you hope the contest will create in the spirit of getting rich without age limit of young people?
I hope the contest will bring useful knowledge about investment to young people, thereby stimulating the spirit of creating value not only for themselves but also for the whole society.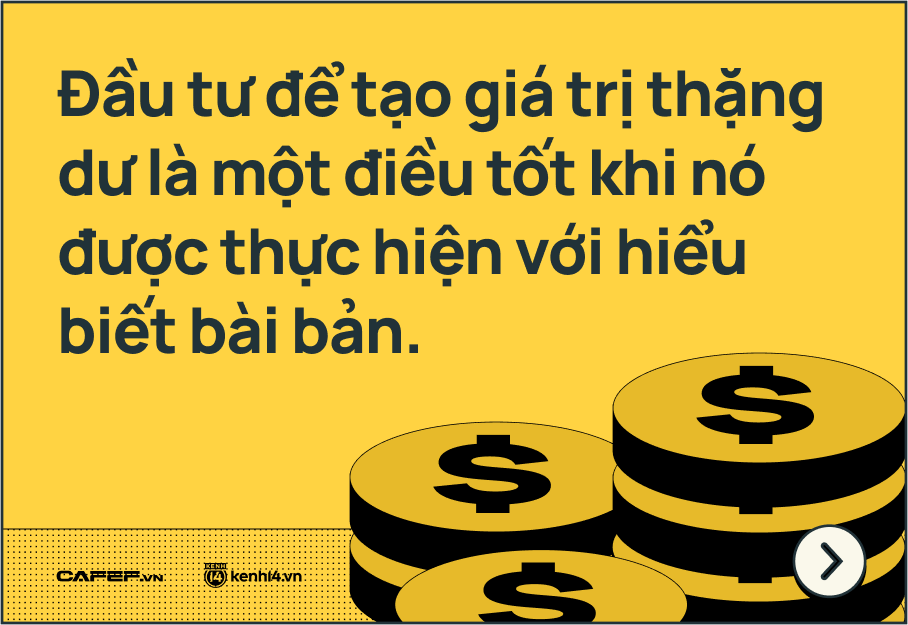 Each era has a different way of making and spending money, have you noticed that difference through your living and working experiences?
For previous generations, they often focused on accumulation to ensure stability. Today's generation we tend to take risks and actively participate in forms of investment. I think investing to create residual value is a good thing when it is done with sound knowledge.
In order for someone's money-making story to convince you, what elements must it be an upward journey?
I think, a meaningful journey is when you feel you are successful on the whole journey. So, instead of just looking at the current results, I want to understand what difficulties or failures you have overcome. At the same time, what lessons have those experiences taught you to get to where you are today.
Thank you for sharing!
1 billion already in hand, but how can the money lie still and not move. Youth is a big investment recklessness to get results Money begets money with many valuable lessons. That is also topic 2 of Get rich in your 20s – The first content creation contest exploiting the topic of Youth Finance.
Please share your story on your personal page in public mode with the hashtag #LamGiauTuoi20 #CafeF #Kenh14 or send your entry to BTC via:
Website: Get rich in your 20s
Email [email protected]
Theme "Money makes money" will take place from March 23, 2022 to April 12, 2022 with many attractive prizes:
– First prize: Medal and 20,000,000 VND
– Favorite Award Selected by readers: Medals and 2,000,000 VND
– Favorites Selected by the jury: Medal and 3,000,000 VND
Quality entries will be posted on two news sites CafeF and Kenh14.vn
Competition Get rich in your 20s Invested, implemented, coordinated by Kenh14.vn, CafeF and specially attended by guests who are prestigious financial experts, influential and passionate people in the financial field. For all details see here.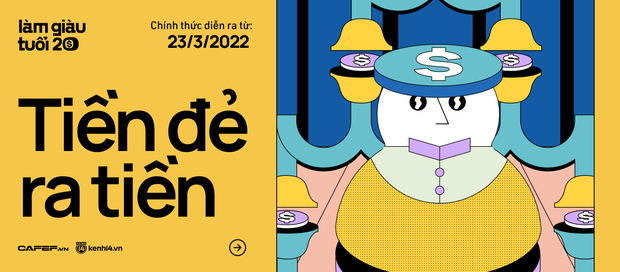 https://kenh14.vn/giam-doc-dieu-hanh-do-ventures-le-hoang-uyen-vy-se-luon-co-nhung-ap-luc-neu-muc-tieu-cao-nhat- cua-ban-don-thuan-la-lam-giau-20220328152848709.chn
You are reading the article
CEO Do Ventures

at
Blogtuan.info
– Source:
Kenh14.Vn
– Read the original article
here