Bất động sản
Contemporary architecture and quintessence of the old town of Maison de Ville . shophouse
Maison de Ville townhouse (belonging to Hoian d'Or project) is a harmonious intersection between the typical ancient architecture of Hoi An and contemporary design styles such as Indochina and Northern Europe.
Where traditional and contemporary architecture meet
Hoian d'Or project architecture is a harmonious and delicate combination of traditional indigenous values ​​with inspirational contemporary touches; Built under the talented hands and minds of Huni Architectes (France) and photographer Duong Minh Long, Architect Vo Trong Nghia, Architect Hoang Thuc Hao with iconic works.
Prominent in design are the commercial townhouses of Maison de Ville, which are being completed at a rapid pace. In terms of overall exterior, the shophouses have iridescent brown yin and yang tile roofs, cream-yellow wall paint and luxurious golden details. This design is based on the inspiration of the combination of houses in Hoi An with the spirit of "golden imprint" of Hoian d'Or (D'OR means golden color).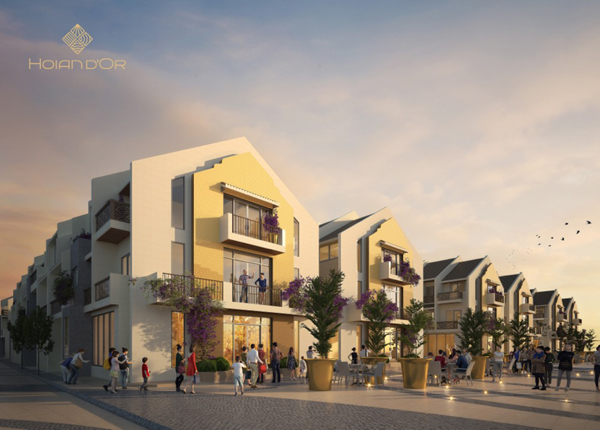 Architecture of shophouses seen from the outside (Perspective photo)
Mr. Pierre Huyard – representative of Huni Architectes – design unit of shophouse Maison de Ville said that Hoi An inspiration is still present and throughout through the use of traditional materials in modern spaces. Materials from rustic craft villages that reach a level of virtuosity and sophistication such as Kim Bong carpentry, Thanh Ha bricks and tiles, rattan and bamboo have subtly "breathed" the shophouse.
Contemporary elements are also carefully selected to both harmonize and enhance the beauty of the architecture. The elegant, nostalgic, Asian Indochine design style is brought into the house through: white/light yellow walls; cement bricks, fish scale bricks; bamboo, rattan, wood, copper materials; period motifs, still lifes, flowers and leaves; furniture such as: old Saigon paintings, ceiling fans, chests…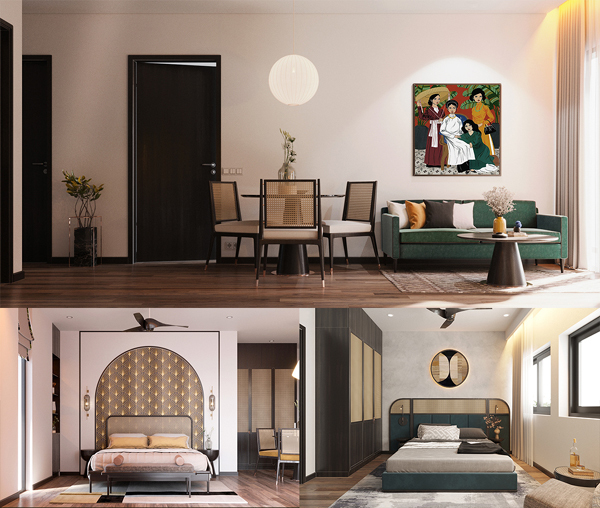 Indochinese style is subtly integrated in interior details (Perspective photo)
Besides, the design of the shophouses also has details inspired by the minimalist but trendy Scandinavian trend. Nordic style is expressed through bright, neutral colors with materials such as: cement paint, marble tile, leather material…
Meticulously "crafted" like a work of art, each Maison de Ville townhouse promises to satisfy high-end customers who love traditional and modern architecture.
Potential investment model
Shophouse Maison de Ville not only meets architectural and aesthetic standards but is also optimized for use to serve the main function of business and leasing later.
In general, townhouses have the same height as houses in the old town (no more than 13.5m), built on 3 floors, especially the first floor is 3.6m high. Each shophouse with an area of ​​​​70 – 238m2 has 2-3 facades, can simultaneously exploit 2 types: business on the first floor and homestay rental on the two upper floors.
Corresponding to the three main spatial axes connected to the Maison de Ville subdivision, the shophouses are oriented to suitable business types such as: handicrafts in the cultural axis; health care services and natural products at the ecological axis; Culinary and entertainment industries at the commercial axis.
The representative of the investor said that, in this March and April, 2 model houses of 8.6x14m and 6.7x14m will be completed, the first floor will be a cafe and silk shop, the second floor and a silk shop, respectively. 3 exploit homestay. Through it, owners of Maison de Ville townhouses will have an additional practical reference system to learn, refer to and apply to their business model.
For example, the shophouse model 8.6x14m owns up to 3 open sides, in which the front and side have doors for the cafe business, the back side arranges the lobby and separate entrance for the tenants on the upper floor. . This streamlined design enables two business models to operate at the same time without affecting each other, ensuring privacy and comfort for both in-house guests and visitors.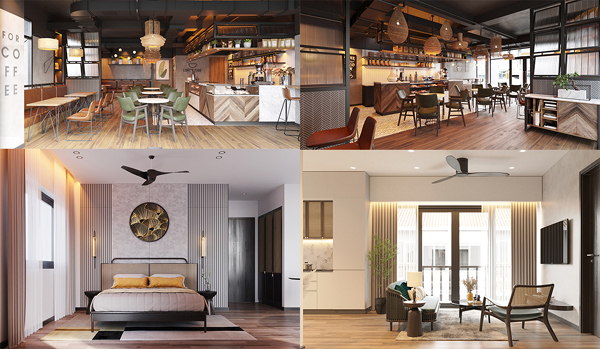 Optimal design helps shophouse owners conveniently run two types of services at the same time (Perspective photo)
The business potential of shophouse Maison de Ville is also guaranteed thanks to its location right next to Hoi Street (about 800m away) and a system of more than 100 unique entertainment and resort facilities in the heart of the Hoian d'Or project. Maison de Ville promises to become a new center (new downtown) right next to the old town.
Promoting existing advantages and potential to attract tourists to the project, Maison de Ville shophouse is becoming a comprehensive investment model in Hoi An, meeting both "rational" needs – ability profitable and "aesthetic" – architectural aesthetics.
Official project distributor:
DKRA Libra: 0919790088
SouthernHomes Central: 1900 2089
Gland: 0963106969
Cen Saigon: 0914543909
Northern Green Land: 0944481888
M8Land: 0886012552
Thuy Day
You are reading the article
Contemporary architecture and quintessence of the old town of Maison de Ville . shophouse

at
Blogtuan.info
– Source:
vietnamnet.vn
– Read the original article
here