NAN INFINIPRO A2 – A pioneer in quality improvement with modern science: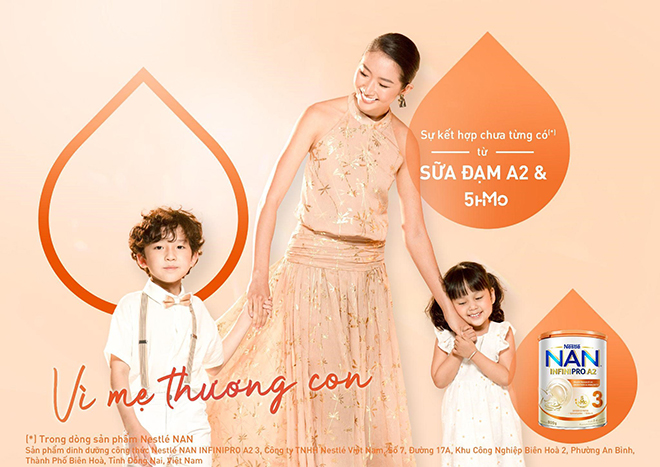 Today's Vietnam has shown remarkable signs of transformation in terms of people, economy, culture and even education. Opening to the world will bring many opportunities for children – the "core" generation of the country to develop themselves freely, but at the same time, it also requires serious investment for children through the following: The most scientifically advanced nutritional solutions since first stage of life. The 'golden period' of rapid development only comes once in a child's life, so parents need to pay attention to understand to supplement the nutrition and energy needed to make physical, intellectual leaps and reach their maximum potential, confidently responding to society's future needs.
With more than 150 years of scientific application, continuously innovating for the future of children, Nestlé Group and NAN have always been recognized as pioneers in providing quality nutrition for children, improving their health. resilience, digestive support to create a solid health foundation to help take full advantage of the child's potential from the first years of life.
Product birth NAN INFINIPRO A2 step 3 is the clearest evidence. Bringing the first and only formula in the Nestlé NAN product portfolio, which successfully combines carefully selected milk protein A2 and the precious 5HM-O complex, a product that helps parents overcome all worries and concerns while providing sufficient nutrition for optimal growth and development. long-term health of children.
With HM-O complex certified safe by the European Food Safety Authority (EFSA) and the US Food and Drug Administration (FDA) and milk protein A2 which is friendly to the digestive system, NAN INFINIPRO A2 Step 3 is expected to become a "national" premium milk that is trusted by parents for children aged 2 years in the near future.
Milk protein A2 with complex valuable 5HM-O – Optimal formula for maximum development of children:
The digestive system and the immune system are two systems that play a very important role in forming and maintaining the foundation of long-term health for children. Therefore, according to the recommendations of nutritionists in the first years of life, parents should focus on choosing to supplement with such valuable nutrients as the duo of milk protein A2 and the valuable complex 5HM-O found in it. NAN INFINIPRO A2 step 3 To improve immunity and digestive health, meet the energy needs of children to increase weight and height scientifically and regularly.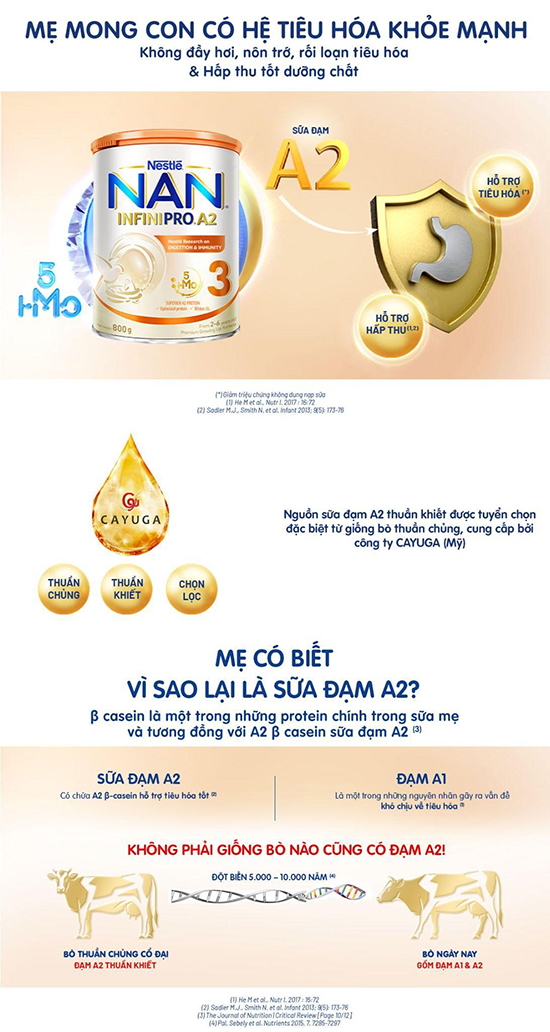 Young children also often experience some common symptoms of digestive disorders such as diarrhea, constipation, vomiting, these digestive problems directly affect the absorption of nutrients, growth, and nutrition quality of life of children. Therefore, a child's immature digestive system needs to absorb friendly proteins from an early age. Typically, A2 protein (or A2 -casein) is carefully extracted from specially selected purebred A2 cows from CAYUGA – a company that specializes in providing fresh and delicious protein milk from the USA. NAN INFINIPRO A2 step 3, help children easily digest and absorb, is the premise for children to increase their need for health and brain development. The easy-to-digest protein source A2-casein has been shown to be close to the-casein protein found in breast milk, actually bringing superior digestive efficiency, helping babies to develop weight and height in a regular and healthy way compared to previous sources of A1 protein. . With a delicious and familiar milk taste, NAN INFINIPRO A2 step 3 it is easy for babies to get used to and accept milk and stimulate the baby's appetite to make it more comfortable to drink.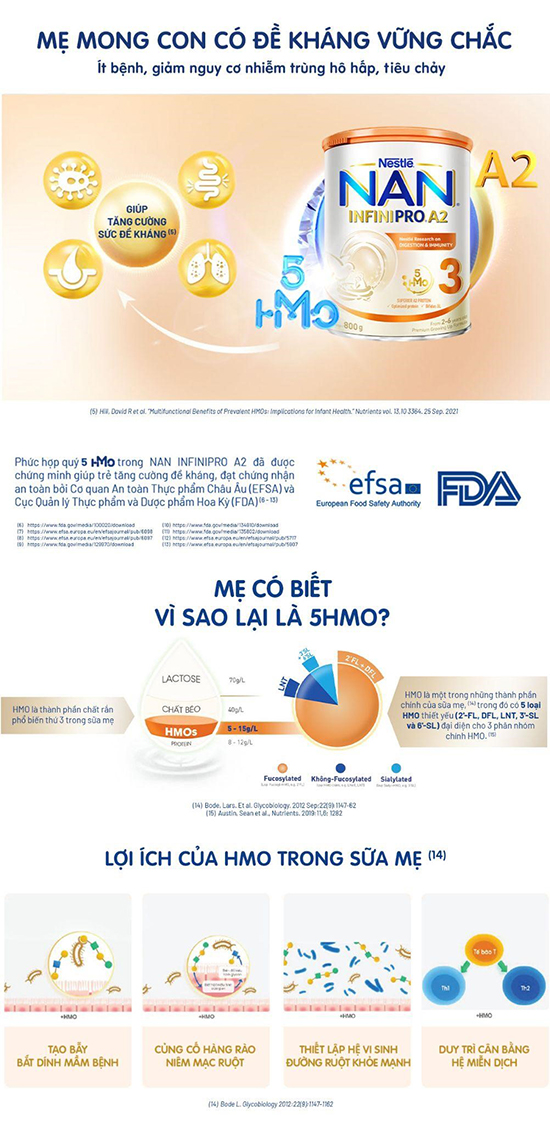 HMO It is the third highest percentage of solid food in breast milk – more than protein quantitatively, providing multiple benefits for baby's immunity and digestive health. milk NAN INFINIPRO A2 step 3 with a quarterly 5HM-O complex including 5 types of HMOs: 2'FL, LNT, 6'SL, 3'SL, DFL accounts for 45% of the more than 20 types of HMOs found in breast milk. 5HM-O in NAN INFINIPRO A2 step 3 Proven to help strengthen the immune system, strengthen the immune system to help children adapt and fight off pathogens that are harmful to the body, especially important during these complicated epidemic times affecting children's health today.
Also in product Step NAN INFINIPRO A2 3 is also equipped with nutrients DHA/ARA to support brain and vision development, Calcium and Phosphorus to help increase height, and the advanced probiotic Bifidus BL to help strengthen beneficial bacteria, boost immunity, and support the immune system, aid digestion, and other vitamins. and essential nutrients at levels that meet Nestlé's stringent standards for infant formula products.
The strategy for developing nutritional products in the high-end segment is because NAN INFINIPRO A2 Paving the way is also Nestlé Vietnam's commitment to continuing to develop on the basis of science, continuously improving product quality to always be the first choice to accompany Vietnamese parents on a journey to fully explore the world of your baby's full potential.
You are reading the article
Continuing the 150-year journey of Nestlé baby research and development with the NAN INFINIPRO A2
at Blogtuan.info – Source: Eva.vn – Read the original article here