Life Style
Thế Giới
Discovered the body of "anonymous girl" buried in the desert and 60 years later, a new part of the truth is revealed thanks to DNA
60 years ago, on July 31, 1960, a teacher made a horrifying discovery while searching for rock samples in the Arizona desert. It was the buried body of a young girl. The girl's identity has not been verified, so the investigation agency named the victim "Nameless girl".
"Anonymous Girl"
At that time, the girl's body was dressed in a blue blouse with buttons, shorts, oversized sandals that had been trimmed to fit her feet, and painted her fingernails and toenails. Despite such many identifying features, the girl's name, origin, and even her exact age could not be determined.
Decades later, the Yavapai County Sheriff's Office in Prescott, Arizona, the National Center for Missing & Exploited Children, the National System for Missing and Unidentified Persons, and numerous applications Others have made efforts in finding the truth about the girl's background. Although there were many clues, the case still did not have the desired result.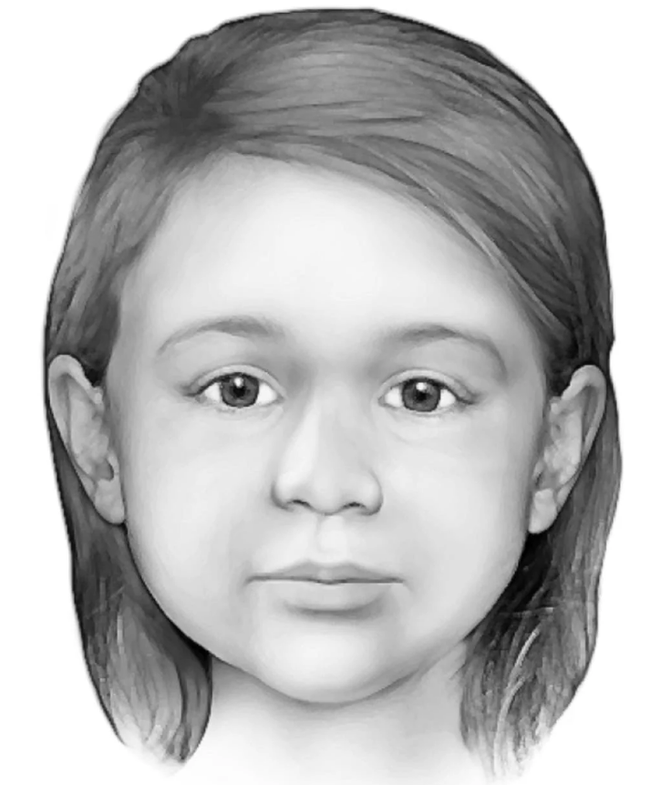 After 60 years of stalemate, recently, the Yavapai County Sheriff's Office announced that the missing girl would no longer be "anonymous". "I hope we never have to hear that name again", said Sheriff David Rhodes.
Using advanced DNA analysis technology, authorities concluded they had verified the girl's identity as Sharon Lee Gallegos.
The case of Sharon Lee Gallegos
According to the authorities, on July 21, 1960, Sharon was playing with two other children before being kidnapped. The witness testified that he saw a dark blue sedan and a Plymouth or Dodge. In the car were a white man and a woman. In addition, another witness said that in the car were two children, including a boy with freckles.
Major Boelts said the woman tried to lure Sharon into her car with new clothes and candy, but the 4-year-old refused. "The woman then got out of the car, grabbed Sharon by the elbow and dragged her inside", he said.
A few days before the incident, Major Boelts received information about someone questioning Sharon at church every Sunday and in front of their neighbor's house.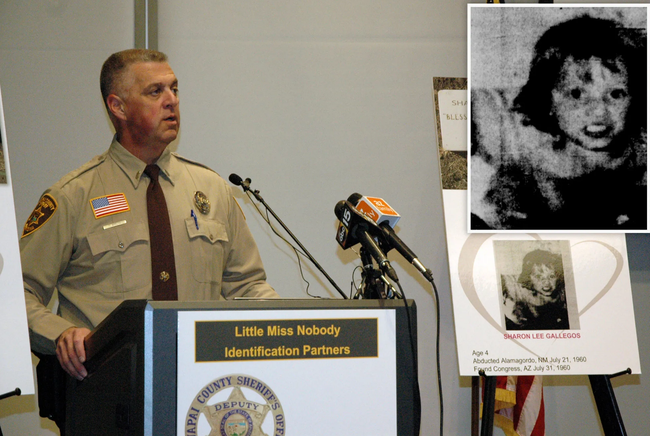 Ten days after Sharon's abduction, on July 31, 1960, a girl's body was found by the Las Vegas teacher while he was searching for rock samples with his family. She was buried in the sand along the Alamo Road, more than a mile from Highway 93, just outside the Capitol, Arizona.
Officials think she died about a week or two earlier. There are very few clues from her body due to the heavy decomposition process. The autopsy was also unable to indicate the cause of death.
However, there are still many clues identified as follows: The girl was about 3-6 years old when she died, weighed about 25kg, was about 107cm tall and still had baby teeth. The girl had no broken bones, nor was there any obvious trauma prior to her murder.
The crime scene had plenty of physical evidence, such as a pocket knife and a footprint believed to belong to the little girl – but the police still couldn't explain it.
Using DNA technology to solve crimes
In 2021, the Yavapai County Sheriff's Office partners with Othram, a Texas-based research lab, to use DNA technology to solve the "Unknown Girl" case. Othram received the samples in December 2021 and returned the results to the investigative agency in February 2022, said Dr. Kristen Mittelman, Sales Manager at Othram.
Before that, a DNA profile was also developed after the excavation and Sharon's relatives offered to take their DNA for testing. But even so, it's still not enough to compare. Boelts said: "Unfortunately, no matter how advanced DNA science was at the time, it was not enough to provide us with an identity.".
The FBI's Combined DNA Index System, also known as CODIS, is the standard technology used in forensic testing today, said Kristen Mittelman. CODIS looks at 20 DNA markers of a person and compares it with a database of thousands of DNA records of previous offenders. However, this technology has limitations because the "unknown girl" is not in the database because she is not an identified culprit.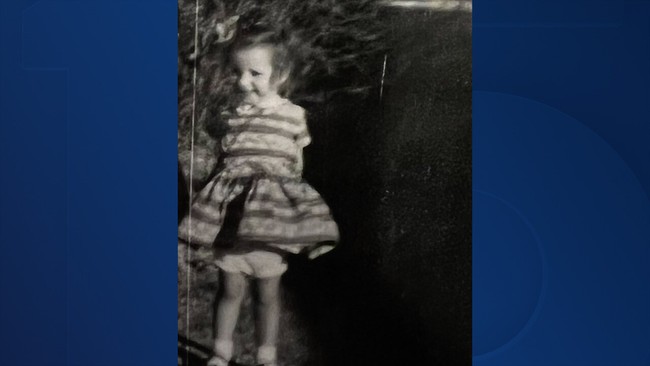 According to CEO David Mittelman, the Othram division's new analysis was funded in part by the Yavapai County Sheriff's Office, with the shortfall being offset from crowdfunding on the website DNAsolves.com.
Experts can solve many cases in just a few weeks for $5,000 or less. To cover the costs, Othram created an association of people interested in unsolved cases and raised funds for each case when there were no other sources of funding. He said: "We raised enough money for the case in just 24 hours. This is pretty awesome".
The long-awaited call finally reached the Yavapai County Sheriff's Office. Othram Labs is 100% certain that the body found in the desert is that of Sharon Lee Gallegos.
"It's a big step, but it's only the first step. We still have a lot of work to do on this case. We want to identify the people who kidnapped her", said Major Boelts.
Rey Chavez, Sharon's nephew, said he was grateful to know Sharon had a proper burial, attended and sponsored by the people of Yavapai County many years ago. "Our family would like to say thank you for all that you have done for us. Thank you for keeping my aunt safe and never forgetting her", I said.
Source: Daily Star
https://afamily.vn/phat-hien-thi-the-be-gai-vo-danh-chon-vui-trong-sa-mac-va-60-nam-sau-mot-phan-su-that- adn-20220328183335658.chn
You are reading the article
Discovered the body of "anonymous girl" buried in the desert and 60 years later, a new part of the truth is revealed thanks to DNA

at
Blogtuan.info
– Source:
Afamily.vn
– Read the original article
here