Chuyện lạ
Probe explores plains in search of evidence of life on Mars
NASA's Perseverance probe is heading to an ancient river delta on Mars in record time, thanks to an advanced navigation system that uses artificial intelligence.
The US space agency NASA may soon share close-up images of the ancient plains on Mars after the Perseverance probe completes its science campaign at Jezero Crater.

The view from the Perseverance ship looking out with its own tire tracks
The Perseverance probe is preparing for the main goal of its mission to explore the ancient plains of the Red Planet.
Inside a crater, an ancient lake on Mars existed here billions of years ago. Therefore, sediments in the delta could contain traces of fossilized bacteria if there was indeed life on Mars.
Scientists want to sample rocks and sediments of the delta area to find evidence of life. Like on Earth, the delta is the perfect place to find life. According to the researchers, the plains on Mars is also an area where rivers once flowed. This is an important area, the Perseverance will focus there faster, minimizing other scientific activities. The closer you get, the clearer and more impressive the images that Perseverance recorded.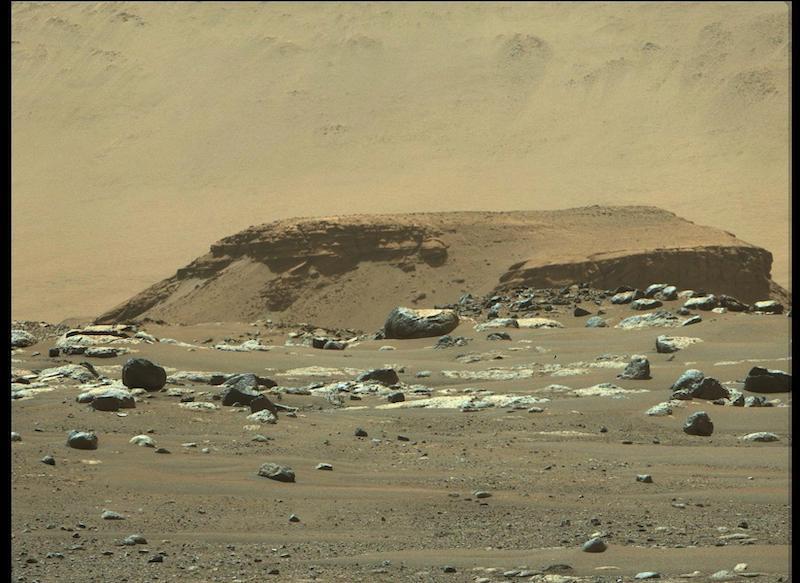 The outer part of the ancient delta as seen from the ground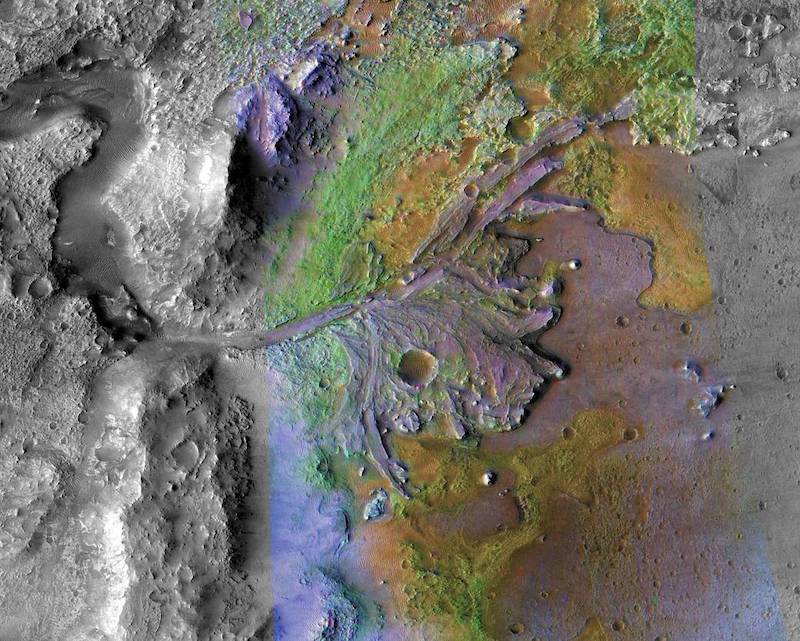 Ancient river delta in Jezero Crater seen from orbit
The Mars rover crept across the planet's surface. Perseverance's top speed is about 0.12 km/h. The train started its 5km journey to the delta from March 14, 2022.
NASA says there are sandpits, craters and fields of sharp rock on the road ahead that Perseverance will face. However, thanks to the self-driving technology of the Perseverance that is far superior to any other driving technology and the application of AI artificial intelligence, the Perseverance will not waste any time conquering. goal to complete the mission.
AI technology helps the Perseverance to navigate on its own without additional assistance from human controllers on Earth.
Mark Maimone, NASA's Jet Propulsion Laboratory explains: "If the rover before Opportunity took a few minutes, it takes less than a second for Perseverance. The rover now goes faster, could cover more ground than it would have to be programmed by a human every time he steers the ship."
The Perseverance can also automatically avoid obstacles such as large rocks or navigate dangerous slopes on its own. However, this process still needs human help. Experts plan basic routes using images taken from orbit, they mark obstacles for Perseverance to avoid.
The Perseverance spacecraft successfully landed on Mars on February 18, 2021. Since then, the ship has been busy exploring the ancient lake bed in the Jezero crater.
Hoang Dung (synopsis)
You are reading the article
Probe explores plains in search of evidence of life on Mars

at
Blogtuan.info
– Source:
infonet.vietnamnet.vn
– Read the original article
here