On March 28, the Family and Juvenile Court – Ho Chi Minh City People's Court of first instance sentenced Lee Hyeongwon (SN 1990, Korean nationality) to the death penalty for the crime "Killing", 14 years in prison for "Robbing property", 2 years in prison for "Theft of property".
The sum of the sentences this defendant has served is the death penalty.
Because the case involved a minor victim, the People's Court of Ho Chi Minh City assigned the Family and Juvenile Court under the responsibility of adjudicating the case at the first instance level.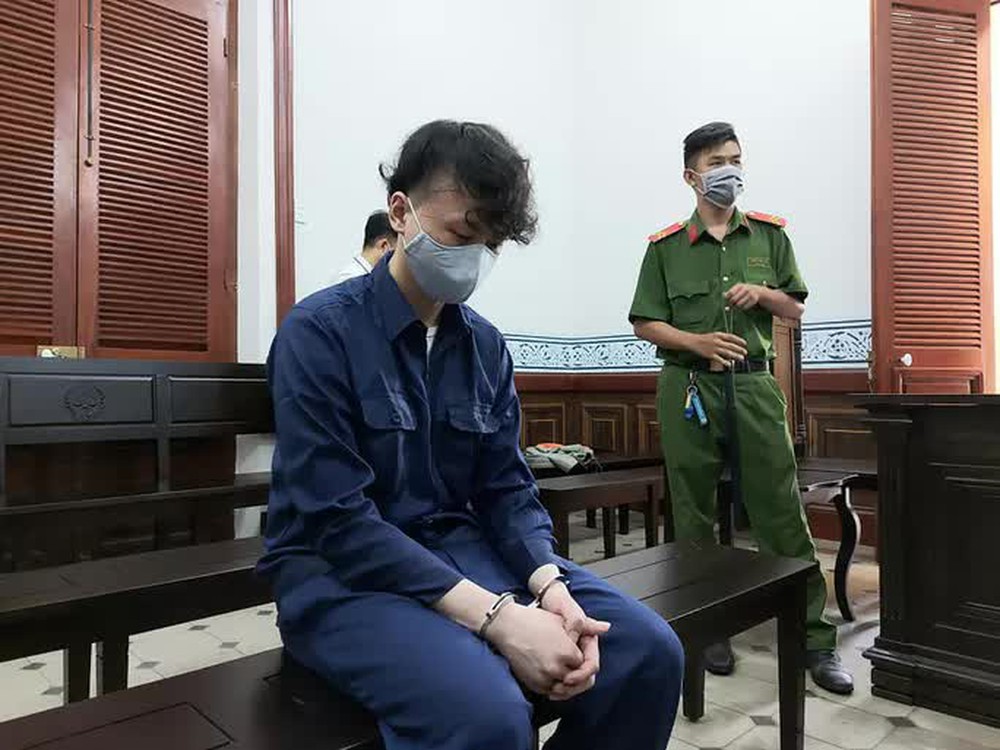 Korean defendant in the courtroom
According to the indictment, after entering Vietnam in 2019, Lee Hyeongwon lived in a motel on Le Thi Rieng Street, District 1, Ho Chi Minh City. Knowing that Mrs. Jung Yuong Sook's family (SN 1970, same Korean nationality) had "food and property", so this object arranged a plan to break in and steal.
On the morning of December 20, 2019, Lee Hyeongwon went to the area where a compatriot family resides in Phu My Hung residential area, District 7. After going around exploring, this person hid a backpack (inside there were many "tools" stored. " serving the break-in, property theft) in the vacant lot near Mrs. Jung Yuong Sook's house.
Late on the same day, the young man returned to the vacant lot to get "tools" and then climbed the wall and started breaking in. At dawn the next morning, Lee climbed inside his compatriot's house from the first floor window.
Inside, Lee Hyeongwon quickly went into the kitchen area on the 4th floor, took a knife and went downstairs. Suddenly, Mrs. Jung Yuong Sook found out and shouted. Seeing that, Lee stabbed and controlled the victim to bring him into the room.
Her husband Jung Yuong Sook heard his wife's screams and immediately woke up, rushed to fight, but was stabbed many times by Lee Hyeongwon with a knife. Mrs. Jung Yuong Sook ran to the bathroom and collapsed.
Without stopping, Lee Hyeongwon attacked her daughter Jung Yuong Sook with a knife when she saw the whole thing. After disabling the three victims, Lee Hyeongwon took away more than 3 billion VND and many other properties.
Lee Hyeongwon stole the car of Mrs. Jung Yuong Sook's family. Because he did not know the way, Lee Hyeongwon drove the car around. Thinking that he could not dispose of the stolen car, the killer set fire to the car in an empty lot.
According to the results of the medical examination, Mrs. Jung Yuong Sook died from an irreversible hemorrhagic shock, her husband suffered 25% injuries, and her daughter 38%.
In court, Lee Hyeongwon confessed to the whole crime. Finally, the defendant apologized to the victim. "The defendant went to Vietnam to earn a living. If he could come back, he would not do so" – the defendant bowed his head in confession.
You are reading the article
Suddenly, the last words of the Korean youth who killed their compatriots in District 7

at
Blogtuan.info
– Source:
Soha.vn
– Read the original article
here