Giải trí
Unexpected information about the giant pig dealer who spends a lot of money to celebrate the wedding-Young people
After finishing grade 6, he went to trade in pigs, the giants in Hai Duong went through a hard time, going up from 2 empty hands to build a "huge" property like today.
Mr. Nguyen Van Chien – the owner of the 15th wedding anniversary party. Photo: Agriculture in Vietnam
Recently, clips recording the image of a wedding anniversary party of a giant couple in Hai Duong were shared, making many people admire. Because in the 15th wedding anniversary party, there were the appearance of a series of famous Vietnamese artists such as singer Ngoc Son, singer Khanh Phuong, singer Duong Ngoc Thai, singer To My, Giang Hong Ngoc…
According to the image shared in the clip, the party venue is a home of thousands of square meters. In addition, in the party, there were also expensive gold-plated supercars, aircraft and extremely magnificent and splendid space.
According to research, the owner of this terrible party is Mr. Nguyen Van Chien (born in 1977, in O Me village, Hung Dao commune, Tu Ky district, Hai Duong province). Chien went through a hard time, going up from two empty hands to build a "huge" property as it is today.
Super cars in the 15th wedding anniversary of Mr. Chien
He once asked to leave school to follow his mother to the market and had a passion for business and trading since he was a 6th grader. Although his parents had repeatedly prevented him, Mr. Chien was not discouraged and gave up his dream. . Knowing that they could not advise their children, Chien's parents decided to let him follow him to the market.
"In the past, I could study well, but I just liked to take a break to go to the market with my mother. My father beat me up and down the field many times and then said: 'You have to study, but my relatives don't have a high education or a wide understanding'.
I replied: 'I just want to do business'. My mother cried all day, but it still didn't change my decision. I miss school for a hundred days a year, go out all the time, so my parents have to accept the leave. After finishing 6th grade, I went to the market with my mother. Every day, the mother slaughters a pig with her uncle and then divides it into two pieces, selling it at the village market. At first, I only collected money for them, then proceeded to cook water, shave my hair, and then after 2 years I could directly operate," Chien said in the Vietnam Agriculture newspaper.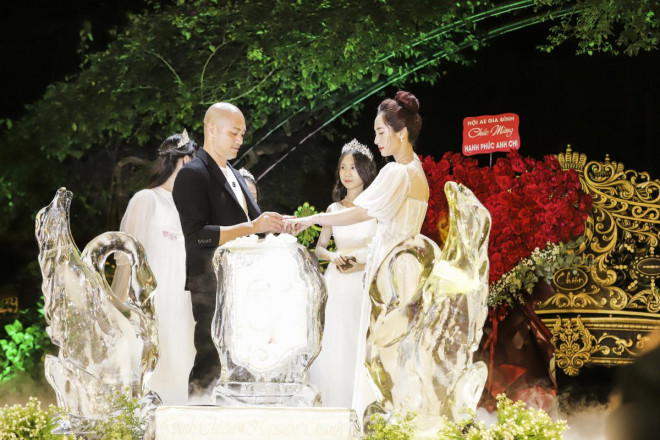 The beautiful sparkling wedding anniversary party with a set of supercars made netizens admire. Photo: Ngoisao.net
According to Mr. Chien, at the age of 14, he went to catch pigs by himself, carrying a pig weighing up to 60-70 kg on a cart. Later, seeing how hard it was to slaughter pigs directly but not much profit, he decided to switch to pig trading.
"Initially, I bought 5-7 cows at a time in villages and communes, then rented ox carts to carry them back, and called others to come and sell them. As society progressed, large farms opened up more and more, I bought pigs from my house again. Farms, companies, corporations move to slaughterhouses, regions and then export to China. When the South lacks, I buy it from the North and push it in, when the North lacks, I buy it from the South and push it out. We have to calculate enough profit per head of new pigs to trade, and I take the quantity to make profit.In 2008, I traded 500 heads/day, now it has increased to 3,000 pigs/day…", Mr. Chien said.
After a few years following his mother to the market, Mr. Chien became a famous pig trader in the region. In 2008, he sold 500 pigs a day and after only 14 years, his daily sales volume has increased 6 times, equivalent to 3,000 pigs/day. The current property is also from this cool, trendy business.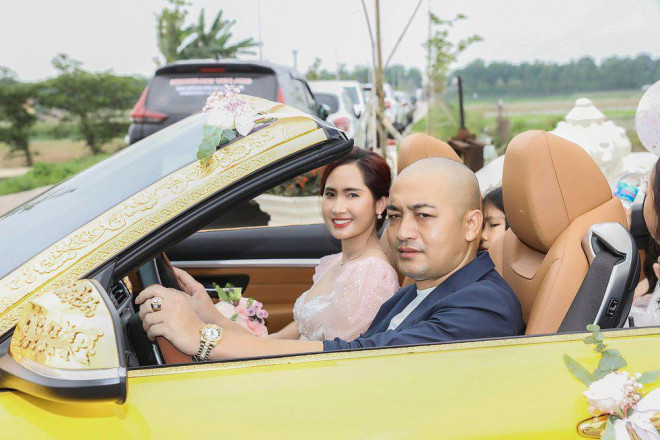 Chien's wife received many compliments for her youthful and beautiful beauty.
Knowing that his wife has always accompanied and supported him for the past 15 years, he wants to let his wife enjoy the sweet fruit of love happiness. On the occasion of the 15th wedding anniversary, Mr. Chien decided to spend a lot of money to celebrate the wedding anniversary and invite famous stars to pay tribute to his homeland for dizzying expenses for a cozy party.
Although he owns a whole set of gold-plated supercars, Chien still rides an electric bicycle, goes to the restaurant to eat a bowl of pho at 25,000 VND, and greets everyone warmly.
He also contributed a lot to the village, such as supporting appeals in villages outside the commune, participating in additional items for health stations and schools, paving the road for the commune connecting the two villages about 2km long, installing a system high-pressure lamp system… He does a lot of charity work, but every time people want to announce on the loudspeaker or issue a certificate of merit, he refuses because "doesn't want to register anything".
"Not to say that our roads in Hung Dao are the best in Tu Ky district, in the village and in the fields, all can be poured with concrete, cars do not have to turn around, because people donate land and contribute, including a part. Chien's efforts, he is a conscientious person who contributes a lot to the locality. Recently, he also built a village gate, on which is engraved a few gilded words: "Village of Hat" (O Me village) and behind is "Remembering the roots," said Mr. Nguyen Xuan Lieu – Vice Chairman of Hung Dao Commune People's Committee proudly.
You are reading the article
Unexpected information about the giant pig dealer who spends a lot of money to celebrate the wedding-Young people

at
Blogtuan.info
– Source:
24h.com.vn
– Read the original article
here