29 March 2022 09:38 (GMT+7)
BS Nguyen Hoai Bac – Head of the Department of Andrology and Sex Medicine (Hanoi Medical University Hospital) said that today there are many causes of infertility and infertility. Studies have shown that the causes of infertility in men and women are the same (40% men, 40% women), the rest is unexplained.
However, there are cases where the reason it is difficult to have children stems from a problem that people rarely think about, namely psychology. Through the examination process, the doctors found a number of cases where although the sperm quality was very good and healthy, the couple were not "planning" but still hoped to have children.
The inability to complete love completely makes the husband feel guilty and afraid to be close to his wife. (Illustration)
Dr. BS Nguyen Hoai Bac gave the example of a male patient in Bac Ninh who recently came to the doctor because he had no children after 2 years of marriage. According to the patient's part, even though they have been married for a long time, they have never been sex succeeded with his wife, although the boy was able to get an erection on initial stimulation. However, every time he prepares to "break through", "uncle" softens, making the patient unable to continue love. Over time the patient felt depressed, ashamed, guilty and became afraid whenever he was near his wife, so he was determined to see a male doctor for advice and treatment.
In the Department of Andrology and Sex Medicine, doctors examine and assess the patient's condition. The results showed that there were no abnormal signs on the patient's genital organs, and the blood test and semen analysis were also completely normal.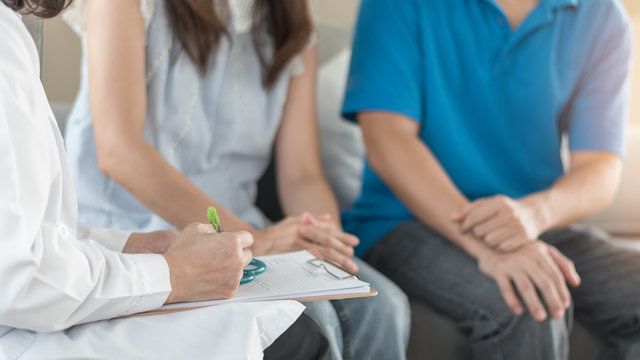 Couples should see a specialist when there are problems with the bedroom or the baby is late. (Illustration)
Bac said the patient's problem was not being able to have children simply because the "boy" erection could not be maintained during sex with his wife. Soon after, the doctor came up with a comprehensive treatment plan of psychological counseling, sexual guidance, behavioral therapy and oral therapy with a PDE-5 inhibitor.
With his perseverance, over time the patient managed to establish a relationship with his wife and can be confident every time she fights. "Just one year later, the sweet fruit also comes to patients and families with joy. Doctors are also happy to know that they have good news," said Dr. read.
According to Dr. Bac, sexual dysfunction is one of the causes of child delay and infertility in men. If detected early, with proper and timely treatment, these problems can be easily resolved. Therefore, when there are symptoms that are difficult to pronounce, "men" don't hesitate, go to a male doctor for examination and get appropriate and effective treatment advice and advice.
You are reading the article
Married for 2 years without children, Bac Ninh's husband went to the doctor to find out that he had never known a relationship
at Blogtuan.info – Source: Eva.vn – Read the original article here