Pháp luật
Prosecution of 24 people intentionally causing injuries in the incident at May Ho hydropower plant
The group of subjects led by Hoang Quang Chuong who were hired by businesses to protect the hydroelectricity had a clash with local people.
Accordingly, the Police Investigation Agency of Sa Pa town (Lao Cai) said that on March 28, it had issued a decision to prosecute 24 defendants and apply preventive measures as prescribed for 24 defendants to investigate. , handling.
As previously reported, around 2:20 p.m. on March 14, at the construction site of the main dam route of May Ho hydropower plant in Lu Khau village, Ngu Chi Son commune, Sa Pa town (Lao Cai province), due to lack of space. The support unit price was agreed between May Ho Energy Co., Ltd (as the investor) and a number of households in the area, so the households prevented the construction because they thought the construction process would affect them. to the water that is being used to raise salmon in the tank system of households.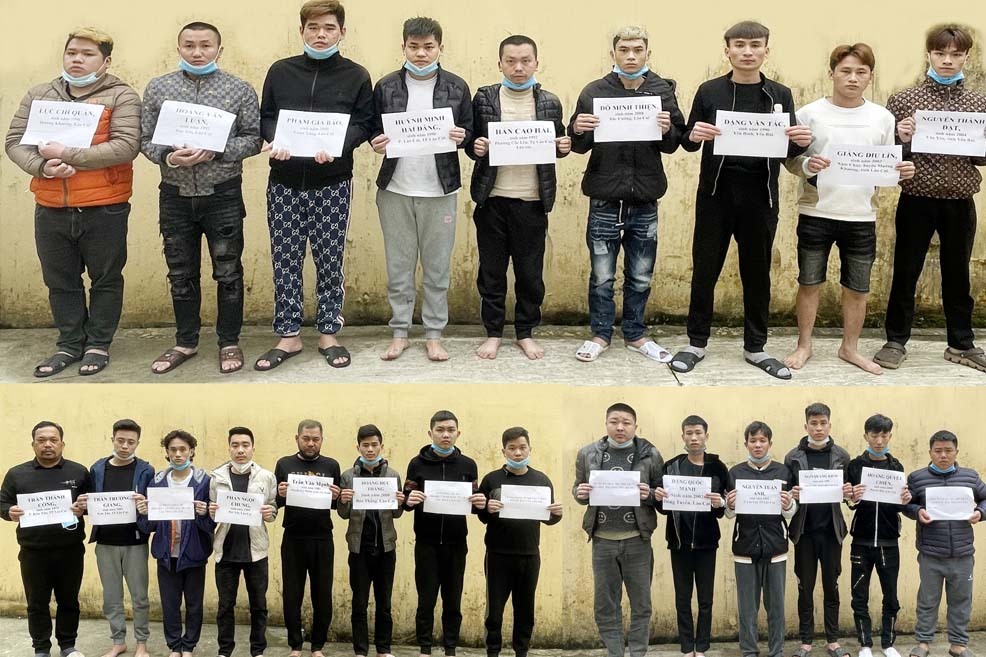 Subjects prosecuted. Photo: Lao Cai Police
In order to continue implementing the May Ho hydropower project, the construction unit is An Phu Construction One Member Company Limited (with address at No. 788, Dien Bien Phu street, Phan Xi Pang ward, Sa Pa town). hired Hoang Quang Chuong (SN 1979), residing in group 12, Coc Le ward, Lao Cai city to protect the construction site with the price of 200 million VND.
Thereby, Chuong contacted a number of clues and recruited about 60 people from many different localities, including 8 subjects with criminal records. Hoang Quang Chuong himself also has 2 previous convictions for intentionally causing injury and robbery.
After that, Chuong and his accomplices rented 2 transit cars and took them to the May Ho hydroelectricity area in turn, along with a sack containing 60 pieces of iron rods to be used as weapons to prevent people from entering the construction area. .
Here, some people of Hoang Quang Chuong used iron tubes to fight with people, resulting in 17 people and 9 people of Hoang Quang Chuong being injured, 1 car was damaged.
Due to the overwhelming force of the people, those led by Chuong withdrew and entrenched themselves at the camp of the May Ho hydropower plant.
Immediately after the incident happened, functional forces were present at the scene, coordinated with local authorities to mobilize, dispersed the crowd and brought the subjects to Sa Pa town police headquarters for investigation. , clarify.
On March 25, 2022, the Police Investigation Agency of Sa Pa Town Public Security issued a decision to prosecute a criminal case of Intentionally causing injury that occurred on March 14, 2022 in Lu Khau village, Ngu Chi Son commune and to on March 28, 2022, continued to issue a decision to prosecute the accused against 24 subjects, including the leading subject, Hoang Quang Chuong, to investigate according to regulations.
As for the number of people involved in throwing stones, causing injury to the subjects of Hoang Quang Chuong's group of people who were injured; Acts of intentionally damaging property that is a car; The construction unit is An Phu Construction Co., Ltd., the Sa Pa Town Public Security Bureau is also continuing to investigate, verify, and clarify the responsibilities involved in order to have a basis for settlement.
Gia Phan
You are reading the article
Prosecution of 24 people intentionally causing injuries in the incident at May Ho hydropower plant

at
Blogtuan.info
– Source:
vietnamnet.vn
– Read the original article
here