Giới trẻ
Puppets before the "matrix" of choosing 10th grade subjects
Instead of studying 13 subjects, from next school year, 10th graders will only study 12 subjects, of which 7 are compulsory and 5 elective. With this choice, students can range from 80-100 ways to choose a combination of subjects.
Confused with too many options
From the school year 2022 – 2023, the new program will apply to the high school level, starting from grade 10. Students in grade 10 of the high school system must study seven subjects and compulsory educational activities, including: literature, math, foreign language 1, physical education, national defense and security education, experiential activities – career guidance, educational content of the locality. In addition, learners have to choose five subjects out of a total of eight subjects in three groups of subjects, including: social sciences (history, geography, economic education and law); natural sciences (physics, chemistry, biology); technology and the arts (technology, informatics, art – art includes two subjects music and fine arts). In addition, students can choose or not choose elective subjects, including: ethnic minority languages, foreign languages ​​2.
With the above program organization and subject distribution, there are about 100 ways for students to choose. Therefore, it will lead to a situation where there are too many students to choose from and vice versa, even educational managers will feel "dizzy". Master Do Minh Hoang, Director of Chu Van An Continuing Education Center (District 5, Ho Chi Minh City), analyzed: If students were to choose like that, it would be very difficult for the school to organize teaching and lead to difficulties in terms of staff. teacher. In terms of organizational structure, schools have enough teachers for subjects but there will certainly be subjects that students don't choose, and schools cannot let teachers sit idle. On the contrary, there are many subjects to choose from, there are not enough teachers to teach the class. That's not to mention many subjects that have been lacking teachers for a long time such as art, music, technology…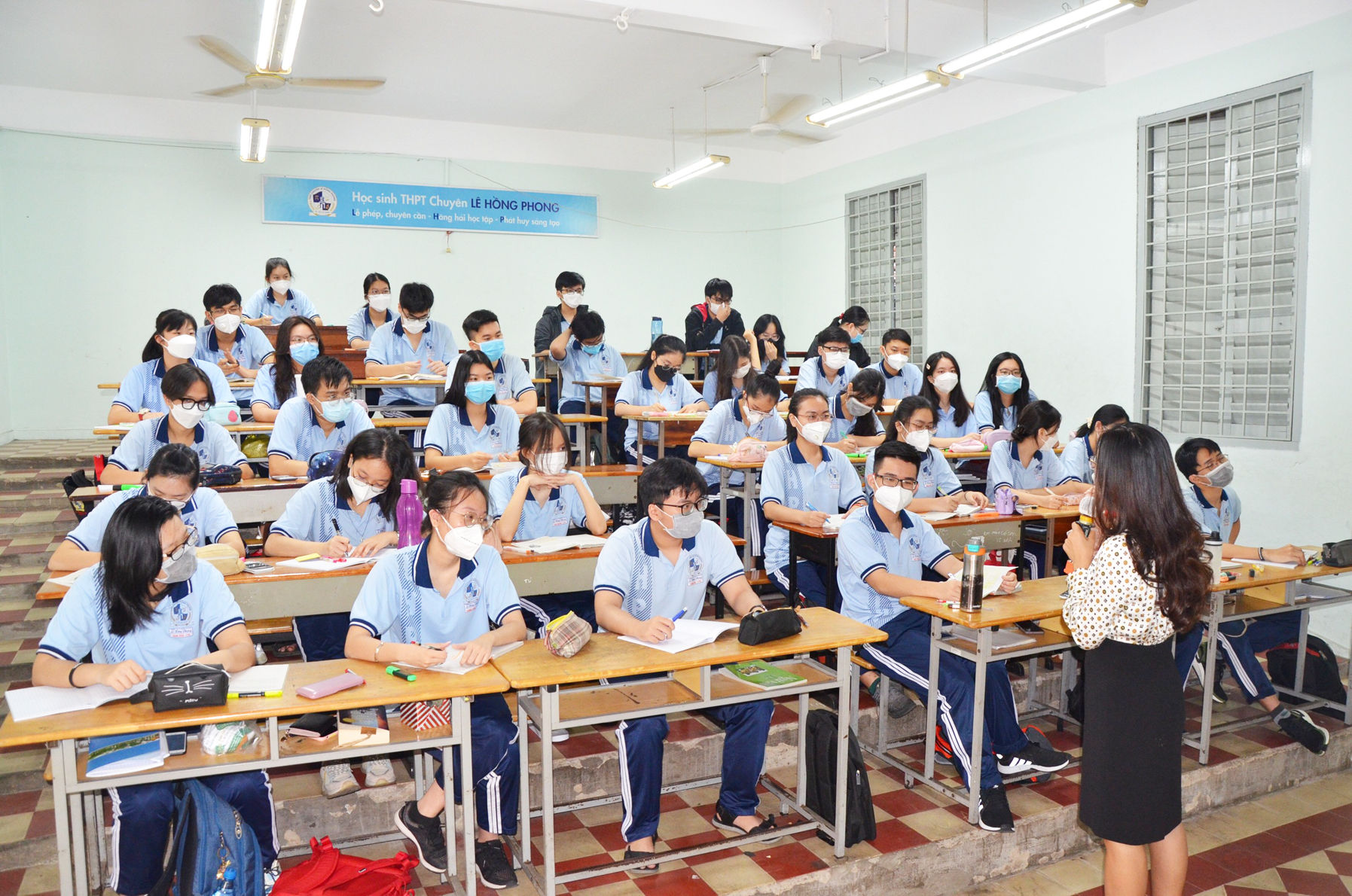 Choosing subjects according to the new program will cause difficulties for both students and teachers (photo taken at Le Hong Phong High School for the Gifted) – Illustration: Thanh Thanh
Master Huynh Thanh Phu, Principal of Nguyen Du High School (District 10, Ho Chi Minh City), said: There are only about five months left to implement the new program. However, up to now, schools are still "sitting on fire" waiting for specific instructions from the Ministry of Education and Training (Education-Training) to implement; and parents, students still do not understand what they will learn, what to choose in these last three years of high school. In this way, there are too many elective combinations, so parents and students are confused, of course, even educators are confused.
Mr. Phu added: "Securing human resources is a difficult problem to implement. Under the new program, students are allowed to study compulsory subjects and can choose five subjects from three groups of subjects (including 9 – 10 subjects), which will lead to the situation that students choose many different subjects, creating a difference in the number of students between different classes. subject, thereby disturbing the arrangement of personnel and teachers. Subjects that are too few students choose will have a surplus of teachers, while there are subjects that have too many students, but the conditions of the teaching staff cannot meet them. This will lead to local redundancy – shortage. In order to solve this difficulty, the school sometimes "orients" the children to choose according to the style of "swimming into the cage". This is not in the right spirit, the content has been approved but now there is this trend. We have to meet the wishes of 100% of parents and students."
If you choose the wrong one, there is no way to correct it
Not only causing difficulties for schools and confusion for learners, with choices that lack basic orientation, students easily make choices that make it difficult for them to turn back in the following years. Master Do Minh Hoang gives the situation: What is interesting lies in the combination of electives. Students must choose 5/8 subjects in three groups of subjects, so in each group there will be at least one subject they will not study. Once you don't choose, you will be considered to quit until the end of three years of high school. Suppose you drop out of history or geography, or physics, chemistry, or biology, but by the time you graduate from high school, you need to apply for one of the subjects you missed. considered as a lost opportunity. "I think it's an irreversible choice.
Because when choosing, no one knows what the admissions policy of the next three years will be. To solve this difficulty, the Ministry of Education and Training should publish enrollment regulations and require schools to publish enrollment schemes in a stable cycle of at least three years, not every year as at present. Mr. Hoang said.
And teacher Huynh Thanh Phu wondered in another aspect when students had the right to choose – to drop a subject: "Even teachers are difficult to advise. What if a student does not choose history to be a Vietnamese? But when you let them choose, they have that right. All over the world, history is highly valued, but we include this subject as an option. How will we have to educate our forefathers about patriotism, national roots, history, and the process of building and defending the country if they do not choose this subject?"
According to Mr. Phu, in order to accelerate the implementation of the new program, the Ministry of Education and Training should immediately provide a repository of learning materials and sample e-learning lectures for teachers to study and learn from. The choice of textbooks should be left to the school rather than to the Department of Education and Training. In addition, students go to school and choose subjects that need to be associated with the orientation of graduation exams and university enrollment in the coming years. Therefore, the Ministry of Education and Training should soon have an orientation as a foundation for parents and students to choose.
Current conditions have not kept up with innovation
With many years of experience as a school administrator, Mr. Phu is very concerned. Like local education, if we talk about old Saigon and now Ho Chi Minh City with hundreds of years of history, to teach this subject must be someone who is really knowledgeable about the locality, not a teacher in a "strange country". strange" came, just entered the school and then went to teach this subject. Thus, teachers can only read books, but how can they absorb the local culture?
Or like a career-oriented experience course with a duration of 3 hours/week, how will it be taught in the context of a large number of lessons, the situation of the COVID-19 epidemic is still complicated? Many new subjects are also lacking teachers. "We don't have teachers to teach career-oriented experiences, economic and legal education… We have subjects but we don't have human resources, so we can't meet them. This issue must be calculated by the superior leaders," emphasized Mr. Phu.
At a recent meeting with the Ministry of Education and Training, many leaders of the Department of Education and Training spoke out about the lack of teachers of arts because these are subjects that first appeared in the 10th grade curriculum. Years ago , schools do not teach this subject, so they do not have music and art teachers on the payroll. However, in the new school year, without recruiting art teachers, the school may not be able to meet the needs of students. The time from now to the new school year is only five months, if there are not enough teachers, it will be difficult for schools to meet the quality of the program.
Currently, pedagogical schools still train according to the current program, but have not yet implemented the new program. Meanwhile, the teaching staff under the new program needs to be trained and fostered very closely to be able to effectively implement it. That is not to say that the new program has experiential activities – career guidance, local educational content… pedagogical schools do not have a faculty to train teachers for these new subjects, so it will be very difficult.
Clearly, the actual conditions are far from the need to innovate in just a few months. In it, there are many problems that need to be solved at the overall and macro perspective. According to pedagogues, in order to solve the problem of local teacher excess – shortage, it is necessary to have the hands of local Departments of Education and Training to coordinate teachers by school clusters. At the same time, the organizational structure of personnel and classroom organization must break the current rigid pattern in order to expect true elective classes, otherwise it will be elective in the style of "swimming into the barn" like many others. concerned person.
According to www.phunuonline.com.vn
You are reading the article
Puppets before the "matrix" of choosing 10th grade subjects

at
Blogtuan.info
– Source:
infonet.vietnamnet.vn
– Read the original article
here