Tin
Quit the quick test of Covid-19 to not become F0
Not wanting to become F0, Ms. Bich chose to buy oral medicine to treat symptoms herself, without testing for Covid-19.
Ms. Hong Bich (29 years old, a goods inspector in Binh Duong) said that her family had just spent nearly a week self-treatment for symptoms of fever, cough, and fatigue, similar to Covid-19.
However, Bich has not yet determined whether her family has Covid-19 because she did not do a quick test.
"If you don't test, you don't have Covid-19"
From the period of Binh Duong outbreak in Song Than industrial zone to the new normal, Ms. Hong Bich became F1 many times and faced a high risk of infection.
Not only that, the colleagues sitting near, the group of friends who went to lunch in the company also tested positive. Although she always wears a mask during work and washes her hands often, Bich still thinks that she is safe so far.
On March 15, Bich and her husband had symptoms of mild fever, headache, runny nose and sore throat. However, they decided not to do a quick test Covid-19 but buy drugs to treat the symptoms of the disease.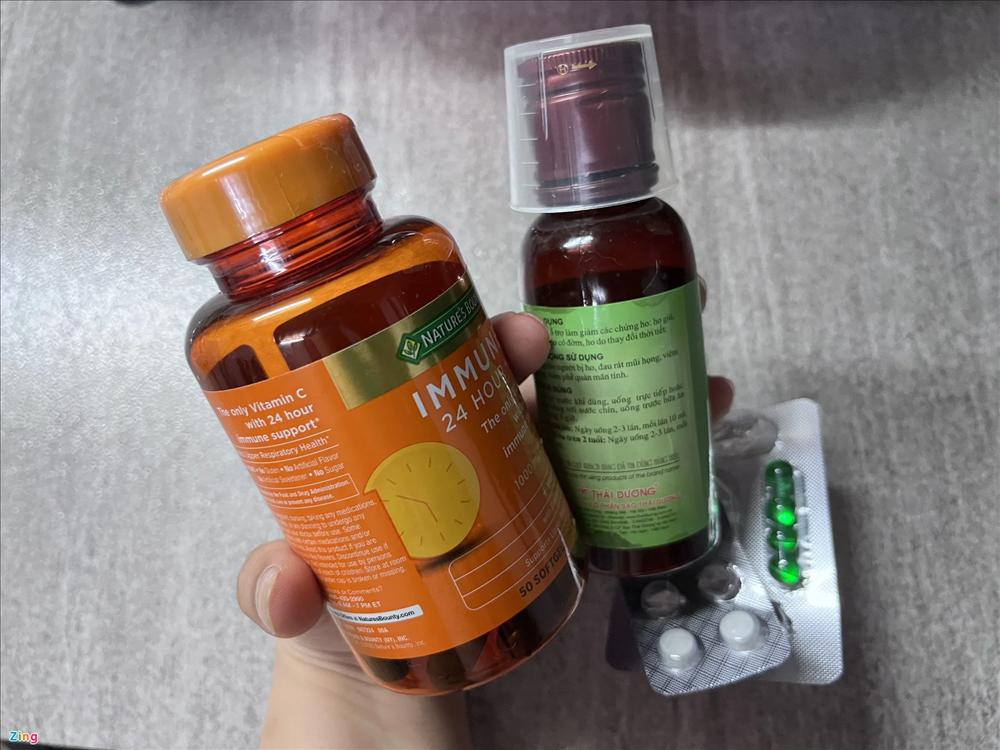 Ms. Bich uses fever reducer, melaleuca incense, herbal cough medicine and vitamin C in days of fever, cough and fatigue. Photo: Character provided.
"If I don't do a quick test, I won't have Covid-19, even though I think 99% of the time I have been infected during contact at the company."Bich said.
Sharing about this decision, Ms. Bich said that some of her friends were quite burdened with Covid-19 while others focused too much time on treatment, while the symptoms were just like flu. usually, common, normal.
Besides, due to the nature of her job, she only interacts with the group working in a private area, Ms. Bich informed the whole group to monitor her health, then rest assured to self-treat for 4 days at home.
"After 4 days, we have almost no fever, only occasional mild cough. I still wear a mask to work, eat in a separate area and keep a distance from people. After a week, my work team No one has been re-infected." Bich said happily.
It is dangerous if you accidentally cause the epidemic to spread
Assoc. Prof. Dr. Tran Van Ngoc, Chairman of the Ho Chi Minh City Respiratory Association, said that in the period when the Covid-19 epidemic was widely circulating, it was still important to be positive for SARS-CoV-2. .
The reason is that the sick person will notify the person who has been in contact, keep a distance to avoid infection if they identify themselves as F0.
In the event that there is no condition to buy an antigen rapid test kit but have symptoms of suspected Covid-19, Assoc. 19.
"If Covid-19 is suspected without diagnostic testing, it is easy for patients to be subjective, thereby causing the risk of wider spread, which will harm the community."Assoc. Ngoc emphasized.
The Chairman of the Ho Chi Minh City Respiratory Association recommended that the best solution is still a quick test for Covid-19 to self-isolate, to avoid spreading to people in the house, especially the elderly, with underlying diseases.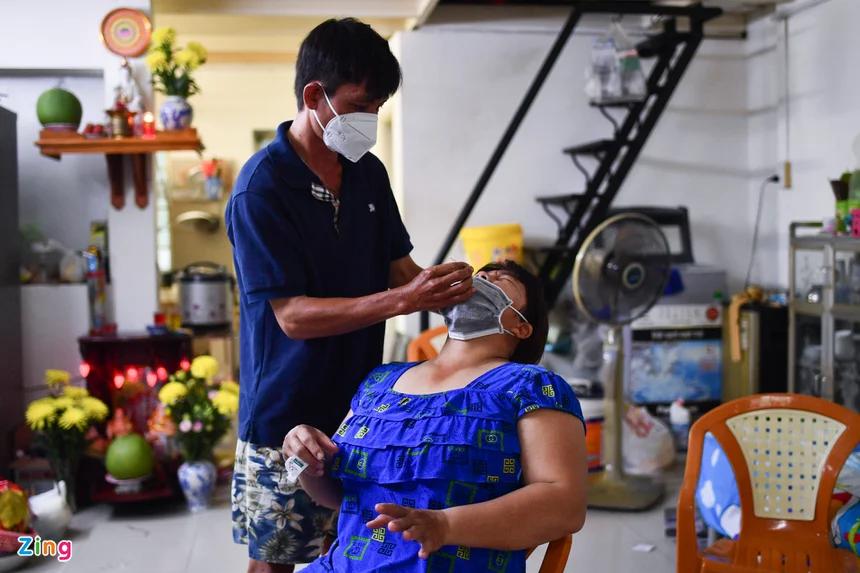 Huynh Hoang Thanh's family, living in Quarter 7, Ward 11, Phan Van Tri Street, Binh Thanh District, quickly self-tested for Covid-19 at home. Photo: Duy Hieu.
Assoc. Prof. Ngoc also emphasized that people with or suspected of having Covid-19 during this period need to self-isolate and keep a serious distance. Because Covid-19 is still considered a pandemic of a group A infectious disease, it has not been recognized as a common disease by the Ministry of Health.
"In the future, we don't know how, but currently, everyone considers Covid-19 as a common disease, without testing, without a mask, the epidemic will continue to break out, spreading the high-risk group that has not been protected. protection, it's inevitable." Assoc. Ngoc recommended.
In addition, this expert also recommends that people with suspected symptoms but not having a quick Covid-19 test, not to arbitrarily use the antiviral drug Molnupiravir.
"Molnupiravir is a specific antiviral drug for people who are positive for SARS-CoV-2, is not used to treat other viral cold symptoms and also has some side effects. Therefore, patients should not arbitrarily use but need to consult a doctor."he added.
Assoc. Prof. Dr. Do Van Dung, Dean of the Faculty of Public Health, University of Medicine and Pharmacy, Ho Chi Minh City, also recommended that the current Covid-19 epidemic caused by the Omicron strain, the rate of admission to the intensive care unit (ICU) is low and The risk of death also did not increase as much as before.
However, if people are subjective and intentionally let themselves infect or infect others, it will certainly increase the number of cases, affecting high-risk groups, thereby overloading hospitals and increasing cases. dead.
According to Zing
You are reading the article
Quit the quick test of Covid-19 to not become F0

at
Blogtuan.info
– Source:
2sao.vn
– Read the original article
here