Khỏe - Đẹp
The male student panicked to find a doctor after having sex for the first time
Having sex with his girlfriend less than 1 minute has ejaculated, the male student is afraid to think that he has a disease that many men are experiencing, so he goes to the doctor.
NTH, 20 years old, a student at a university in Ho Chi Minh City, went to the doctor with anxiety, unable to explain what happened to her.
When the doctor asked carefully, H. said that he had sex with his girlfriend and was really worried when he ejaculated less than 1 minute. He is afraid that he has a disease that many men are experiencing, which is sexual weakness.
Another very young man named M. also hesitated because just kissing his girlfriend couldn't hold back his emotions. M. has a tall, handsome body, now has a job but doesn't dare to 'love' anyone.
M. said he once had a deep love for a very beautiful, modern girl. However, M. himself has not yet enjoyed the "forbidden fruit" despite his lover's dedication.
The reason is, just hugging his girlfriend or in foreplay, he couldn't help but ejaculate prematurely. Many times made M. scared and broke up with his girlfriend.
M. is still worried that when he falls in love and gets married later, he finds out that he can't "do it", his wife will be sad and sometimes even divorced because she is too weak.
When he went to the doctor, the consultant said that M. used to masturbate a lot, since he was a child and this is the cause of his current situation. He was prescribed medication and his condition improved.
According to MSc. BS. Vo Duy Tam – Men's Health Center, Ho Chi Minh City, Premature ejaculation is defined as less than 1 minute from penetration with a female.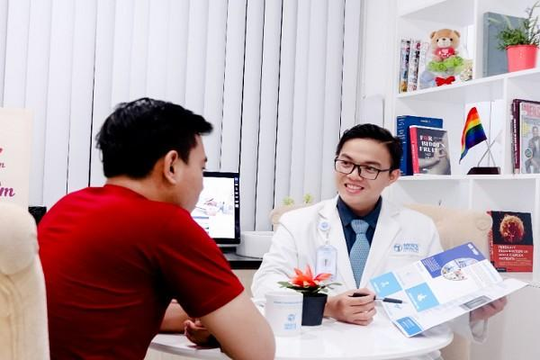 Doctor Vo Duy Tam advises patients.
If sex was normal 5 minutes before but recently reduced to 3 minutes, it could be premature ejaculation. Conditions associated with at least 3 to 6 months in a person who has regular sex every 3 weeks.
Premature ejaculation is considered one of the typical male diseases in men today.
According to statistics, about 30-40% of men today are suffering from premature ejaculation and the percentage of young men is increasing. The disease is also considered a "culprit" of a series of dangerous diseases in men, reducing the ability to conceive.
Dr. Tam said that in the case of a young man who had sex for the first time but came out quickly, he did not qualify for the diagnosis of premature ejaculation. The reason is that Doctor Tam thinks that the first time having sex with a girlfriend, men will have many feelings of surprise, anxiety, nervousness, curiosity and want to find something new, leading to intense emotions, so they do not If you can control your emotions, you will ejaculate prematurely.
If for a long time, the male friend tries hard but the condition still occurs early, you should see a doctor soon for advice, find the cause and treat it soon.
Dr. Tam said it could also be caused by young people masturbating many times before. Although, masturbation is a way to help men relieve stress if done in moderation and properly. However, many cases of men, due to excessive masturbation, take advantage of to satisfy their preferences and needs, causing premature ejaculation.
Dr. Tam noted, the first time sex can lead to premature ejaculation, to avoid the situation, men need to equip more condoms to avoid unintended pregnancy. Because when premature ejaculation, the man still has pleasure, still makes his girlfriend pregnant, but this causes discomfort for the woman. And that could be the start of many couples' tragedies.
Khanh Chi
You are reading the article
The male student panicked to find a doctor after having sex for the first time

at
Blogtuan.info
– Source:
infonet.vietnamnet.vn
– Read the original article
here