Kinh doanh
World
The price of cooking oil has increased sharply, people in this country stop frying and eat boiled food
Recently, the situation of cooking oil prices in Indonesia increased sharply due to the influence of the management of this country's public agencies. By page Liputan6the Indonesian Traders Association said that the government had failed to stabilize the price of bulk cooking oil, pushing up retail prices.
Deputy Secretary General of Public Policy of the Central Executive Committee of the Indonesian Traders Association, Teguh Setiawan, said that based on reports received from some regions and some areas at traditional markets, they face difficulties. in the distribution of bulk cooking oil.
"This has been one of the factors driving prices higher," Teguh said in a statement Friday.
According to Kompas, the increase in the price of cooking oil becomes a special concern of mothers. Because their daily life is closely related to cooking oil and it is one of the essential needs of all kitchens across the country of thousands of islands.
Reduce fried foods due to increased cooking oil prices
Gita Donda Feronika, a mother in Medan city (capital of North Sumatra province, Sumatra island) said she is trying to adapt to this increase in cooking oil prices. The mother of three admits that instead of feeling stressed because she buys expensive cooking oil and has to wait in line, she tries to stay optimistic. She has turned the rising price of cooking oil into a motivator for a healthy life.
Gita said that, normally, the family's cooking oil demand is 2 liters per week. Now, her family definitely has to cut the amount of cooking oil to 2 liters per month. "How do I do it? I cut down on dishes that use oil by boiling," she said when she could Kompas Contact on Sunday.
"The dish I usually cook 3 times a week is fried fish, like it or not, I have to reduce it to once a week. Fish that is usually fried, now try baking, steaming. Or if you have to fry, you have to reduce the amount of cooking oil due to fear of children. tired of steamed and boiled dishes," continued Gita.
Same goes for sambal. Sambal is an important accompaniment in Indonesian cuisine, it includes chili, ginger, garlic, palm sugar, lime juice… The woman said she normally stirs sambal 3-4 times a week but now it's reduced to only 2-3 times/week. Even they have to change the traditional way of processing to suit the situation.
"Even if you really want to make sambal, you can boil it for a while, then sauté it with a little oil. Like it or not," says Gita.
Meanwhile, the weaning menu for the children of the Gita family, who loved fried bread and bakwan (fried vegetable snack) was changed to a boiled menu such as boiled sweet potato mixed with brown sugar, mixed banana, etc. corn porridge and toast.
"That's how I let them understand why regular dishes can't be made continuously, because cooking oil is more expensive. Fortunately, they understand and so far don't want fried foods anymore," explains Gita. On the other hand, Gita admits that she doesn't want to use it because it's not good for her family's health.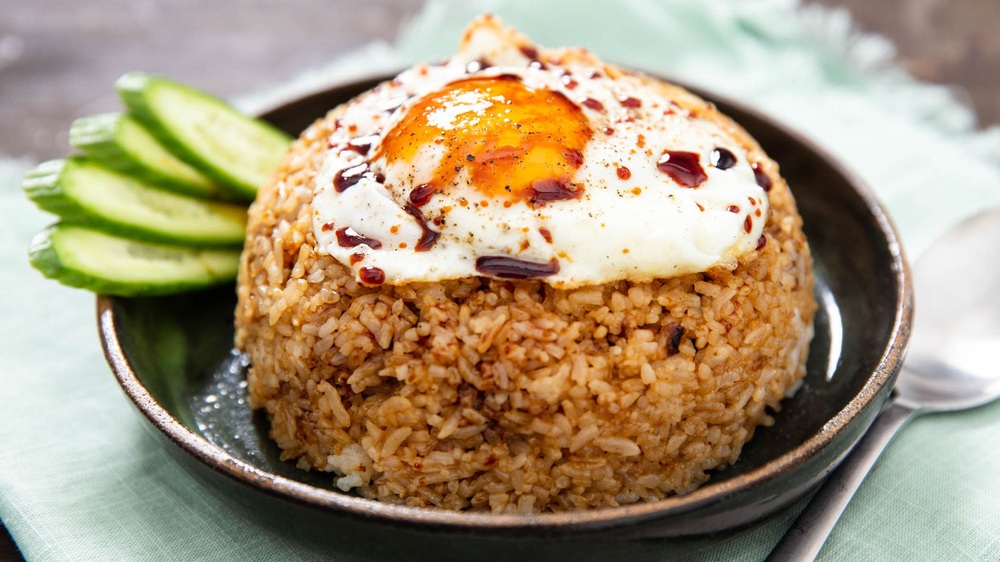 Indonesian cuisine is popular with fried dishes, so the increase in the price of cooking oil has a great influence on people. Pictured is nasi goreng (fried rice). Photo: Serious Eats.
Gita added that without using this tactic, the stakes are sure to skyrocket. She said that the current price of cooking oil is not very mother-friendly, with the price of IDR 53,000/2 liters (about VND 85,000). Gita explains: "If using 2 liters a week, it can cost about IDR 400,000 / month".
She considers it because the price of rice is rather expensive, but the price of cooking oil is not much affected. "Even though cooking oil is expensive, we can still eat rice, the fish menu changes to grilled or boiled. But if you try expensive rice, you will probably only eat cooking oil and fish," Gita explained.
Fitra also agrees. The mother-of-two admitted that she was initially stressed by the rising price of cooking oil. But instead of thinking about what makes her negative, this mom sees the positive side of the policy and uses this as motivation to learn how to make different healthy menu items. "At first I thought the fish couldn't be boiled, but it turned out to be and it was delicious," she said.
She admits she is still in the learning phase. However, as a result, the family's menu in the past week has changed rapidly, there is no longer fried food, due to the dizzying increase in the price of cooking oil.
This is the latest cooking oil price list as of Monday (March 28) Tribunnews synthetic. Indomaret cooking oil 2L 46,800 IDR, Happy Soya 1L: 43,000 IDR, Amanda 1L: 22,000 IDR, Bimoli 2L 49,900 IDR.
https://soha.vn/gia-dau-an-tang-manh-nguoi-dan-nuoc-nay-bam-bung-bo-chien-xao-an-do-luoc-20220328230120462.htm
You are reading the article
The price of cooking oil has increased sharply, people in this country stop frying and eat boiled food

at
Blogtuan.info
– Source:
Soha.vn
– Read the original article
here