Sunscreen It has always been considered an indispensable skin care product for every woman. In addition to the main function of protecting the skin from the adverse effects of ultraviolet rays, thus preventing skin cancer, melasma, skin darkening, fighting signs of aging… today's sunscreens also integrate many capabilities such as tone lifting, concealer, even skin tone. However, in the midst of the cosmetic market with a variety of products, it is not easy to find one that fits your needs.
However, with the recommended collection of sunscreens below that have the ability to lift light tones that are familiar, easy to buy and not too expensive, below you are sure to find "true love" for your skin.
Cell Fusion C Clear Sunscreen 100 SPF 50 PA +++
As a product from Korea, Cell Fusion applies the most advanced research and is certified safe by doctors and experts from various countries. Therefore, this hybrid physical and chemical sunscreen range is committed to being benign, suitable for all skin types, including very sensitive, acne-prone, and post-laser skin.
With the main ingredient Zinc Oxide (Zinc Oxide) to help protect the skin from UVB and UVA rays. In addition, this tube sunscreen also contains hydrolyzed collagen and Acetyl Hexapeptide-8 to help increase skin elasticity, restore the skin barrier. In addition to being thin and light, it absorbs quickly, this product is also loved by the sisters because of its light tone, so that even without makeup, the skin remains fresh and bright.
La Roche-Posay Anthelios XL SPF 50+ Fluid Ultra-Light Sunscreen
Sunscreen products from La Roche-Posay house apply Mexoryl filter technology, which functions to help protect from the sun, prevent UVB & UVA rays that cause harmful effects on the skin such as burns, irritation from the sun (acne), boils, redness) and aging. UV rays (melasma, brown spots, wrinkles, sagging skin). At the same time, the incredible ingredient list of this chemical-physical cream also includes Butyl Methoxydibenzoylmethane (Avobenzone and Octocrylene) to help control excess oil on the skin effectively. Combined with silica to help control oil and glycerin to help moisturize, it's no wonder that La Roche-Posay Anthelios XL is trusted by many women.
With the impressive ingredients mentioned above, this product is perfect for all skin types. The cream is also quite resistant to drift, perfect for going to the beach.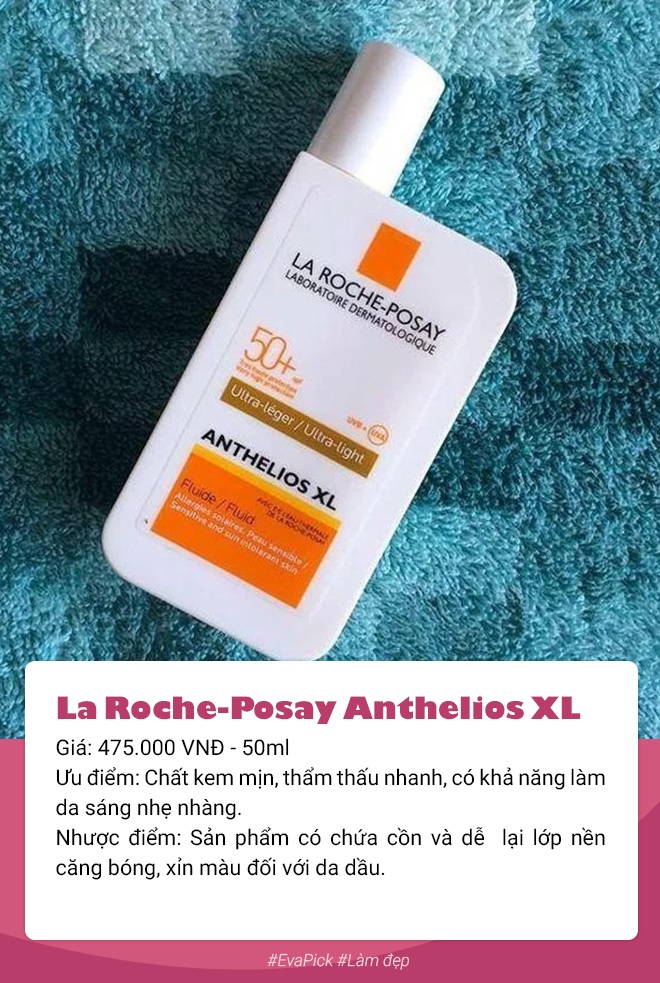 Vichy Surya Sunscreen Capital Soleil SF50+ U UVA Matterend 3in1
As the name suggests, Vichy Capital Soleil SPF50+ UVB UVA Mattifying 3In1 offers the power of 3-in-1 beauty: Sun protection, anti-pollution and fine dust protection. This function is perfect for oily, combination and acne-prone skin. As for the ingredients, this sunscreen contains Vichy volcanic mineral water, green clay, Bifidus probiotics to help soothe skin instantly, anti-oxidation, prevent greasiness, fortify and restore the protective barrier, skin protection.
Sunscreen products from France have a light cream texture that dries quickly when in contact with the skin, this product has a high moisturizing ability, so it will ensure the balance of facial skin, avoid being oily. The product is quite benign, can be used for all skin types, including sensitive skin.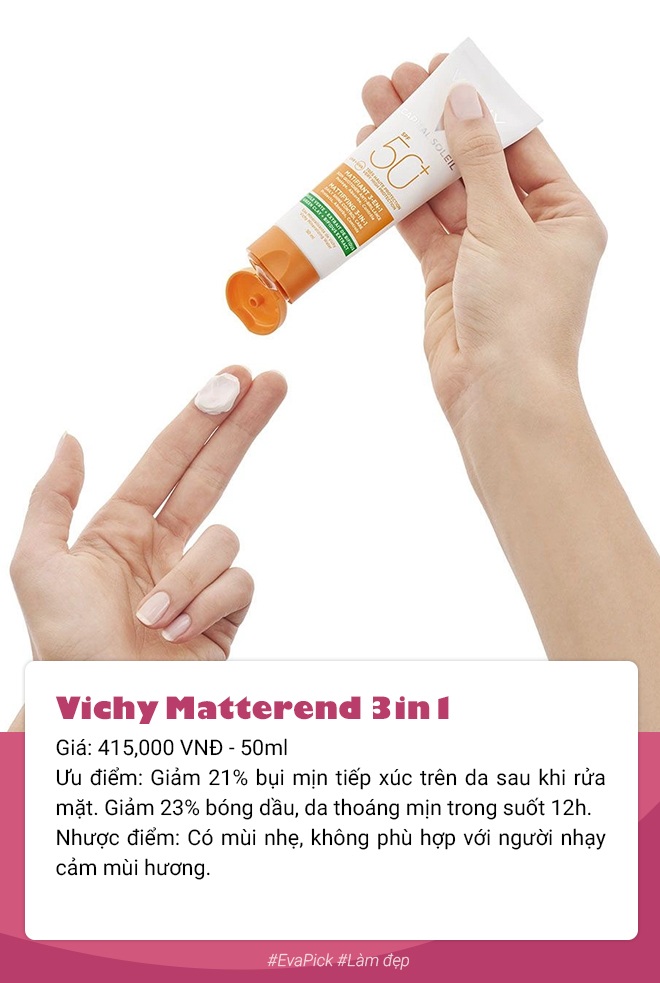 Neutrogena Ultra Sheer Dry Touch Sunscreen SPF 100 Broad Spectrum PA +++
Belonging to the popular sunscreen line from the US, Neutrogena Ultra Sheer Dry Touch Sunscreen is trusted by many dermatologists. The non-greasy formula with vitamins E, A, C helps the skin not only well protected from the sun but also perfectly moisturizes. In particular, with a high SPF of up to 100, this product also has extreme sun protection and water resistance.
"Dry Touch" is included in Neutrogena's sunscreen products due to the fact that the cream is absorbed very quickly without causing a shine and is non-greasy, giving the skin a clean and dry surface. This is a product that is perfect for travel activities, going to the beach without fear of sunburn. At the same time, Neutrogena Ultra Sheer Dry Touch Sunscreen is also for facial and body skin.
Nivea Sun Protect White Sunscreen SPF50+ PA+++
Featuring the latest innovative formula from the Nivea Sun brand, this product offers exceptional effectiveness in protecting skin from the harmful effects of UVB/UVA rays throughout the day, even the most damaging UVA1 rays. The main ingredients of this sunscreen include Homosalate, Glycerin, Dimethicone, Xanthan Gum, Sodium Chloride, Ethylhexyl Salicylate, etc. These are all ingredients that help control sebum, limit oil secretion and reduce the risk of large pores.
In particular, Nivea Sun Protect & White Sun Serum is also said to be a sunscreen essence that is able to brighten, moisturize and make skin smoother and softer thanks to Licorice extract. , concentrated Vitamin E and Hydra IQ technology. Therefore, this type of sunscreen is very popular among brothers because of its impressive 2-in-1 use.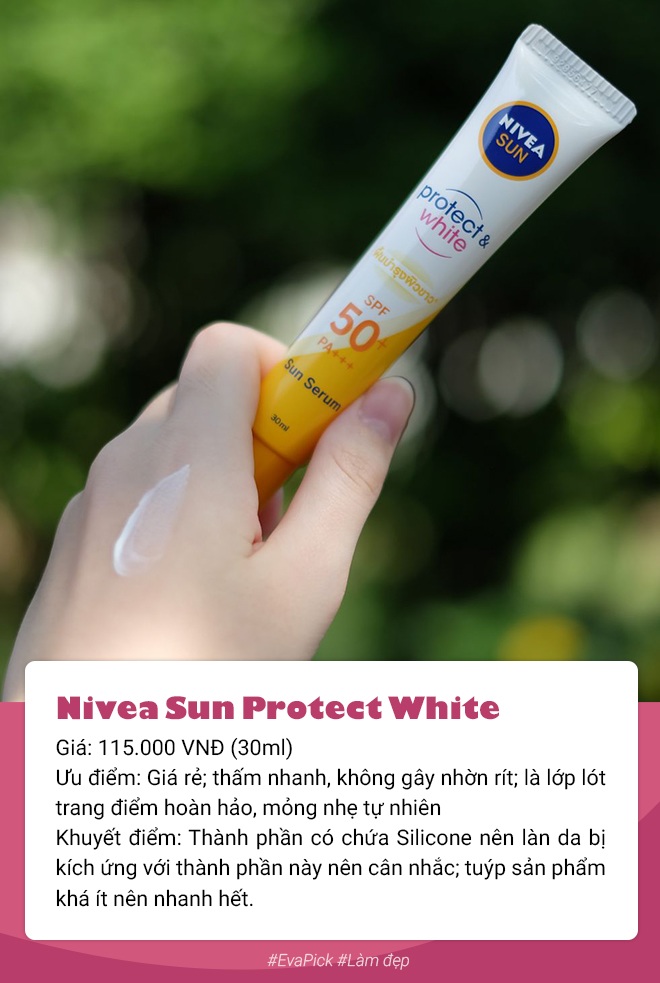 Biore UV Perfect Milk Sunscreen SPF 50+ PA++++
It has a chestnut price, but Biore UV Perfect Milk is not inferior in quality. Even this sunscreen is trusted by Duong Mich. It is known that this product not only has SPF 50+ PA++++ to provide good protection from the sun, but also has a smooth waterproof membrane technology that maintains long lasting sun protection on the skin even when sweating, or in contact with water without causing unpleasant stickiness. pleasant on the skin. skin. In addition, Biore UV Perfect Milk also adds vitamin E to help increase skin's natural moisture, protects cell membranes and integrates Sodium Hyaluronate to help hydrate, effectively restore moisture and fill in wrinkles to help skin smoother.
Sunscreen products from Japan have a milky texture that is soft and moisturizing, creating a transparent sunscreen layer on the skin and leaving no white lines after use. In particular, Biore UV Perfect Milk is also highly waterproof, making it easier for you to enjoy outdoor activities.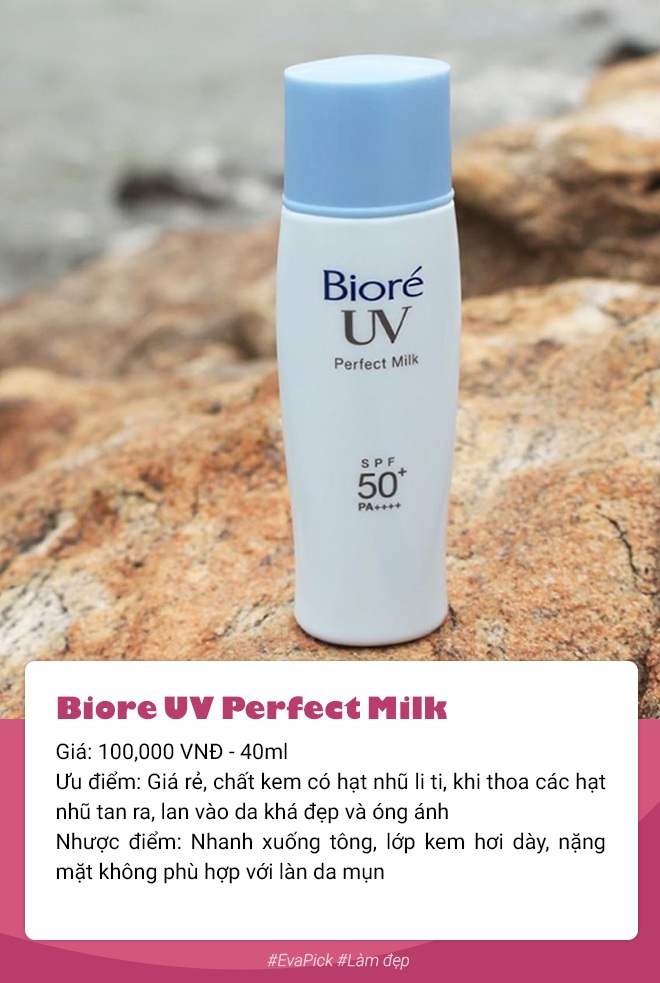 You are reading the article
6 bottles of sunscreen to protect the skin with 10 points, there is a type that Duong Mich believes for only 100K
at Blogtuan.info – Source: Eva.vn – Read the original article here