This afternoon's suggested dinner will feature the following dishes:
– Eggplant with fried meat: 50,000 VND
– Boiled cabbage: 10,000 VND
– Fried chrysanthemum with dried prawns: 17,000 VND
– Boiled duck gizzard: 20,000 VND
Total: 97,000 VND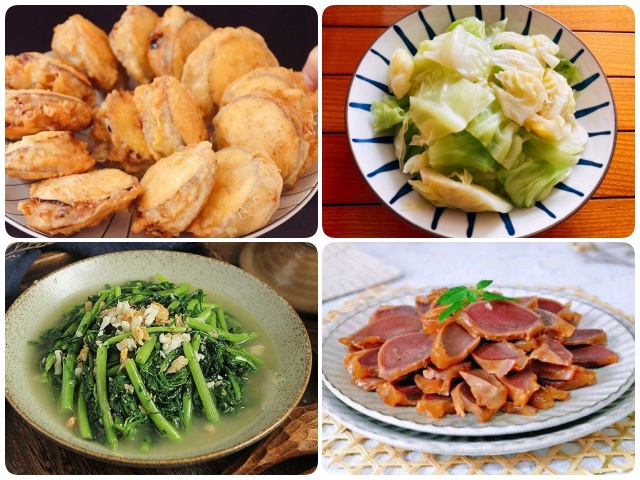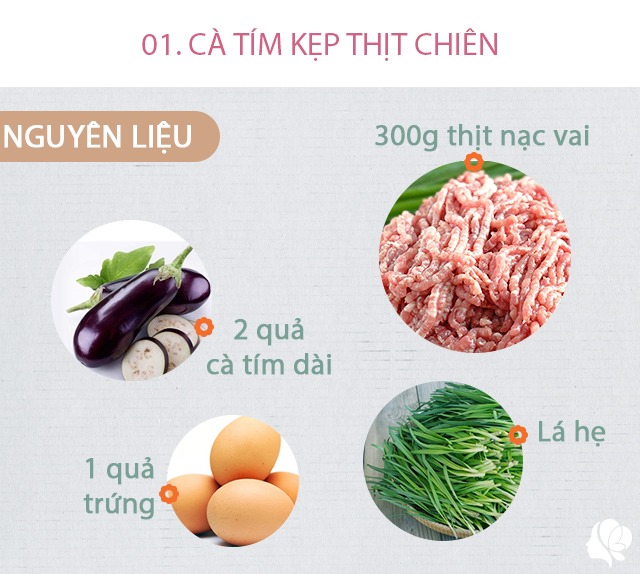 Ingredients: 2 eggplant, 300g ground beef, scallion, egg, ginger, wheat flour, starch, glutinous rice flour, baking powder, white pepper, salt, soy sauce, wine, water, oil.
Put 6 tablespoons of flour, one teaspoon of glutinous rice flour, one teaspoon of tapioca flour, a little salt and a little baking powder in a bowl, add water until it forms a slightly thickened mixture. Add 2 tablespoons of cooking oil to the flour bowl and mix well. The dough will be slightly thick, slightly thick, without lumps.
Wash the onions and cut into small pieces. Minced ginger. Place the minced meat in a large bowl, add the chopped onion and ginger. Crack the eggs, add a little cooking wine, sprinkle a little salt, add a little soy sauce and white pepper, mix well.
Wash the eggplant, cut the stems of the eggplant. Use a knife to cut the eggplant into 0.75 cm thick slices. Then use a knife to cut each eggplant slice in half but not completely, leaving the flesh clamped. Take a piece of eggplant and place the prepared meat filling between two eggplant slices. Repeat until the end.
Put plenty of oil in a frying pan, heat until the oil is about 60% hot. First, roll the eggplant in a bowl of dry flour. Then dip into the pre-mixed dough so that the meatloaf is covered with an even layer of flour. Place the breaded eggplant in a frying pan until the surface is slightly golden, then remove and drain the oil. Do it until it's done. Then heat the cooking oil again, add the fried eggplant and fry a second time. Fry until the eggplant shell is completely cooked and golden brown, then remove to drain the oil and enjoy while still hot. Please!
Eggplant is a cheap but nutritious fruit, fried meat like this is not only soft on the inside, crunchy on the outside, fragrant, dipped in sweet and sour fish sauce or chili or tomato sauce all of them are interesting.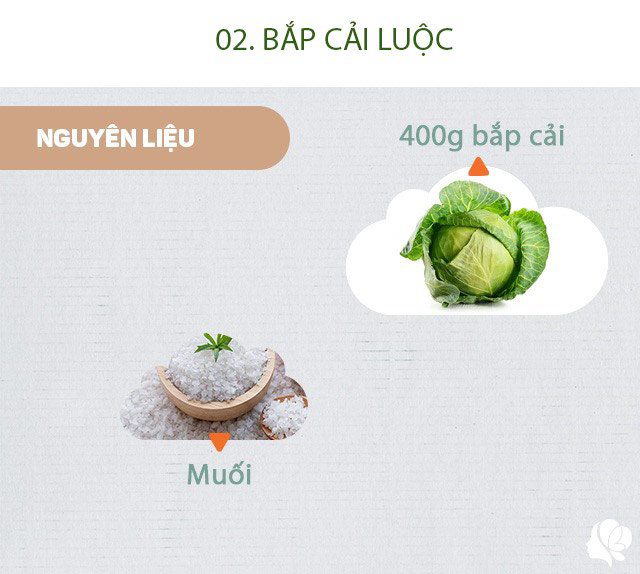 Preparation: 400g cabbage, 1 pinch of salt
Cabbage cut into large pieces for boiling. Wash and dry. Bring water to a boil in a saucepan, add a pinch of salt and cook the vegetables. Salt helps vegetables retain their color better. Remove the vegetables to a plate.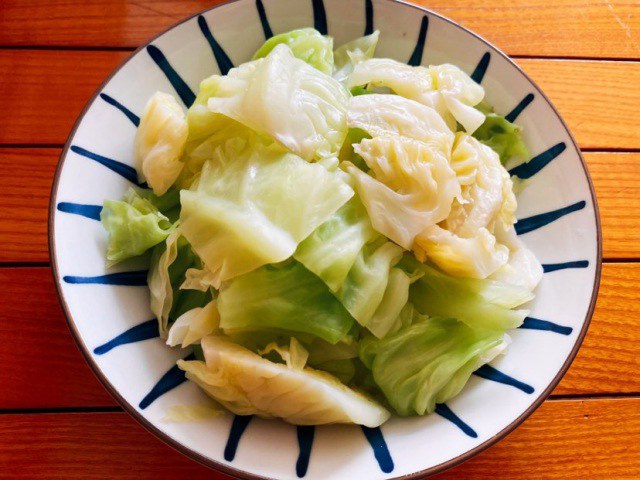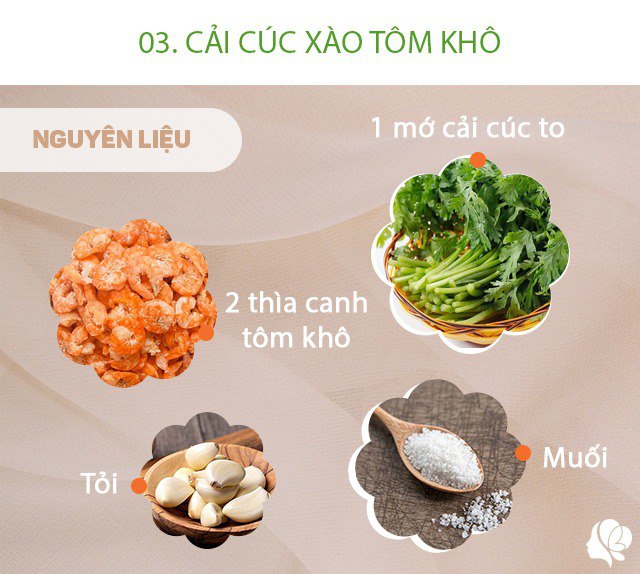 Ingredients: – 1 bunch of chrysanthemums, 2 tablespoons of dried shrimp, 1 teaspoon of oyster sauce, 5 cloves of garlic, half a teaspoon of salt, cooking oil
If the chrysanthemums have long shoots, remove the old leaves, then divide the shoots and stems separately. If the chrysanthemum stems are short, keep the whole plant, only take the old leaves and roots, then wash them thoroughly. Garlic peeled, chopped.
Dried shrimp soaked in warm water until tender, then washed and chopped.
Put the cooking oil in a frying pan, add the garlic and dried shrimp, then stir-fry until fragrant. Then place the chrysanthemum stems on the island first. When the daisies are tender, add the leaves. Add a spoonful of oyster sauce, salt to taste and mix well. When the new chrysanthemum flowers are ripe, remove them immediately. This dish should not be sauteed for a long time, as the chrysanthemums will crumble and lose their taste. Put sauteed daikon with dried prawns on a plate, serve hot with rice!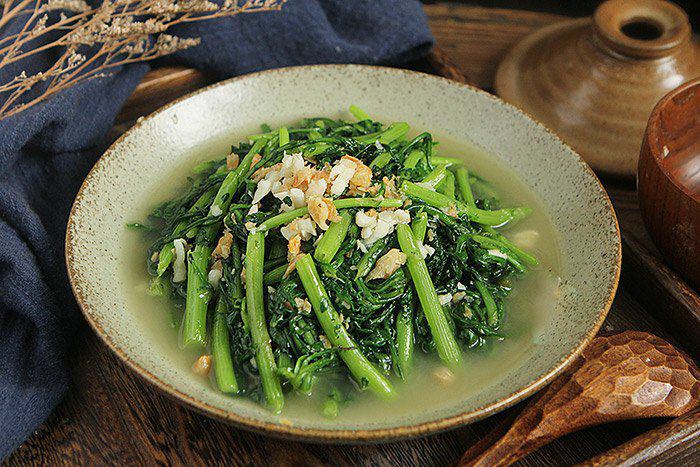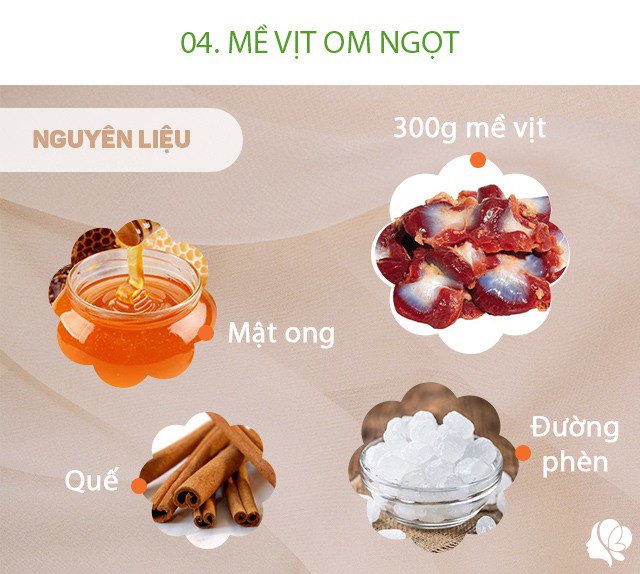 Preparation: – 300g of duck gizzard, 1 tablespoon of cooking wine, 1 tablespoon of soy sauce, 1 tablespoon of oyster sauce, 1 chili, 1 cinnamon stick, ginger to taste, garlic to taste, 1 spring onion, two slices of lemon, to taste rock sugar, a little honey
Repurchased duck gizzard has been peeled off the inside, so all you have to do is squeeze it with white salt, then rinse thoroughly with water. Soak the gizzard in cold water for 30 minutes, then boil it in boiling water to remove blood and dirt. The blanching time doesn't need to be too long, about 3 minutes is enough. Then remove the duck gizzard to a plate, set aside.
Cut the scallions into pieces; lemon, ginger slices; crushed garlic. Heat a little cooking oil in a frying pan, heat the oil, add the sliced ​​ginger, garlic and onions and fry until fragrant. Then add the duck gizzard that has been boiled, stir-fry over high heat. Add cooking wine to taste (about 1 teaspoon). Cooking the wine helps to get rid of the fishy smell of the duck. Then add soy sauce, mix well. Add cinnamon, star anise, and lemon wedges. Add a few small cubes of rock sugar, add a little honey. If you don't like honey, you can skip it.
Add enough clean water to cover the duck gizzard, cover the pot, bring to a boil, then reduce heat, season again, cook for about 30 minutes. Remove the duck gizzard, cut into bite-sized pieces.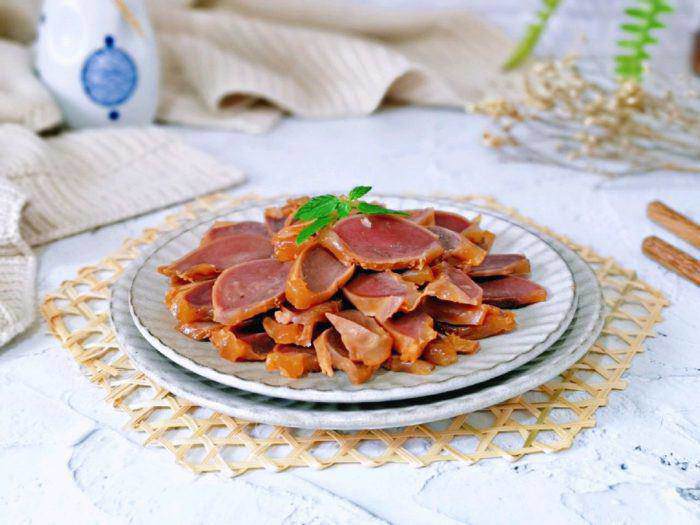 Good luck!
You are reading the article
Delicious dinner has up to 2 delicious dishes, you will fall in love with it
at Blogtuan.info – Source: Eva.vn – Read the original article here