Having a healthy, balanced diet is important for maintaining good health and keeping you energized. This means that you should eat a variety of foods in the right proportions and consume the right amount of food and drink to maintain an appropriate weight.
Here is a very simple, easy to remember eating rule that includes all the nutrients you need in a day.
The rule of eating repels disease
1. Eat 5 servings of fruits and vegetables every day
Fruits and vegetables are good sources of vitamins, minerals and fiber, but should only make up a third or a little more of the total food you eat each day.
You should eat at least 5 different servings of fruits and vegetables every day fresh, frozen, dried or pressed for drinking.
There is evidence that people who eat at least 5 servings of fruits and vegetables a day have a lower risk of heart disease, stroke and some cancers.
Eating enough 5 servings of fruits and vegetables every day repels cancer and heart disease. Illustrated photo.
Eating 5 servings of fruits and vegetables a day isn't as hard as you might think.
Part could be:
• 80g fresh or canned or frozen fruits and vegetables.
• 30g of dried fruit.
• 1 glass (150ml) of fruit and vegetable juice or smoothie (don't drink more than 1 of this because fruit and vegetable juices are sugary and can damage teeth).
An apple, banana, pear or other similar sized fruit all counts as one serving.
1 slice of pineapple or watermelon or 3 tablespoons (43g) of greens also counts as 1 serving.
1 tablespoon of dried fruit, such as raisins, added to your morning cereal is also an easy way to get 1 serving of fruit a day.
Mid-morning snack, you can eat a banana instead of cookies and add a salad to lunch is also a way you have an extra portion of vegetables for yourself.
In the evening, have a serving of vegetables for dinner, fresh fruit with low-fat yogurt for dessert. All of this gives you 5 servings of vegetables and fruits a day.

A serving of 5 fruits and vegetables per day. Illustrated photo.
2. Don't omit starch
Starch is a food you should not skip in every meal. For a day, make sure 1/3 of your food is starchy.
Choose whole grains or whole grains like brown rice, whole-wheat pasta, whole-wheat bread or potatoes with the skin on, etc.
These foods are high in fiber and often have more vitamins and minerals than similar white foods.
Potatoes with the skin on are a good source of fiber and vitamins. Therefore, do not remove the skin of the potato when eating.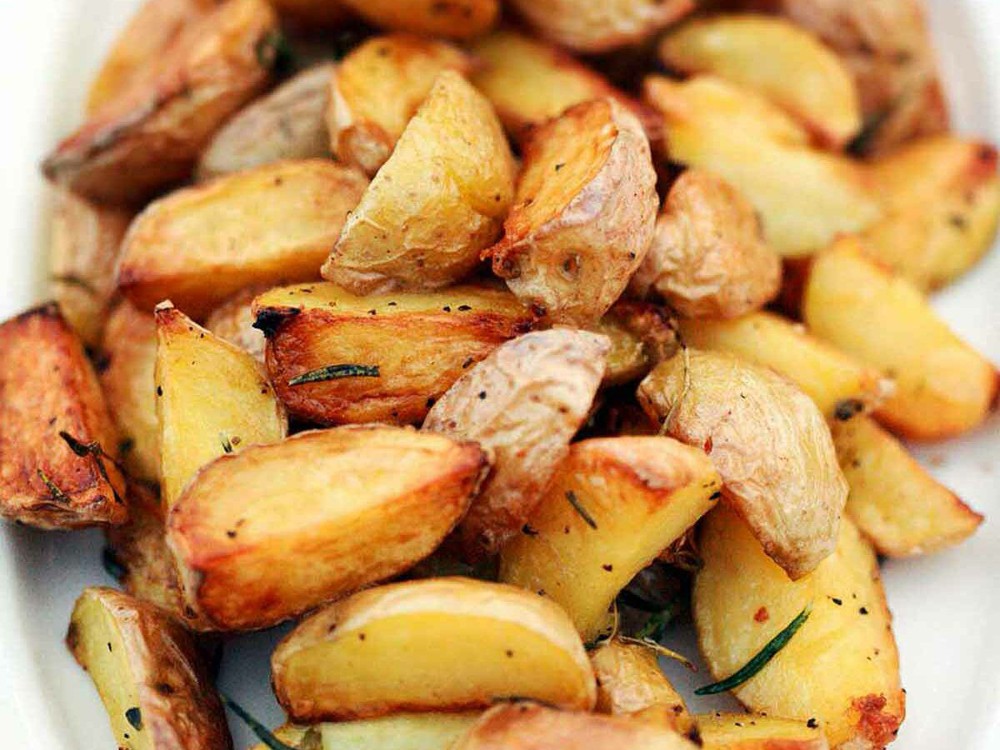 When eating potatoes, do not remove the skins. Illustrated photo.
3. Don't skip dairy products
Milk and dairy foods, such as butter, cheese and yogurt, are good sources of protein. They also contain calcium, which helps keep bones strong.
Choose dairy products with less fat and less sugar.
Some foods and beverages that replace animal milk, such as nut products (soybeans, peanuts, cashews) are also in this food group.
When purchasing these alternatives, choose one that is sugar-free and fortified with calcium.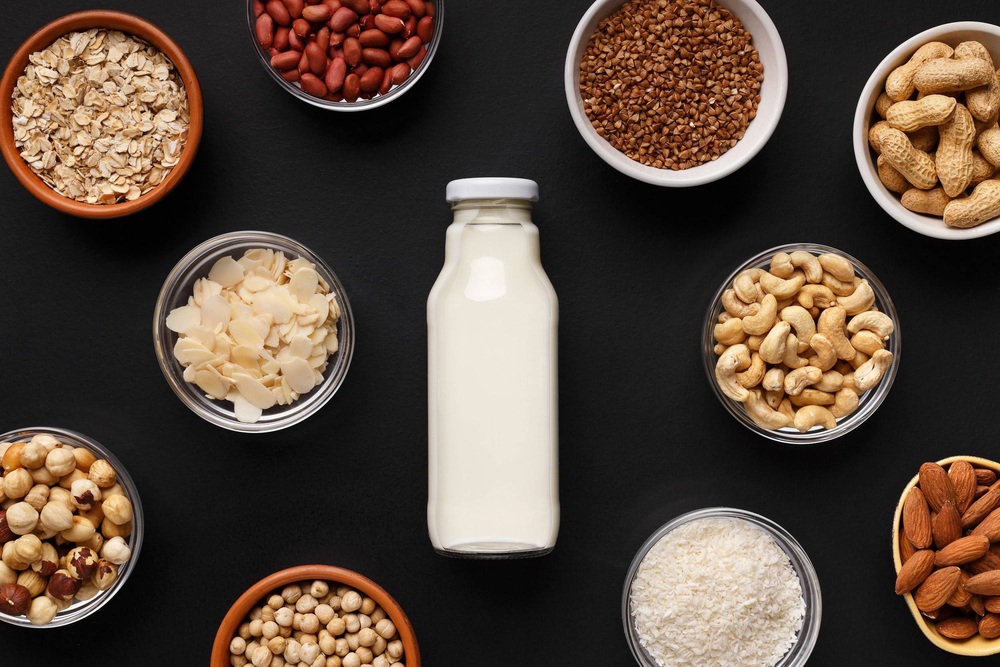 Nuts can be used in place of animal milk. Illustrated photo.
4. Eat a variety of protein sources
Legumes, fish, eggs, and meat are all good sources of protein, a nutrient essential for the body's growth and recovery. Not only that, these foods also contain many other minerals such as iron, zinc, B vitamins, …
When choosing protein from meat, you should choose lean meat, skinless poultry to cut fat. Besides, you should limit eating red meat, processed meat such as bacon, ham, sausage, …
Eggs and fish are also good sources of protein and contain many other beneficial vitamins and minerals. Fish is also particularly rich in omega-3 fatty acids.
Try to eat at least 2 servings of fish per week, including 1 serving of oily fish (such as herring, sardines, salmon, etc.).
You can choose fresh, frozen or canned fish, but keep in mind that canned and smoked fish are often high in salt.
Legumes, including peas and lentils, are very low in fat and rich in fiber, protein, vitamins and minerals. However, eat in moderation.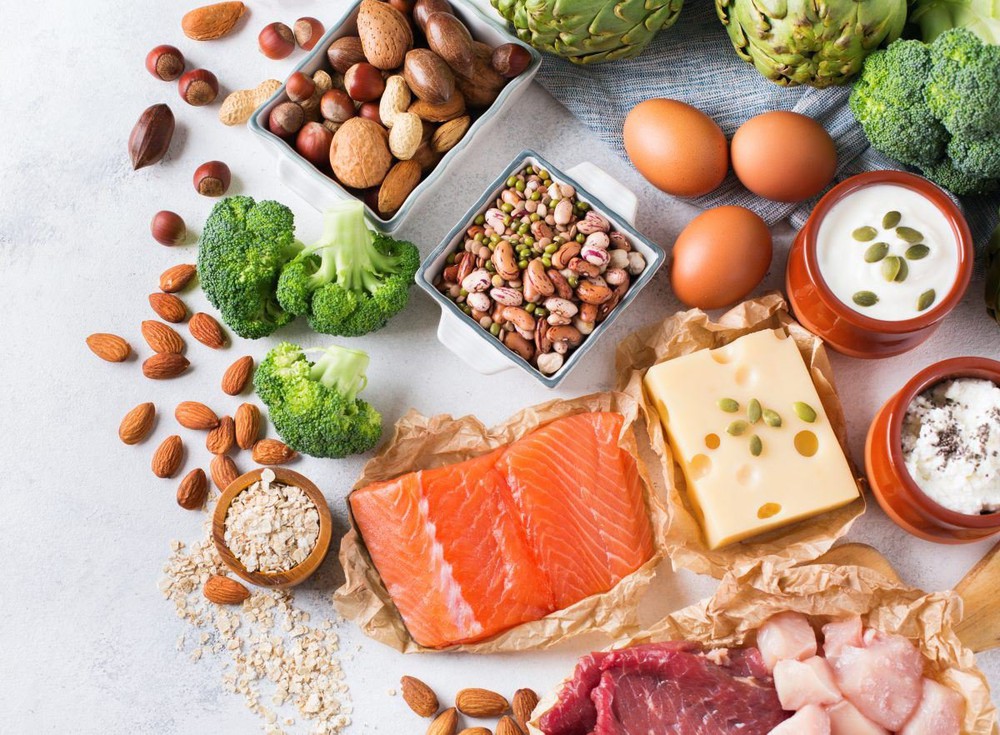 Eat a variety of proteins. Illustrated photo.
5. The rule of eating can't be without fat
Adding fat in your diet is essential, but choose unsaturated fats to lower blood cholesterol.
Remember that all fats are high in energy and should only be eaten in small amounts.
6. Eat less saturated fat, sugar and salt
Eating too much saturated fat can raise blood cholesterol, which in turn increases the risk of developing heart disease.
Regularly consuming foods and drinks high in sugar increases the risk of obesity and tooth decay.
Eating too much salt can raise blood pressure and increase your risk of heart disease or stroke.
Note when choosing eating rules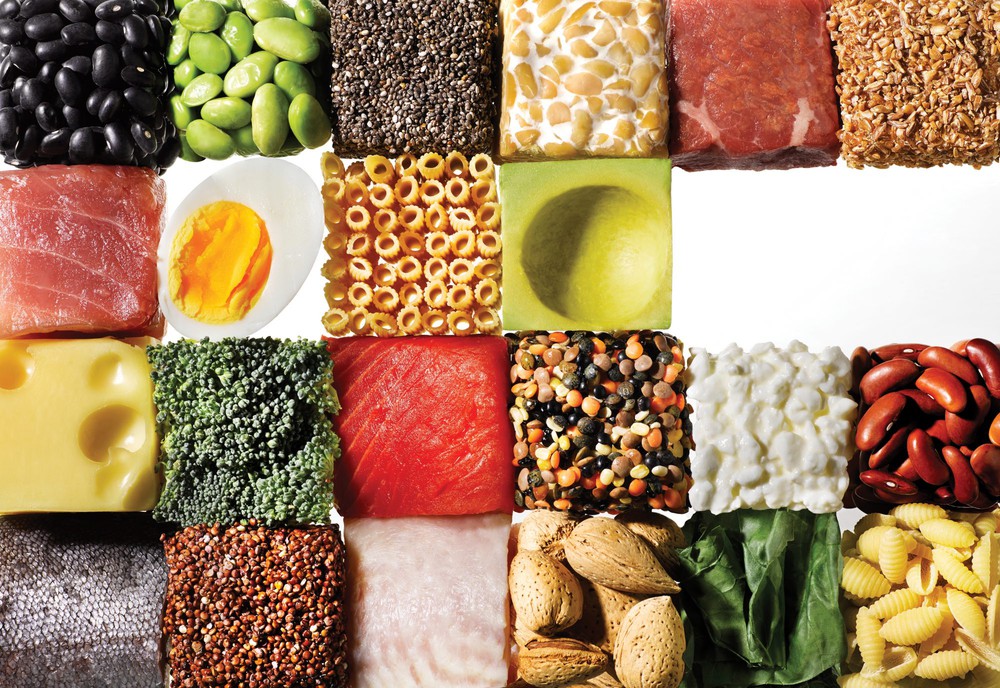 Choose a diet suitable for your health status and age. Photo: CLAIRE BENOIST
For the best health, you should have a complete and balanced diet of nutrients. The diet must depend on the physical condition of each person, each age. If you have certain medical conditions, you should consult your doctor or dietitian for advice on the best diet for you.
(Source: National Health Service, UK)
https://soha.vn/quy-tac-an-de-truong-sinh-bat-lao-day-lui-ung-thu-va-dot-quy-it-nguoi-biet-de-an-dung- 20220329162105826.htm
You are reading the article
Few people know to eat right

at
Blogtuan.info
– Source:
Soha.vn
– Read the original article
here