30 March 2022 09:24 (GMT+7)
---
Vaccination status in Vietnam
Source: COVID-19 Immunization Portal – Updated at 00:00 March 29, 2022
Number of injections nationally
The young girl thinks about death every day after getting sick COVID-19
The COVID-19 outbreak has impacted many people both physically and mentally. There are even cases of mental effects after being infected with COVID-19 but without realizing it, by the time they go to the doctor, they are already in serious condition.
In addition, there are also cases where even though they know they have abnormal symptoms, they are afraid of the disease and do not go to the doctor immediately, or if they are not examined by the right specialist, their health will be affected. .
Doctor, Doctor Tran Thi Hong Thu – Deputy Director of the Mai Huong Day Mental Hospital (Hanoi) said that COVID-19 in general, post-COVID-19 in particular, affects mental health is a problem. .
However, many people do not know or experience symptoms such as insomnia, restlessness, anxiety… even intending to seek death but still trying to survive, looking for a way out, but refuse to go to the doctor. "This is a very dangerous problem, affecting not only the health but also the patient's life," said doctor Hong Thu.
If there are signs of restlessness, insomnia for more than 2 weeks, go to the doctor to avoid health consequences.
Usually, the case of female patient Minh Hang (20 years, in Hanoi) suffering from serious anxiety disorders, even having suicidal thoughts, had to ask doctor Hong Thu to intervene. It is known, before being infected with COVID-19, the young girl was completely normal both in life and study.
Especially after recovering from COVID-19, Hang always feels depressed, pessimistic, physically and mentally tired, unmotivated, irritable, or speaks harshly to others even though his body is not on purpose.
Hang admits that he always finds it difficult to express his emotions, feels stressed and indifferent to everything. "Almost every day I think about death, I already have an idea, but thinking about a few things stops me. I don't want to interact with other people, I don't want to play with anyone. Going to school or going to crowded places scares me… I used to be obsessed with certain things in the past", Hang recounted.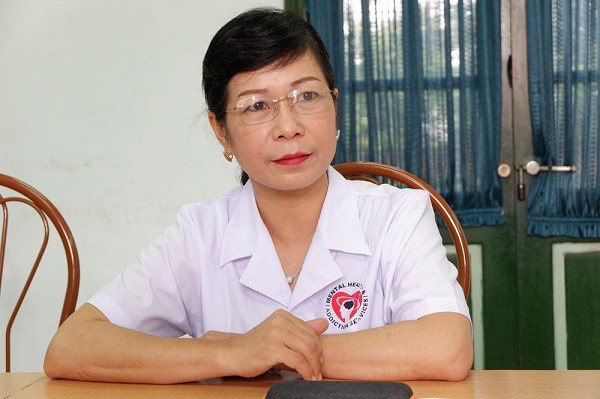 TS.BS Hong Thu said that people with symptoms of mental disorders do not go to the doctor, or the wrong treatment to a specialist will be very dangerous, even affecting their lives.
Physically, young women always feel tired, often have headaches, don't sleep well, sometimes they can't even sleep until morning. In addition, female patients suffer from anorexia, are no longer interested in their former hobbies and have no future direction.
After examining and answering questions about depression, there are up to 10 out of 10 symptoms. According to doctors, this case was very lucky to have timely intervention, if it is not treated (with drugs), the risk of affecting life is very high, because the patient thinks about death every day in advance.
The COVID-19 outbreak worsens the situation
According to doctor Hong Thu, although public awareness of mental health issues has increased, many people still have the stigma and "fear" that they don't dare to go to a psychiatrist. In particular, people with COVID-19 with prolonged psychological stress, fear of epidemics, together with viral attacks, damage the nervous system, thereby causing stress, anxiety, depression…
More importantly, in the context of the current COVID-19 epidemic, many people have mental health related problems but don't know it, go to many places, many scans and tests, take a lot of medicine but no cure. By the time I discovered the problem I had, it was too late, even with consequences.
"Whether in the context of an epidemic or not, people seem to have symptoms such as insomnia, anxiety, restlessness, disorientation, as well as a number of problems such as muscle aches, belching, reflux. , heart pounding… have to think immediately. mental illness and go to the doctor immediately ", recommended doctor Hong Thu.
In terms of treatment, acute cases can be treated with psychotherapy, combined with physical therapy. However, if the above symptoms appear for more than 2 weeks, it is necessary to see a specialist, from which the doctor will give an indication of whether to take medication or not.
You are reading the article
Hanoi girl "ask" a doctor because she thinks about death every day after contracting COVID-19
at Blogtuan.info – Source: Eva.vn – Read the original article here