Business
How big is the "shadow" of Russia?
Europe is heavily dependent on imported energy from Russia
The European Union (EU) relies heavily on energy from abroad to serve people's lives and develop the economy.
According to estimates by the European Statistics Authority (Eurostat), in 2020, the EU will consume 37,086 pentajoules of energy (equivalent to about 10,301,666 GWh), of which energy consumption from petroleum accounted for 35%, from electricity accounted for. 23.2%, from gas accounted for 21.9%. The three main groups of energy consumption in Europe are: Transport accounted for 28.4%, household consumption accounted for 28% and industry consumed 26.1%.
The main energy supplier to the EU is Russia with its close geographical distance and established energy transport system for decades.
According to data published on March 7, 2022 by the European Statistics Agency (Eurostat): 62% of EU member states' energy imports from Russia, equivalent to 99 billion euros in 2021, a decrease of 14, 2% compared to 2011. In addition, other partners supplying energy to Europe include Norway, Algeria, Qatar, Iraq, Nigeria and Saudi Arabia.
In 2011, the EU imported 77% of its energy from Russia, equivalent to 148 billion euros. In the period 2011-2021, the EU's energy imports from Russia were highest in 2012 with 157 billion euros and the lowest in 2020 at 60 billion euros. EU import turnover to Russia in 2021 is 158.5 billion euros, of which energy accounts for 99 billion euros.
The share of EU energy sources imported from Russia includes: importing 45% gas, 25% oil and 45% coal.
There are three reasons to explain Europe's dependence on Russian energy, said Professor Anne-Sophie Corbeau of the Center for Global Energy Policy at Columbia University in the US, including: First, production Europe's natural gas exports began to decline rapidly after 2010. Second, Europe's energy demand has been stable over the past five years. Third, Russia's alternative energy supply is not enough to meet Europe's needs.
Sanctions affect Russian energy supplies to Europe
Since the start of the military conflict in Ukraine, which Russia calls a "special military operation", the issue of energy has become a difficult problem for European leaders. Brussels is still unable to find a common voice with Washington in implementing sanctions against Russia due to its dependence on energy in Russia and has not been able to find an alternative partner. Because, the European energy system has been too dependent on supply from Russia due to the connection with the pipeline system, standards and quality that have been integrated for many years.
For example, 45% of EU gas imports from Russia mainly through the Yamal-European pipeline system via Belarus and Poland to Germany, as well as the Nord Stream 1 system via Ukraine to Virtue. Currently, the gas market throughout Europe is connected to only one pipeline system. Russia's military operations in Ukraine have had a strong impact on gas pipeline systems.
Moreover, analysts at the UK's Oxford Energy Institute say that the increase in sanctions by the West along with the US could cause Russia to suspend gas sales to Europe in retaliation for the sanctions. Or another possibility is that if a military conflict causes damage to one of the gas pipeline systems through Ukraine to Europe, Europe will fall into a serious energy shortage.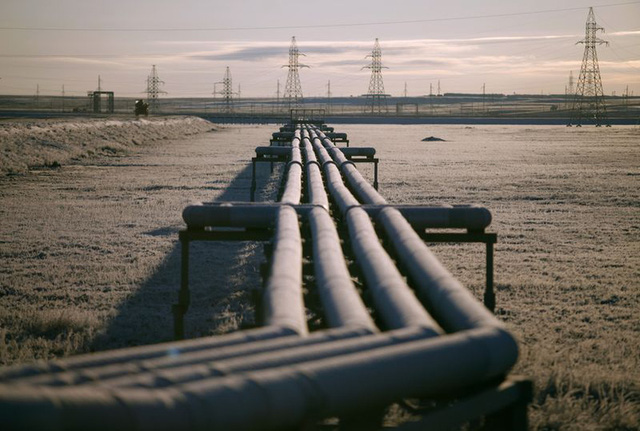 Pipelines near the natural gas field at Bovanenkovskoye, on the Yamal peninsula, Russia (Image: Bloomberg)
Elsewhere, after Russia deployed military operations in Ukraine, the US, UK and EU all announced they would limit Russian oil and gas imports. In particular, the EU proposed a plan to cut gas imports from Russia by two-thirds by the end of 2022 and accelerate the plan of energy independence from Russia to 2030. This means that the EU has just had to search. alternative gas sources in the short term, while effectively promoting the strategy of converting energy to green energy sources.
In a statement, European Commission President Ursula von der Leyen declared: "We must be independent from Russia's oil, gas and coal resources. We need to act now to limit the effects benefit from higher energy prices, diversify gas supplies for next winter, and promote the transition to clean energy."
On March 21, 2022, a meeting of EU foreign ministers came to an agreement to unite against Russia regarding Moscow's military activities in Ukraine. The EU foreign ministers also discussed the possibility of further imposing sanctions on Russia, including an embargo on Russian oil. Meanwhile, Russia has threatened to close a gas pipeline to Europe if Brussels imposes sanctions on Moscow's oil.
Europe looks for a partner instead of Russia: Is it possible?
According to Euronews, besides Russia, some European countries have other solutions to import energy, for example Germany is Russia's largest energy customer that can import energy from Norway, the Netherlands, the UK and the UK. Denmark.
However, Norwegian Prime Minister Jonas Gahr Store said: Norway is supplying Europe with energy at maximum capacity and cannot replace the energy source that Brussels imports from Russia. Meanwhile, southern European countries can import gas through the Adriatic gas pipeline system through the Adriatic Sea to Italy and the gas pipeline through Turkey.
However, these countries are not willing to share energy resources with neighboring countries or will sell them at exorbitant prices. Moreover, European analysts all agree that a complete replacement of 150-190 billion cubic meters per year of Russian gas for Europe is not realistic in the short term.
In search of alternative energy sources, from March 19-21, 2022, German Deputy Prime Minister and Economy Minister Robert Habeck visited Qatar and the UAE. After the visit, in an interview with DW news agency on March 22, 2022, Mr. Robert Habeck said: "I have not brought any contracts (for energy) but I can open the mechanism for meetings. negotiations between companies UAE will be a long-term energy partner with green energy sources Qatar may also be a leading supplier of large quantities of liquefied petroleum gas, German companies may start participating into the negotiations".
Thus, the visit of Mr. Robert Habeck has not yet brought about an alternative energy solution for Europe.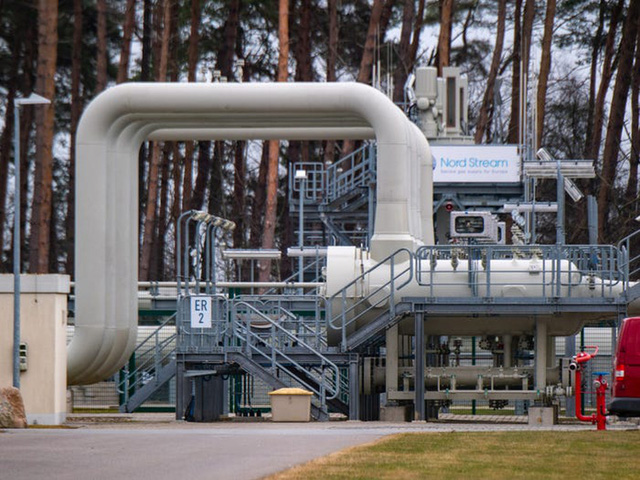 The Nord Stream 1 pipeline has been transporting gas from Russia to Germany via the Baltic Sea since 2011 (Image: Stefan Sauer/Picture alliance via Getty Images)
Previously, on March 8, 2022, the European Commission (EC) announced a plan called REPowerEU, introducing a series of measures to increase the resilience of the EU and reduce by two-thirds gas imports. from Russia (ie a reduction of 100 billion m3) by the end of 2022 and completely phasing out gas from Russia by 2030 or possibly as early as 2027.
Proposals to implement REPowerEU will be presented by the EC in the coming months but it depends on the feasibility of the proposed solutions and the ability to reconcile the different interests of the Member States including the ability to willing to pay the cost of change.
The EU will increase investment in wind and solar power by 2030 to reduce gas dependence by simplifying licensing procedures for projects. The installation of heat pumps is encouraged with the calculation that every 10 million pumps will reduce the need for 12 billion m3 of gas, improve insulation of buildings, increase electrical efficiency and increase energy savings.
Despite the plan, there are still questions such as: does the plan take into account the increase in energy use or the plan to purchase an additional 50 billion m3 in 2022 whether it will be successful and how much it will cost. The biggest is still how this plan will be implemented by countries and companies with specific goals.
Or as Professor Anne-Sophie Corbeau gives the example of European gas imported from Russia: If Europe wants to replace all Russian gas imports with liquefied natural gas (NLG), Europe needs to must import from other sources 275 billion m3 / year from other sources, accounting for 53% of global liquefied gas trade. If Europe wants to replace Russian gas with renewable energy sources, Europe needs to add 370 GW/year from wind power, while in the period 2015-2020, Europe only generates 14 GW /year from wind power. At the same time, Europe also needs to add 105 GW of nuclear power to the 115 GW of nuclear capacity that Europe already has by 2021.
These are just initiatives that are still in the "conception" stage, Europeans will continue to have to wait for it to be announced in May 2022. But even if it is announced, it is only the beginning of the road to building a new EU energy policy.
In the short term, the global energy balance is difficult to change, energy price shocks will continue to appear or not depending on the extent of Russia's military conflict escalation or Russia's attitude towards Europe. European leaders continue to have headaches to find an alternative energy source to Russia to reassure people or continue to depend on Russia, leading to "evading" sanctions called by the US. That is the question for the long-term future, in the immediate future, energy from Russia is still indispensable for people's lives and the European economy.
https://soha.vn/chau-au-muon-thay-doi-can-can-nang-luong-toan-cau-cai-bong-cua-nga-lon-den-muc-nao-20211214120553228.htm
You are reading the article
How big is the "shadow" of Russia?

at
Blogtuan.info
– Source:
cafebiz.vn
– Read the original article
here