Business
Sleep at FLC, Check in at Hon Trong roof
As a famous tourist city Thanh Hoa, but due to the influence of Covid-19, in 2020 and 2021, Sam Son welcomes few tourists to visit the resort. In 2022, the city aims to welcome 3.5 million visitors, tourism revenue is expected to be about 3,150 billion VND.
To kick off the tourist season, from April 7 to April 14, Sam Son will organize the Trong Mai Islet Love Festival to honor historical and cultural values, contribute to traditional education, love of young generations. couple, happy family and promote the image of Sam Son tourism to domestic and foreign tourists.
In addition, Sam Son in recent years has increasingly strong investment in forms of entertainment, entertainment and high-class resorts from big investors in the field of sea tourism such as Sun Group. , FLC, … Turn this place into one of the most attractive beaches in the North.
What to prepare for Sam Son beach tourism?
Sam Son tourism is self-sufficient and does not need to be too complicated about luggage. Just bring clothes, shoes, flip flops, bags, wide-brimmed hats, maxi skirts, swimwear, sunscreen…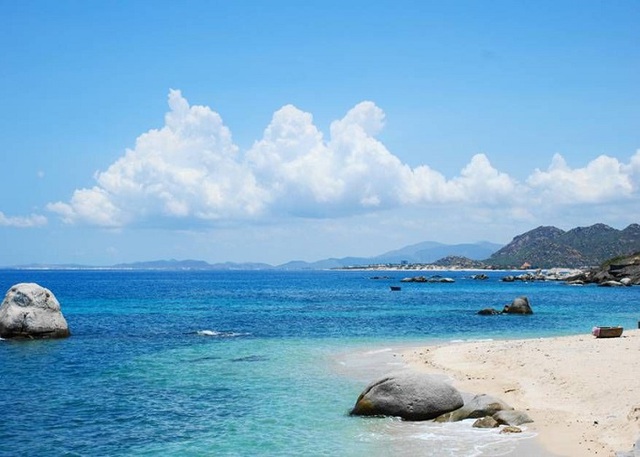 Sam Son Beach. Internet photos
Equip an extra umbrella or raincoat to avoid sudden rains on a summer day. If you carry electronics such as cameras and phones, you should equip them with waterproof bags for good storage.
Snacks should also be brought a little because the price in Sam Son is expensive. In addition, essential items such as brushes, face towels, medicines, wallets, ATM cards, phone chargers… must be indispensable things.
Where should Sam Son travel?
Ho Xuan Huong Street in Sam Son has many motels and hotels that can overlook the beautiful coastline and enjoy the wind, with prices ranging from 400,000 to 800,000 VND/night. In addition, for the convenience of moving to 3 beaches A, B, C, you should rent a room at beach A near the mountain or a motel at beach C, which is quite cheap.
If you have a lot of money and want to enjoy a luxurious vacation with a super nice swimming pool and full facilities, you can stop at FLC – the most beautiful and luxurious resort in Sam Son.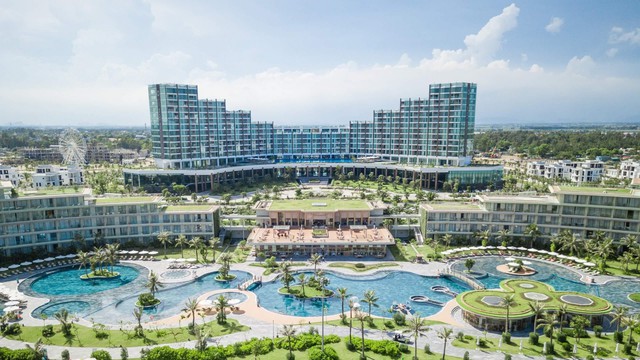 FLC resort complex. Internet photos
FLC is a resort complex with full services such as golf course, swimming pool, food court, private beach. You can rent a villa with an area of ​​​​160-220m2, design 7-10 rooms, suitable for a group of 20-30 people or go in a family couple. Villa will have swimming pool, large living room, comfortable cooking place to gather and sing. The price of a villa in the peak season will be from 5-10 million VND / unit / day depending on the location, quality and time, for example, on weekends, the rental price may be 1.5-2 times higher than the average price. with normal days.
In Sam Son, there is no shortage of high-class hotels from 3-5 stars, such as in the FLC Sam Son complex, there are Luxury Hotel, FLC Grand Hotel with rooms priced from 2.5-3 million VND/day if you enter. Peak season. Hotels along the coastline of Ho Xuan Huong also have prices ranging from 1.5-2 million VND/day.
Where to go and what to play in Sam Son?
Sam Son beach is a famous resort, so every summer, this beach attracts a large number of tourists to swim, soak in the fresh and relax water.
Sam Son is divided into 4 beaches: Beach A, Beach B, Beach C and Beach D. In which:
– Beach A is the most crowded with tourists, has a gentle slope and strong waves, there are many boats for you to check-in virtual live.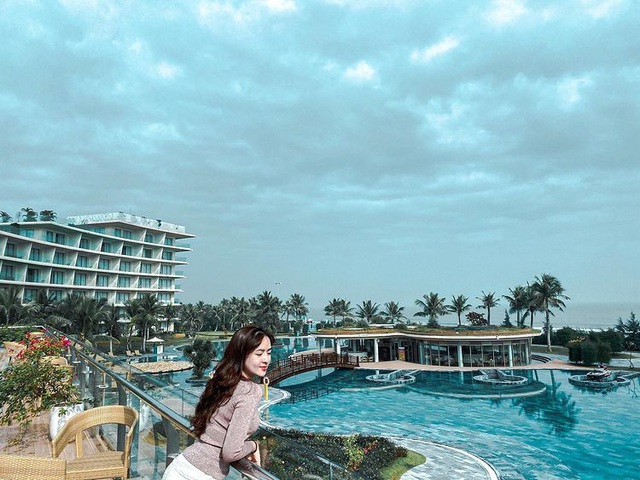 One of the favorite virtual coordinates at FLC resort. Photo: talypham1911
– Beach B has reduced waves more suitable for the elderly and children, this area has many snack shops on the beach.
– C beach is crowded, along the coast there are many restaurants, cafes, karaoke bars. The slope is flat and often a place for fun activities.
– Beach D is suitable for tourists who want to enjoy a quiet space, beautiful scenery, check-in virtual living.
At night, visitors can take a tram to walk around the city; Watching the beach with mat rental service of 20k – 30k/mator or buying a kite to fly is also very interesting.
Tourist attractions in Sam Son
Sam Son tourism not only includes swimming or relaxing at high-class hotels, but you can experience and explore famous attractions in Sam Son such as:
Hon Trong Mai: Belongs to the Cluster of historical and cultural relics of Truong Le mountain belonging to Sam Son city, made up of 3 rocks, put together like the image of 2 chickens facing each other.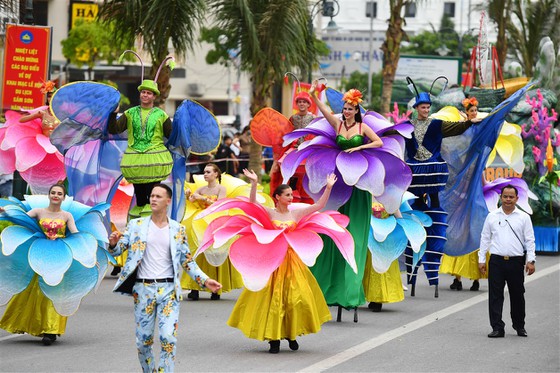 Street Carnival opens the Sam Son Beach Tourism Festival. Photo: SGGP
Doc Cuoc Temple: Located in Truong Le mountain range in Sam Son town, quite close to the beach. This is not only a beautiful temple but also known as a relic of Sam Son, attracting many tourists to visit.
Sam Son fishing village: Located in the middle of Sam Son beach town, is a small fishing village of indigenous people, with rare peaceful features.
Sam Son Seafood Market: You can come here to choose fresh seafood but pay attention to the price so as not to be bought too expensive.
In addition, if you have time, plan to visit tourist attractions near Sam Son that are also quite attractive such as: Cam Thuy magic fish stream, Hieu village, Hieu stream, Ben En national park, Tu Thuc cave…
Delicious dishes in Sam Son
Thanh Hoa spring rolls: Going to Sam Son, Thanh Hoa cannot help but enjoy the specialty that is the famous spring rolls. With the sweet, slightly spicy taste of fig leaves, chili and garlic, it creates a distinctive flavor of Thanh's spring rolls compared to other places.
Eel porridge: Another specialty dish of this sea is eel porridge. Although the bowl of porridge is quite thin, it does not look like a bowl of soup, but when you enjoy it, you will feel the great taste and characteristic flavor of this dish.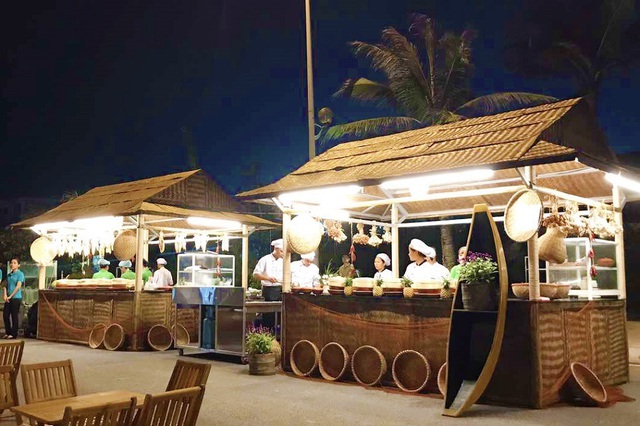 Country market at night in Sam Son
Squid stuffed with meat: is a famous dish in Sam Son, when eaten while it is still hot, you will feel the firmness of the squid shell, the chewy taste and the aroma of delicious stuffed meat, once eaten, you will remember the taste forever.
Sam Son Seafood: There are countless different types of seafood such as shrimp, crab, fish, snail, and all kinds are fresh and attractive, the most prominent of which is a sunny day squid or a package of fish…
Other famous delicacies in Sam Son: shrimp paste, Phu Quang, Phi Thanh Hoa lam tea, harrow gear, Tu Tru gai cake, Ha Yen shrimp paste, Sam Son fish salad…
https://cafebiz.vn/sam-son-chuan-bi-mo-le-hoi-tinh-yeu-tat-tan-tat-bi-quyet-an-choi-ngu-o-flc-check-in- o-hon-in-mai-va-5-mon-nen-thuong-thuc-20220330094529682.chn
By Business and Marketing
You are reading the article
Sleep at FLC, Check in at Hon Trong roof

at
Blogtuan.info
– Source:
cafebiz.vn
– Read the original article
here