Where is Ta Chi Nhu located?
Ta Chi Nhu is the name of a mountain peak in the Pu Luong mountains in the Hoang Lien Son mountains. The peak is located in the Tram Tau district in the northern mountainous province of Yen Bai. With an altitude of 2,979 m above sea level, the peak of Ta Chi Nhu is ranked 6th in Vietnam.
Stand at the top of Ta Chi Nhu to admire the beautiful sunrise and be like a fairy tale.
Ta Chi Nhu is also known as Phu Song Sung by the Thais or Chung Chua Nha by the Mongs. The topography of this mountain is quite complicated with many steep slopes, some parts are almost vertical. The climate on the mountain is harsh, with strong winds making the journey to the top of the mountain relatively difficult and dangerous.
What's so special about Ta Chi Nhu at Yen Bai?
The climate here is harsh but carries an indescribable charm, especially on days when the skies are clear and cloudy, and the weather stable, this is the ideal time to go on a professional backpacker "cloud hunting -" "wind ride" trip or even for travelers adventurer, conquer new land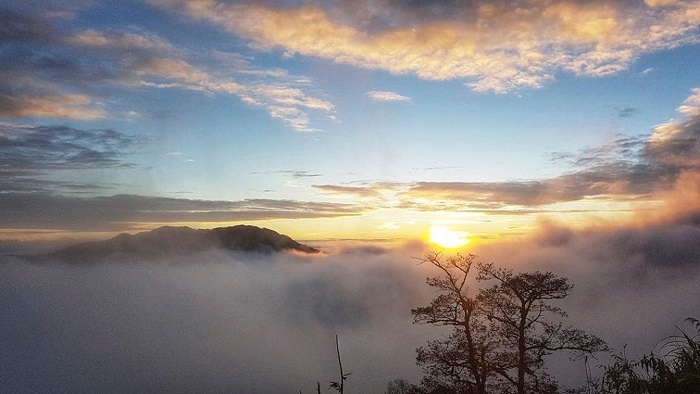 The whole world seems to be wrapped up in your view, numbing your mind, forgetting everything to immerse yourself in this illusory space.
How to get to the top of Ta Chi Nhu in Yen Bai
To get to Ta Chi Nhu you have to go through a relatively tough and difficult road. From Hanoi, you follow the national highway to Yen Bai, pass Nghia Lo, Tram Tau and then cross the zigzag road to Xa Ho village. This is just the first goal. From here, you walk about another 8 km and then start walking to conquer this charming mountain.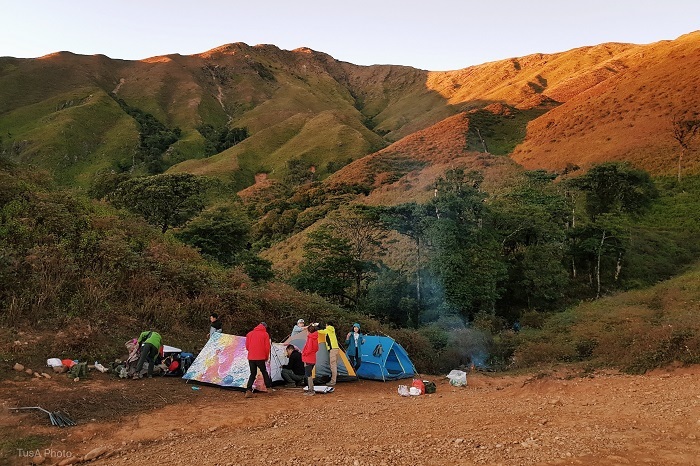 You can rest on the side of the mountain.
Go to Ta Chi Nhu to hunt for clouds and see red Do Quyen flowers
According to Hu'stay, Ta Chi Nhu is currently in red azalea season. After the chestnut season, Son Tra's spring ended and now Do Quyen is blooming red in the Nam Nghiep forest, the road to Ta Chi Nhu.
"Truck trucks into the primeval forest, tread on a thick carpet of maple leaves, or a bed of Do Quyen flowers at your feet, witnessing the countless species of Chi pau and Do Quyen flowers… simply incredible. Plus, a heart-shaped tree stump with tradition The theory of love of two villages separated by the administrative boundaries of Son La and Yen Bai provinces at an altitude of 2,500m is also an interesting destination on a trip through the forest "…its introduction makes many tourists want to pack up and leave.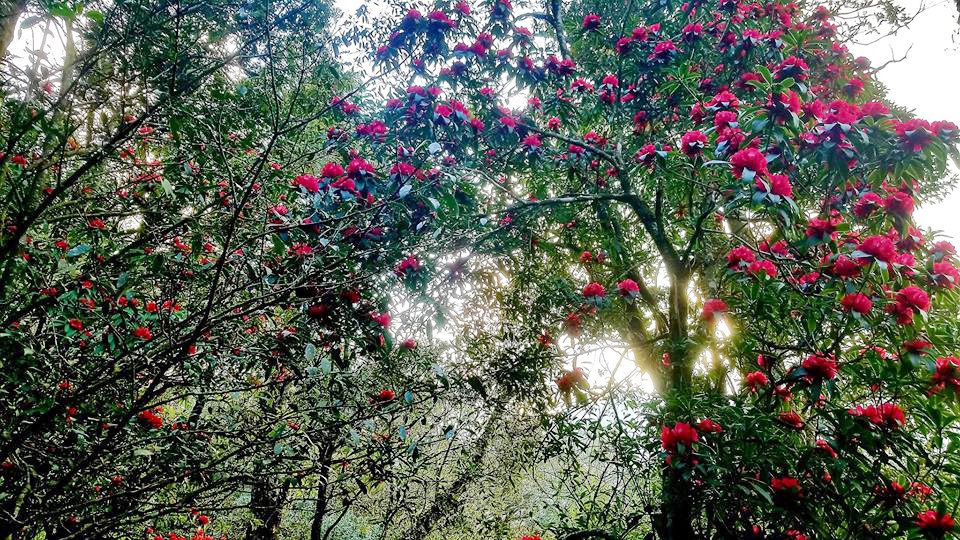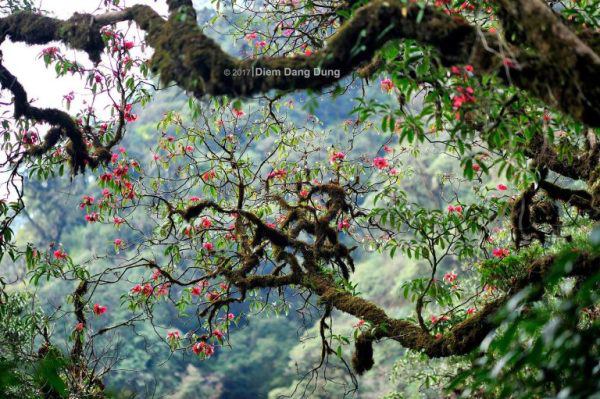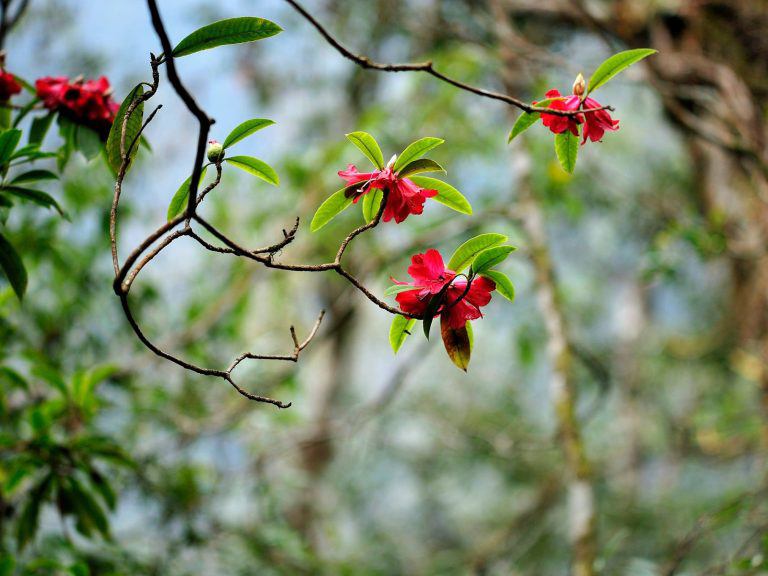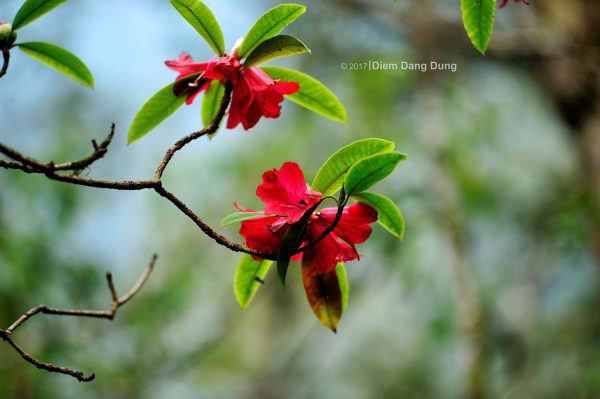 Image of red Do Quyen flower in Ta Chi Nhu (collection photo)
If you want to experience and explore Ta Chi Nhu, please refer to the Hu'stay itinerary with the aim: visit the villages of Luat, Ngoc Chien, Muong La, Son La and then go to the peak of Ta Chi Nhu, the administrative boundary between the two Provinces of Son La and Yen Bai . Itinerary 3 days 2 nights, specifically:
Day 1: 7:00, depart in Hanoi, 12:00 lunch at Nghia Lo, pass Khau Pha pass to see Lim Mong Lim Thai valley from paragliding point of view. Afternoon bath in mineral hot springs in Luot village, Ngoc Chien, Muong La, Son La. Overnight at Hu'stay, a house on stilts with glass walls located next to the Nam Chien river.
Day 2: Wake up at 4am for breakfast, follow the Mong boys to the forest at 5am. Each guest will have a Hmong friend to assist in the journey from the homestay to the forest and back to the homestay, lunch in the forest in the afternoon, back to Surf village, hot mineral bath, and overnight at Hu' stay.
Day 3: Wake up early to catch the dawn, hot shower, breakfast, visit Luot village and back to Hanoi.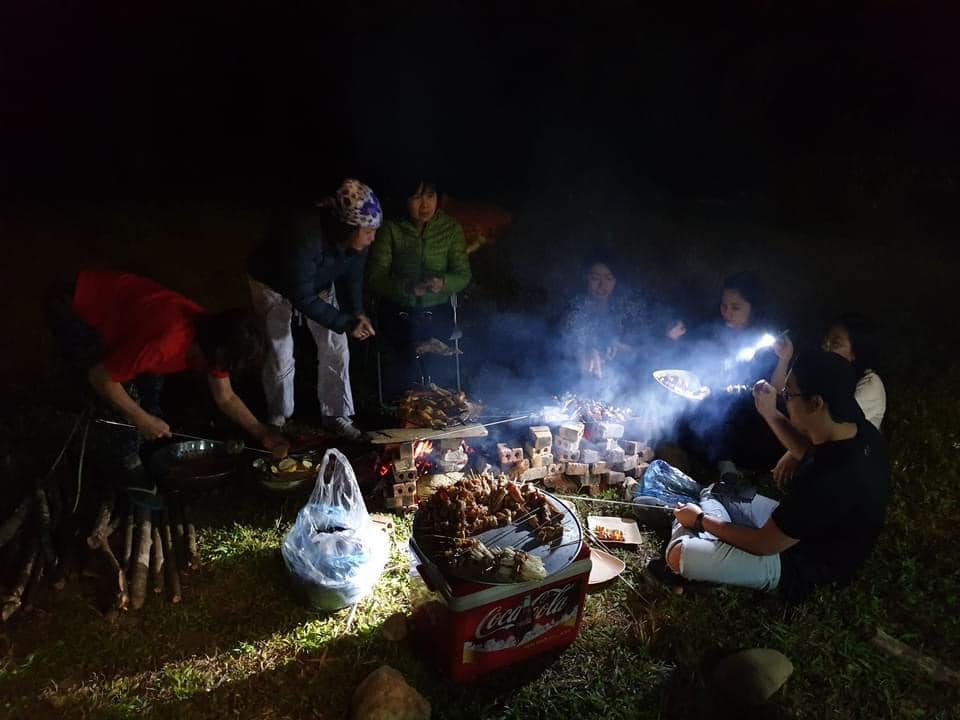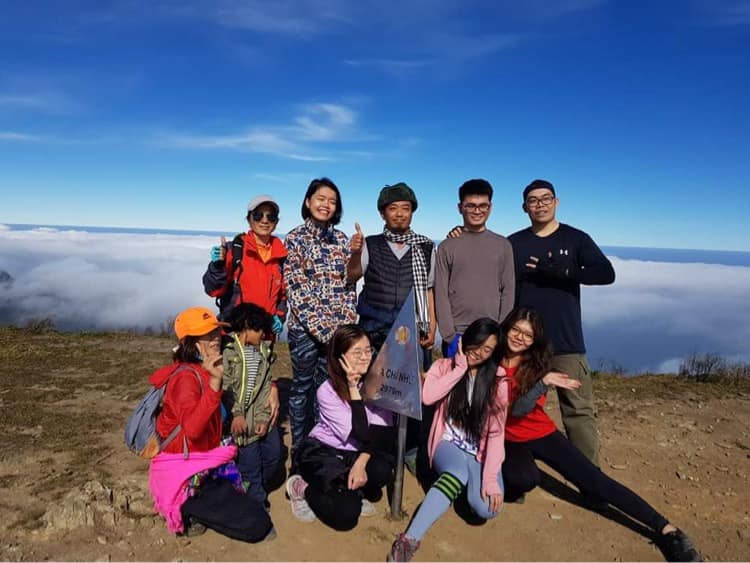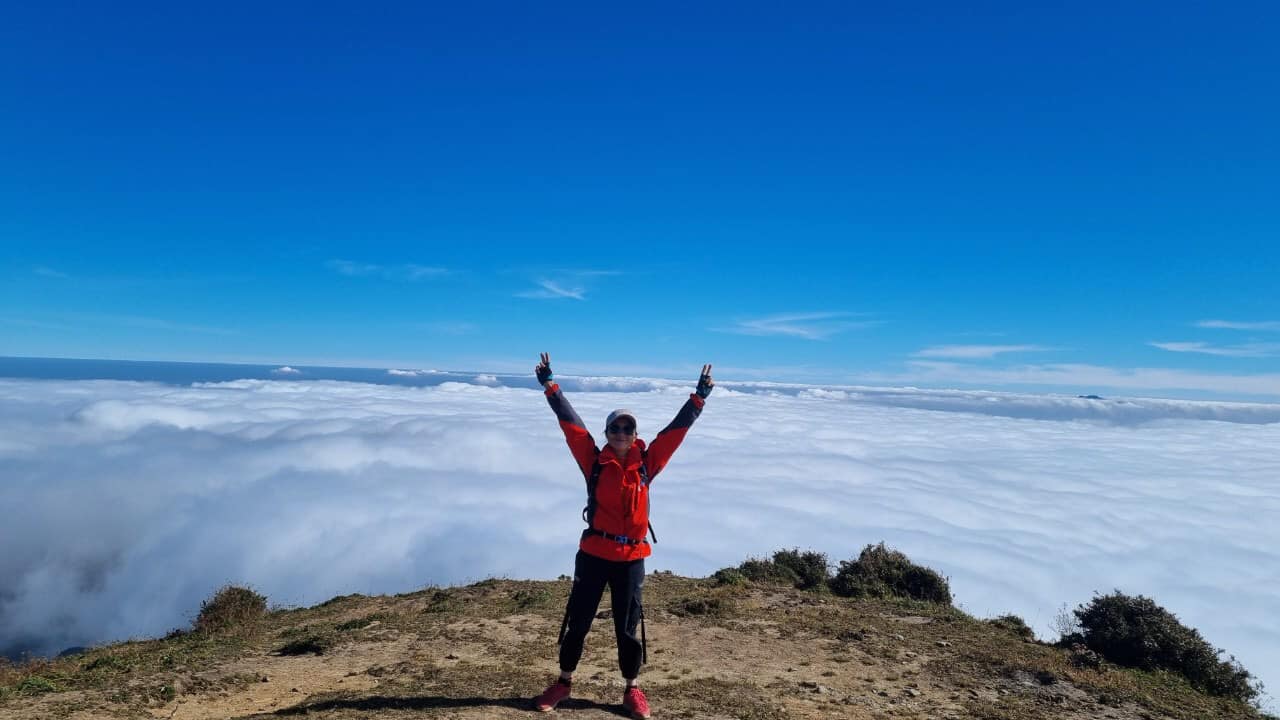 Tourists conquer the peaks of Ta Chi Nhu
You can also travel from Hanoi on your own in many ways.
If taking a private car, from Hanoi take Highway Noi Bai – Lao Cai, turn to Yen Bai via IC 11 or IC 12. Or Highway 32 via Thanh Son, Thu Cuc to Nghia Lo, via Khau Pha pass, turn to Nam Khat Going under the canopy of pine forest but get lost in dreamy Da Lat or turn at Ba Kim junction, pass Sang village, pass through rose valley to reach Luot village, Ngoc Chien commune, Muong La district, Son La, stopover to prepare for mountain climbing. .
The package fee is 3 million VND/person. Picking up a group at Hu'stay costs 2,500,000 VND/person. This tour is open continuously every day of the week.
You are reading the article
Ta Chi Nhu – Red Do Quyen's flower paradise
at Blogtuan.info – Source: Eva.vn – Read the original article here