In VinFast's development plan, bringing its models to foreign markets and being ready to compete with the world's big names is something to be proud of. According to what has been announced, VinFast will start delivering its first electric cars to the US and some European countries right this year, followed by expansion to other markets.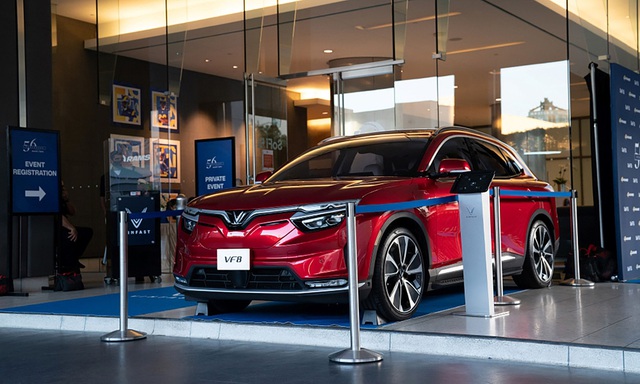 VinFast VF8 is displayed in an event VinFast participates in to promote its image. Photo source: VinFast
In the immediate future, VinFast will be present in the US and 3 European countries, including Germany, France and the Netherlands. Then, in step 2, VinFast will expand the market to many other European countries and regions in 2023, namely Italy, Scandinavia (the common name for a region in Northern Europe, which is said to include the countries of Norway, Sweden, Denmark, Finland), Switzerland and Austria.
However, VinFast has not mentioned Australia – where VinFast has also established an R&D center and acquired the Lang Lang test school from Holden. Surprisingly, Australia is a place where buying an electric car takes a long time. Why does VinFast seem so slow to enter Australia?
WANT AND DO NOT HAVE TO BUY
The Hyundai Ioniq 5 (pictured) is a very popular electric car in Australia. Photo: Drive – Australia's
Some time ago, Hyundai brought its strategic electric vehicle to Australia, the Hyundai Ioniq 5. The Guardian reported that Hyundai only brought 109 units to the 6th largest country in the world. with more than 25.75 million people. What happened next is probably easy to guess: All 109 of these Hyundai Ioniq 5 were purchased in less than 7 minutes. After that, more than 18,000 other people expressed interest in the car.
But what makes electric cars only in the dreams of Australians, but after a while, can be realized?
KIA EV6 will also be available in Vietnam this year.
First of all, it should be mentioned that it is not unusual for customers to "struggle" to buy the Hyundai Ioniq 5. The same story happens with Tesla's electric cars when it takes 6 to 9 months to receive the car, or like with 500 KIA EV6 electric cars but about 20,000 people want to buy.
Speaking to The Guardian, Behyad Jafari, head of the Electric Vehicle Council of Australia, said: "The biggest problem we have is attracting the supply of electric vehicles, not motivating Australians to choose cars. electricity."
LESS ATTRACTIVE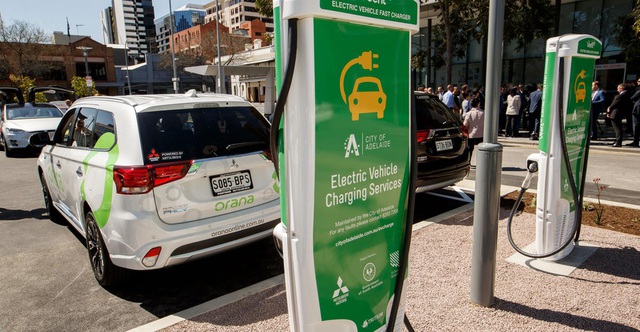 A public charging station in Australia: In addition to the Tesla model in the background, the two Mitsubishi models in the photo are an externally charged hybrid electric vehicle, which is still equipped with an internal combustion engine. Photo: WardsAuto
But in reality, Australia is not a very attractive place for electric vehicle manufacturers. For example, the United Kingdom or South Korea is expected to ban the sale of gasoline-powered models from 2030 and 2025 respectively, which is a great motivation for electric car manufacturers to deploy, but Australia is considered a lack of environmental policies, lack of regulations to reduce CO . emissions2.
The Australian government has actually said that it will fund the construction of electric vehicle charging stations in public places, offices or even homes, but Australia is also the only country in the OECD. No emission standards apply. If in Europe is applying the Euro 6 emission standard, in Australia it is nothing.
Mr. Behyad Jafari added: "Australia is not in that race [ý nói tới tiến trình giảm thiểu khí thải]. Our partners in the US, Europe or other parts of the world are not restricted because there are regulations on how to have the necessary amount of electric vehicles in the market."
Currently, although manufacturers around the world are having supply chain problems, according to a senior official of Hyundai Australia, Mr. Bill Thomas, the problem only revolves around incentives when selling electric vehicles. Without the government's role, the situation is likely to get worse. That is also the scenario that many experts fear.
Mr. Behyad Jafari continued: "Australians continue to buy cars with internal combustion engines year after year, unaware that they run the risk of buying new cars that will soon become worthless. worth nothing in four or five years. No one will ever buy a car with an internal combustion engine anymore because the technology is so outdated Needs a warning that they're buying a landline phone as the world shifts. to use cell phones."
However, given what Australian consumers have shown with Tesla, Hyundai and KIA, this must be a potential market, at least in terms of customers who are very ready to accept. In the near future, perhaps VinFast will not put Australia first, but it should also be recalled that VinFast will definitely come to Australia – that is the confirmation of the VinFast representative to Motoring.
In the same interview, Ms. Nguyen Thi Van Anh, Deputy General Director of VinFast, said that the sale or distribution of cars in Australia depends on "many different aspects".
You are reading the article
VinFast goes to the US and Europe but hesitates where buyers are "thirsty" for electric cars, wait a few months to receive it

at
Blogtuan.info
– Source:
autopro.com.vn
– Read the original article
here