Games
"We lost a lot in the group stage because we intentionally let the opponent have a strong pick, now it's different"
Yesterday – March 29, the next match of the playoffs LPL Spring 2022 between EDward Gaming and Weibo Gaming has officially taken place. Before the match, there was a lot of suspicion directed at WBG when SofM and his teammates were in relatively bad form at the end of the group stage. Meanwhile, EDG had just defeated an annoying FPX and thought they would be able to wipe out all opponents.
However, the developments of the match were completely opposite to many people's imagination when WBG was the team that played more actively in the early moving situations. On the other side, EDG suddenly played extremely passively and didn't support Jiejie too much in the early game. There is a feeling that WBG is the team that takes the initiative to attack and the EDG side is just trying to defend. However, this made EDG vulnerable to passive fighting and as a result lost the match with a score of 1-3.
WBG won 3-1 convincingly against EDG
One of the main reasons why EDG is in such a difficult position is that this team has been deprived of comfortable picks. Even in the post-match interview, superstar TheShy also shared that WBG did not allow its opponents to choose strong and forehand champions like in the group stage. Perhaps for this reason, WBG was able to defeat EDG.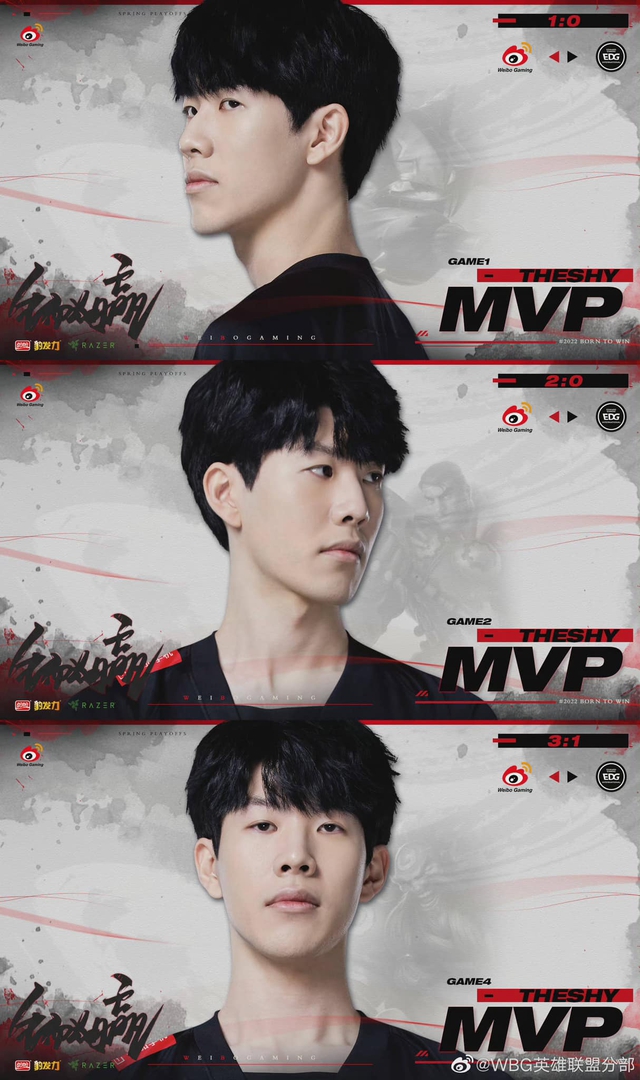 TheShy really had a great match and won 3 MVP titles
Ask: In the group stage, we often see you playing Sion in Top Lane. However, in the playoffs, you use 3 different characters and get all 3 MVP titles. Is he hiding the cards or does this ban/pick have some other purpose? How do you feel now?
WBG TheShy: Honestly, I'm glad I beat EDG. As for the pick ban, in the group stage we intentionally let the opponent have comfortable picks, for example strong champions in the meta. Maybe that's why we lost a lot. However, when we get to the playoffs, things will be different when we put a lot of pressure on the opponent's Top lane right from the pick and ban phase. So we won.
Indeed, when we look back at WBG's draft draft in the last match, we will see that they put tremendous pressure on the opponent's Top lane right before the game even started. For example, with game 1, the WBG side actively banned Graves and Tryndamere, Flandre's forehand and strong damage dealers. This will limit an upper wing that can split or carry the team with a superior farm on the EDG side.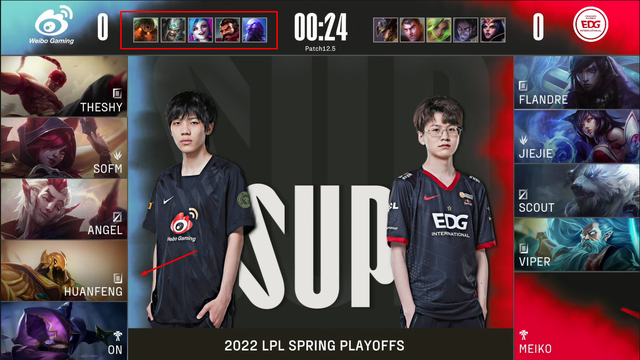 We can see how WBG's picks/bans put a lot of pressure on the opponent's Top Lane
Then at picks number 4 and 5, WBG immediately locked into 2 champions that deal magic damage and have very strong fighting, Azir and Kennen. This causes EDG to narrow down a lot of strong options when Gladiator champions like Camille, Fiora, Aatrox… can't win Kennen in the lane, but even in combat, they can't overcome Azir's ultimate move. . As a result, EDG picked Vladimir who seemed like a "backhand" to Flandre and as a result he played too weakly.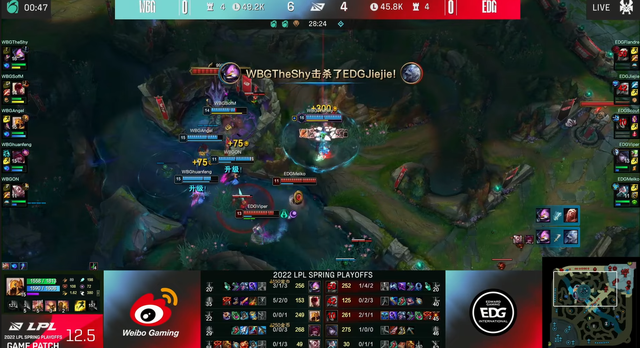 In fact, Flandre in game 1 died many times and didn't contribute anything in the fight
It can be seen that this WBG pick and ban is extremely effective when the opponent has a play style that relies on the brilliance of the Top Lane position. WBG's next opponent, JDG, also has a 369 top laner that needs a lot of care, if this method is successfully applied, it won't be too surprising if WBG continues to advance to the Semifinals of the LPL Season Spring 2022.
https://gamek.vn/wbg-theshy-bon-toi-thua-nhieu-o-vong-bang-la-vi-co-y-de-doi-thu-co-pick-manh-gio-thi- other-roi-20220330092335983.chn
You are reading the article
"We lost a lot in the group stage because we intentionally let the opponent have a strong pick, now it's different"

at
Blogtuan.info
– Source:
gamek.vn
– Read the original article
here