Business
Brokers "help" push land prices, manipulate the real estate market
"Anyone can be a real estate agent"
At the seminar "The role of real estate brokers in a new trend" organized by the Vietnam Real Estate Brokers Association, the participating experts all recognized the indispensable role of real estate brokers. However, this force increased rapidly. The quality is not guaranteed, the lack of professional skills, the lack of understanding of the law leads to bad consequences for the real estate market.
Pham Lam, General Director of DKRA, said that there are about 300,000 people involved in real estate brokerage in Vietnam. However, the actual number may be more because "anyone can be a real estate broker".
Statistics show that, on average, the primary and secondary markets each year have over 100,000 transactions. In some localities, there are several thousand transactions a month, and brokers play an important role in helping real estate transactions take place.
"Over the past many years, the brokerage force's progress has been huge, building expertise, good capacity, good skills, good practice, can be seen in primary and high-end projects in cities and towns. are introduced by professional brokerage companies", Mr. Lam assessed.
However, besides that, there are many small and medium-sized organizations, several hundred people who do not have professional expertise and brokerage capacity. Unfortunately, these companies only have short-term strategies, look at the benefits in front of them.
Mr. Nguyen Van Dinh, Chairman of Vietnam Real Estate Brokers Association, said that recently, the real estate market has been hot, especially prices are constantly changing and reversing, creating great pressure for investors. market, land prices in some places jumped, skyrocketed.
The Chairman of the Association said that such a situation happened with the help of speculators and unprofessional brokers. Even brokers at professional companies are still deliberately "aiding" in pushing prices to inflate prices, creating benefits that do not serve the economic development of localities. It can be said that the real estate market in the recent period has been manipulated by many speculators and brokers.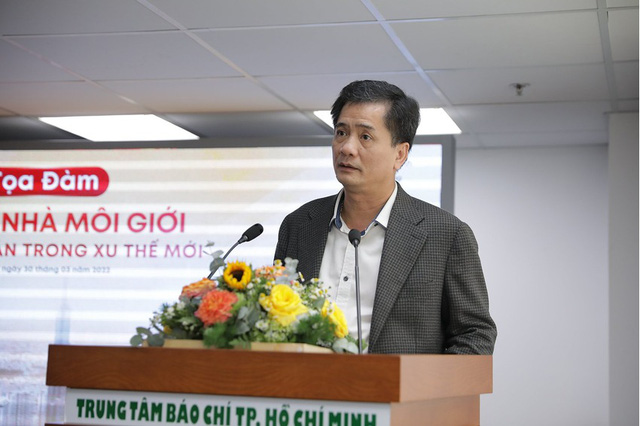 Mr. Nguyen Van Dinh, Chairman of Vietnam Real Estate Brokers Association spoke at the seminar.
Sharing the same opinion, Mr. Nguyen Minh Quang, Director of Sales – Marketing Division of Nam Long Investment Joint Stock Company said: "Small-scale real estate brokerage units and organizations do not care about protecting their trademarks. The investor does not care about how to take care of customers in the future, just takes care of completing the transaction, collecting money, ignoring the responsibility to the investor and customers.
Mr. Quang said that it is necessary to quickly build a legal corridor, supervise and be drastic in sanctions, towards a transparent market and professionalism of brokers, whether individuals or organizations.
There should be sanctions for real estate brokers
Ms. Nguyen Huong, Vice President of the Vietnam Real Estate Brokers Association also said that the story of "storks" of dishonest land, market disturbances, is partly due to the lack of assessment and construction. criteria for determining conditions for brokerage practice. The legal framework has existed, but the law has been floating for a long time, while the number of brokers is increasing rapidly, leading to many consequences.
"It's time to set standards for the brokerage profession. It is necessary to clearly define necessary and sufficient conditions for individuals and organizations to practice. Thereby, there is supervision and strong sanctions against acts that violate the regulations. , contrary to professional standards", this person suggested.
From the perspective of the management agency, Mr. Nguyen Manh Khoi, Deputy Director of the Department of Housing and Real Estate Market Management (Ministry of Construction) said that a general review is needed to find out the causes of the negatives. In recent times, identifying new problems can find solutions.
"Does every broker understand the law? Out of 300,000 brokers today, how many have studied and been certified as a broker? How many know what professional skills are? Responsibility? Mr. Khoi said that in the previous generation, brokers studied very hard, the State was very interested, trained, and took exams, and it was very exciting. Currently, out of 300,000 real estate brokers, how many have studied and been certified as a broker?
In addition, according to Mr. Khoi, it is necessary to determine why the current broker does not need to go to school, or is not afraid of the law, is not afraid of being condemned, is there a need for ethics in practice and will be given by anyone, or have suggestions? Legalize brokerage practice ethics yet.
"Is the problem due to insufficient legal provisions, not yet put into practice, or does it come from the responsibility and orientation of the leaders of brokerage organizations and brokers?", Mr. Khoi posed the question.
Mr. Khoi said that in the future, we need to discuss related issues such as whether selling real estate through the floor should be compulsory or not allowing brokers to operate independently, but must enter the business, should they not? ? How to learn, issue practice certificates, digitize brokerage profession, identify?
https://cafef.vn/moi-gioi-tiep-tay-day-gia-dat-thao-tung-thi-truong-bat-dong-san-20220330155929398.chn
You are reading the article
Brokers "help" push land prices, manipulate the real estate market

at
Blogtuan.info
– Source:
cafebiz.vn
– Read the original article
here