Giải trí
F1 racing, Saudi Arabian GP statistics: Red Bull rebounds from defeat, Hamilton is disappointed
(Sports news, F1 racing news) After the disaster in Bahrain, the race in Saudi Arabia brought joy to Red Bull. Mercedes continues to underperform while Lewis Hamilton has achieved results he has only achieved twice before in his career. Below is a summary of the most notable achievements at Jeddah.



Class run: First Mexican F1 driver to win pole
The qualifying run in Jeddah took place with many unexpected developments. Lewis Hamilton failed to make it through Q1, while Sergio Perez finally took his first pole in his 12th F1 season…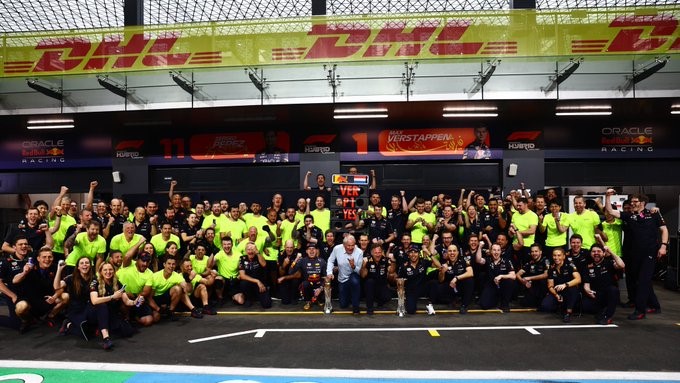 The "original" Red Bull engine has its first F1 victory
The Red Bull Powertrains engine won its first F1 pole achievement thanks to the excellence of Sergio Perez. He is the first Mexican driver to take the first place in F1 history, in the 215th race of Perez's career. This is a new record for the longest official race time before taking the first pole, the previous record held by Mark Webber (also a Red Bull driver) with 130 races.
This is only the second time Perez has beaten Max Verstappen, in a run entirely dependent on individual ability since joining Red Bull, the first being at Imola last year. Charles Leclerc has only started P2 once in his career, in Japan in 2019. Ferrari teammate Carlos Sainz started P3 for the second consecutive week.
Verstappen only finished before Leclerc 0.549s
4th place is the worst performance in Q3 for Verstappen since Monza 2020 when he has the fastest 5th. Esteban Ocon balances his personal best 7th day of 2021 with 5th place. Human driver France once ranked P5 in Spain 2021.
George Russell finished sixth, meaning both he and Perez beat their team-mates (Hamilton and Verstappen) in Jeddah. Russell is also the only driver on a Mercedes-Benz engine car to make it to Q3, but only 0.034 seconds from the P11 position.
Valtteri Bottas ranked 8th, helping Alfa Romeo enter Q3 in Jeddah for the second year in a row. That helps the Finnish driver continue to maintain a series of 103 consecutive stages into Q3. Kevin Magnussen has two consecutive legs in the top 10 fastest since Monaco – Canada 2019.
Brazil 2017 is the last race Lewis Hamilton was eliminated from Q1 qualifying round, but if you consider the performance factor based on his pure speed (not counting due to wet weather or rain or receiving a penalty for dropping the starting rank), ), the last time Hamilton was eliminated in Q1 was at Silverstone 2009.
Ferrari has the best start since 2001
Meanwhile at McLaren, both drivers have better rankings than stage 1 last weekend. And Lance Stroll is the first Aston Martin driver to enter Q2 this season, also his first Q2 in Saudi Arabia. The five cars that set the slowest lap time in Q1 are all Mercedes-powered cars (Hamilton and the duo of Aston Martin and Williams).
Main race: Ferrari recreates the achievement of 21 years ago
With Verstappen in first place and Sergio Perez in fourth, the Red Bull team scored 37 points, more than any other team in Saudi Arabia. On the contrary, they are the only team without a point a week ago in Bahrain. Verstappen's win was the first Red Bull Powertrains' first, in the second leg of the race.
Hamilton ranked P10 – first since 2012
Verstappen's championship here took place on the 28th anniversary of his father Jos Verstappen's F1 debut at the 1994 Brazilian Grand Prix. 0.549 seconds is the smallest victory gap since Pierre Gasly won the Grand Prix. Italy 2020 ahead of Carlos Sainz with a distance of only 0.415 seconds.
With P2, Charles Leclerc has now had more podiums this year (two) than last season (1 time). Teammate at Ferrari, Sainz finished 3rd – also the 3rd podium in a row, and he had the 17th stage in a row to finish in the top 10 scoring. This is the first time Ferrari has had both drivers on the podium in consecutive races since Singapore 2019. And this is Ferrari's best start (4 podium) in the last 21 seasons.
Alpine had an impressive race even though only Ocon scored
Perez led more laps at Jeddah (14 laps) than the Mexican driver's whole season (13). Perez's last two points were P4 – the previous achievement was in Qatar 2021. George Russell won P5 and finished in the top 5 in the first two races of the 2022 season.
Esteban Ocon (Alpine) – P6 – finished in the top 7 in Bahrain and Jeddah. McLaren didn't run higher than 13th at any point in Bahrain last weekend, this time Lando Norris finished in P7 and is just 0.107s away from sixth.
All three drivers who failed to finish in Bahrain last weekend scored at Jeddah and were from Red Bull – Verstappen (P1), Perez (P4) and Pierre Gasly (P8). Kevin Magnussen won 2 points for Haas with 9th place, the first time the US team had points in consecutive races since Spain and Monaco 2019.
McLaren improves speed and gets first score
Lewis Hamilton has the last score with P10 for Mercedes – the first time the British driver has finished in this position since the 2012 Korean stage, nearly… 10 years ago (Hamilton has never finished 11th at any tournament. race in his F1 career). Only 13 cars saw the finish line at this stage, equal to the least number of racers finishing in a race in 2021 (Hungary, where there was a continuous accident at corner 1).
According to Roger Bui (Ho Chi Minh City Tourism Magazine)
You are reading the article
F1 racing, Saudi Arabian GP statistics: Red Bull rebounds from defeat, Hamilton is disappointed

at
Blogtuan.info
– Source:
24h.com.vn
– Read the original article
here