Business
Land 'stork' is rampant, where is the government?
On March 31, according to a reporter's source, the Gia Lai Department of Natural Resources and Environment (TN&MT) has just reported to the Provincial People's Committee about the fact that real estate brokerage organizations inside and outside the province have flocked to the locality to collect agricultural land. Karma.
According to this department, from the end of 2021 and the beginning of 2022 to monitor the actual situation, reflections of people and businesses, the situation of people dividing plots, separating agricultural land plots, leveling the ground… complicated developments. .
Some individuals in the name of real estate brokerage organizations inside and outside the province have shown signs of buying and collecting agricultural land from local people, then dividing the land into small parcels.
"These subjects use the draft map of land use planning to 2030 at the district level to announce investment projects, attract investment in the province, and inflate the price of transferred land for profit." according to documents of Gia Lai Department of Natural Resources and Environment.
This agency cited, land "stork" activities concentrated in the following areas: Chu Dang Ya commune (Chu Pah district); the communes of Tan Son, Bien Ho, Tra Da, Chu A and Chi Lang ward (Pleiku city); Ha Bau, Ia Bang, La Dok communes and Dak Doa town (Dak Doa district) cause disturbances in land prices and the real estate market.
When the land plots are successfully divided and transferred, the trees and crops are all cut down, not taken care of, leaving the land fallow, unused, without management, causing loss of landscape and environment, wasteful land. This leads to many difficulties and consequences for the state management of land such as: statistics, land inventory, measurement and adjustment of cadastral maps, land price management, land acquisition, compensation and settlement. ground clearance, status of disputes, complaints…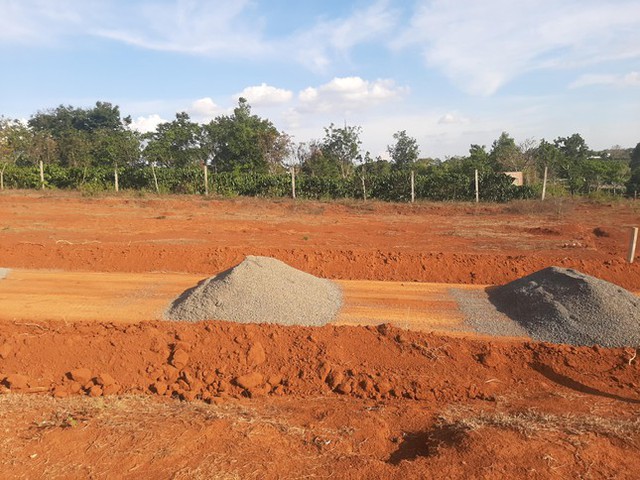 Individuals pour stones, leveling land to make roads on agricultural land
Research by PV, in Thang Loi ward (Pleiku city), some individuals collect agricultural land, arbitrarily pour crushed stone, put bulldozers in leveling, build a road 3.5m wide and 200m long on the land. agriculture, running straight to the foot of the field. A lot of concrete piles are plugged around the land to prepare for subdivision and division of parcels.
Mr. Nguyen Van Tung, Chairman of Thang Loi Ward People's Committee said: "These individuals arbitrarily poured crushed stone to build roads, without reporting to the authorities. Yesterday (March 30), I went to the place and asked to return it to the original condition" and said that the individual who poured the land declared his name Vo Tram (50 years old, temporary residence 40 Ngo Gia Kham, Tra Ba ward, TP. Pleiku).
"When making a violation record, he also blasphemously challenged ward officials. I said, if I don't comply, I will tow the bulldozer to the ward, this man will cooperate," said Mr. Tung.
Regarding the land "stork" problem, in Chu Pah district, on March 22, the investigative police agency of this district police prosecuted Ms. Vu Thi Hang (42 years old, residing in Delete village, Chu Dang Ya commune). to investigate the acts of "Forging seals and documents of the organization" and "Scam to appropriate property".
This woman went to the house of poor households in Chu Dang Ya commune to rent land, borrow the land, then take advantage of the red book to transfer it to her name. From the red book obtained by fraud, this woman took it as a pledge, borrowed money to spend.
As in the case of Mr. H. (47 years old, residing in Chu Dang Ya commune, Chu Pah district), he leased 5,000m . to Mrs. Hang2 swidden land in 2018 to grow coffee, at a price of 100 million VND/10 years. At the beginning of 2022, Mr. H. "fired" when he discovered 5,000m2 Her land was in the name of Mrs. Hang. Mr. H. then made an application to the police.
Talking to PV, a leader of Pleiku City People's Committee said: "The city's point of view is to strictly handle cases with signs of subdivision, plot separation, arbitrarily leveling, and illegal opening of roads".
You are reading the article
Land 'stork' is rampant, where is the government?

at
Blogtuan.info
– Source:
cafebiz.vn
– Read the original article
here