Mr. Zelensky's "Fortress"
The white metal gates creaked open, revealing rows of spruce trees and sandbags. "Welcome to the fortress," the Economist quoted an aide to President Zelensky as saying.
Squinting, everyone entering could see the snipers: to the left, right, top and bottom. Air defenses – giant chunks of metal – are easier to spot.
As the gate closes, a soldier picks up a red vertushka, a government security phone from the Soviet era, and asks for orders.
The Economist reporters were moved to a side entrance, then escorted inside through corridors and stairs painted black: up, down, and deep into the body of the center of the war "machine" Ukrainian painting.
It took reporters nearly an hour to reach the gates of President Volodymyr Zelensky's fortress, a journey that usually takes 10 minutes.
The cobblestone streets of Kiev today are mostly traffic-free, but the city's central thoroughfares have been redone to deter Russian forces. The roads were surrounded by anti-tank barricades, men carrying guns and increasingly fortified checkpoints.
The current state of Kiev is reminiscent of February 2014. Now, this capital continues to be at war.
Inside the presidential residence, reporters were asked to leave phones, devices, electronics and pens at the door – anything that could be used to accurately locate the place.
Walking along the dark corridors, the reporters found themselves in the Ukrainian situation room. With its white desk, high chair, and large screen, it could have been a corporate meeting room, but it had emblazoned text on each side, in yellow on a blue background: "Office of the President: Office of the President Ukraine".
Over the past four weeks, this background has become famous as Mr. Zelensky repeatedly posted on social networks, broadcasting his message to the whole world.
A serious-looking soldier entered. "Uvaga!" (Seriously), he shouted. Ten seconds later, the President entered the room, accompanied by several men armed with machine guns.
President Zelensky sat at the head of the table, in front of the stately flag of Ukraine, and began to speak. He participated in a brief interview with a reporter for The Economist.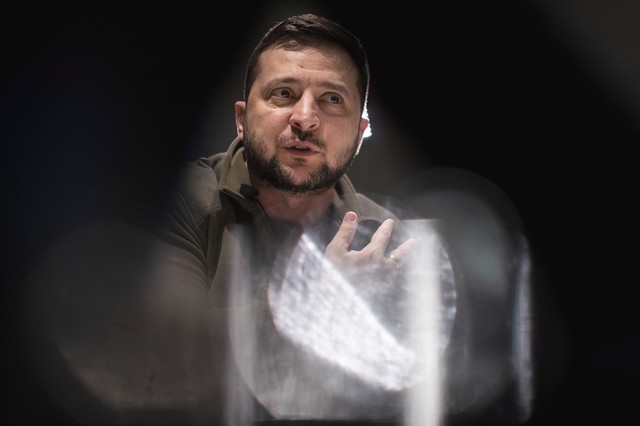 (Image source: Economist)
Difficult situation as president
When asked what he needed most in the West, Mr. Zelensky immediately replied: "Number one is the plane", a smile crossed the eyes of the President of Ukraine. And "number two, but really as necessary as number one is a tank".
"What will Ukraine's victory look like?", reporters asked him.
Mr. Zelensky raised an eyebrow, grimaced, and took seven seconds before saying: "Victory is about saving as many lives as possible."
"I didn't expect it to be so difficult. You can't imagine how well you can take on the presidency. I'm not a hero. That is the achievement of the Ukrainian people" – Zelensky said that Russia's special military operation has really put itself in a very difficult position.
As described by an Economist reporter, Zelensky is currently surrounded by a small group of journalists, lawyers, artists and self-help experts…. To them, this is a wartime government. .
These people – all dressed in military green – seemed comfortable with each other and their leader. But not everything is in place. It's all a bit chaotic. However, everyone seems to know what to do. They continued their work despite the constant threat of being hit by a bomb.
For his part, Mr. Zelensky believes that one person cannot and should not control everything. As Ukraine seeks to defeat Russia on the battlefield, that understanding – belief in the power of individuals who choose to stand together – may be Ukraine's salvation.
https://soha.vn/chuyen-di-toi-phong-chien-tranh-cua-tt-zelensky-sung-ban-tia-ten-lua-giang-tu-phia-20220330131548374.htm
You are reading the article
Sniper guns, rockets spread in all directions

at
Blogtuan.info
– Source:
Soha.vn
– Read the original article
here