Sức Khỏe
Which group of children aged 5-11 need to delay vaccination against Covid-19?
Subjects who need to delay vaccination are groups with advanced acute and chronic diseases, who have had Covid-19 in the last 3 months, etc.
At the Vaccination Training Conference Covid-19 vaccine For children from 5-11 years old organized by the Ministry of Health on the afternoon of March 31, Dr. BS Le Kien Ngai, National Children's Hospital gave specific instructions to localities about children's contraindication to vaccination. , need delay, caution when injecting.
Accordingly, the group of children aged 5-11 years with contraindications to vaccination is the group with a history of anaphylaxis to the previous Covid-19 vaccine or its components. Currently, there are 2 types of Covid-19 vaccines that have been approved by the Ministry of Health to be injected Pfizer vaccine (for 5-11 year olds) and Moderna vaccine (for 6-11 year olds).
"It is necessary to carefully study the components of the vaccine so that if a child is found to have a history of anaphylaxis with any component, it must be classified as a group of contraindications to injection," said Dr. Ngai.
Subjects needing to delay vaccination is a group of children with advanced acute and chronic diseases or other problems that must be delayed.
"Specifically, the child has a chronic illness or an acutely progressive illness such as a fever, an infection; in the treatment of a chronic disease such as chemotherapy for cancer, etc., it is necessary to delay until the end of the acute or chronic condition, or the end of the treatment of the chronic disease," said Dr. Ngai.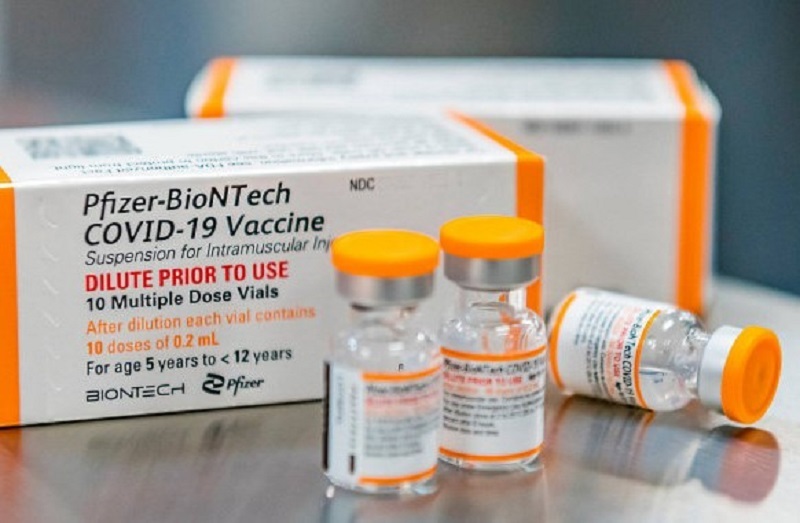 Pfizer Covid-19 vaccine for children from 5-11 years old
In addition, Dr. Ngai informed that the Advisory Council has agreed to recommend to children who have had Covid-19 that it is necessary to delay vaccination for 3 months from the date of disease onset. However, on a case-by-case basis, vaccination units may consider individual circumstances and compare the benefits of vaccination with and without vaccination to decide if a child needs vaccination earlier than this 3 months. .
"For example, a child with Covid-19 has no symptoms, the clinical manifestations are completely normal, while in the community, the infection situation is taking place at a high and complicated level. Thus, even children who have not recovered from Covid-19 for 3 months, we can consider and consider injecting them earlier. But this must be consented by parents and carers, "said Dr. Ngai.
Recently, many children after being infected with Covid-19 have experienced multi-organ inflammatory syndrome (MIS-C), a condition in which different body parts can become inflamed, including the heart, lungs, kidneys, Dr. brain, skin, eyes or digestive organs).
The Advisory Council recommends that, when a child has MIS-C, it should be delayed until the child has fully recovered from this medical condition. "If the child already has multi-organ inflammation after Covid-19, he must be examined and monitored at a medical facility to make sure he no longer has clinical manifestations; All parts have completely recovered before being able to receive the vaccine", said Dr. Ngai.
In case the child with MIS-C syndrome has recovered but still has symptoms in the organs (for example, there is still a condition related to the heart), parents need to take the child to the medical examination and treatment facilities from the district level. or more for full exploration, evaluation and testing; then proceed to inject the child at the hospital to ensure safety.
The cases that need careful vaccination are the group of children with a history of allergy to any allergen; Children have perceptual disorders, have crowd psychology syndrome, hyperactivity, decreased attention, …
Subjects who must be examined, screened and injected at the hospital at the district level or higher, in addition to those who have ever had MIS-C syndrome, also include children with chronic congenital diseases, abnormal heart and lung screening, or when declaring Take the history that the child has a history of grade 3 anaphylaxis with any allergen (food, drug, …).
Nguyen Lien
You are reading the article
Which group of children aged 5-11 need to delay vaccination against Covid-19?

at
Blogtuan.info
– Source:
vietnamnet.vn
– Read the original article
here