Giải trí
Xem ăn chơi
5 delicious Vinh Long specialty dishes "forget the sadness", there are old "poor people" dishes that have become famous dishes
Steamed snail with ginger leaves
Vinh Long's specialty can't help but mention the steamed snails with ginger leaves. Because this is a dish that has "sliced ​​the heart" of many diners from afar. Snail meat is chewy and sweet, mixed with a rich sauce that will blow your mind.
Steamed snails with ginger leaves are delicious and easy to prepare. After the snails are washed, put them in a pot of boiling water with some lemongrass, grapefruit, and guava leaves to make them fragrant. After the snails are cooked, remove them from the basket and wait for the snails to dry. Take the snail meat and cut into small pieces and separate, while the lean meat is chopped. Straw mushrooms are soaked and then finely chopped. Especially for ginger, some are sliced, only soaked in water, the rest is ground, along with ginger leaves, also washed and drained.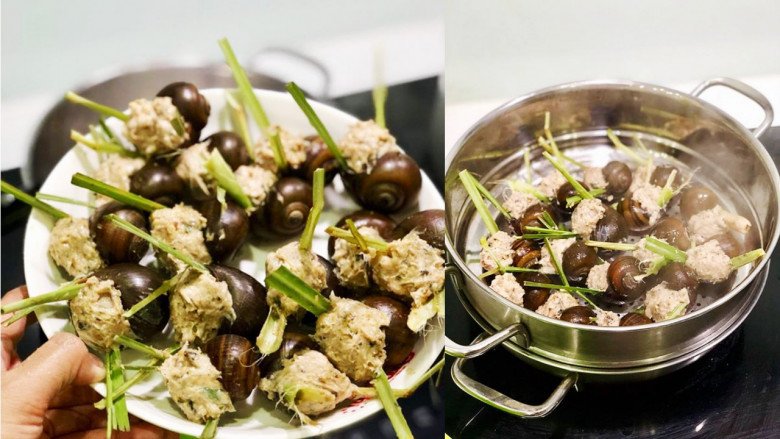 Next, mix the snail meat with a little squeeze of ginger and seasonings such as pepper, monosodium glutamate, ground chili, shiitake, lean shoulder, vermicelli. Then knead the filling and let it soak for about 10 minutes. Place the ginger leaf over the snail's mouth, fill it with the stuffing so that it fills with the snail's mouth. Spread the filling evenly, then put the snails in the steamer for about 15 minutes, to taste. When the stuffed snails are cooked, take them out and put them on a plate, sprinkle with sliced ​​ginger and cayenne pepper.
Raw sweet potato with fish sauce roll
Raw sweet potato paste is a popular Vinh Long specialty, which used to be a "poor family" dish. However, the taste is true that once you eat it, you will remember it forever, so it is now one of the must-try signature dishes when it comes to Vinh Long. From local produce like sweet potato, fish sauce, wild vegetables, people have created this dish.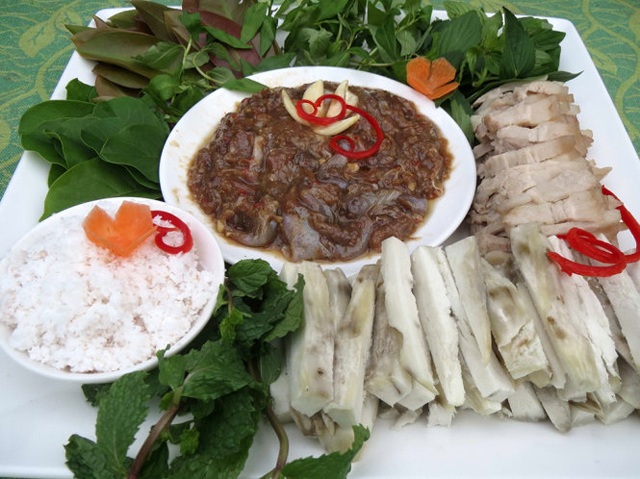 Many areas in Vinh Long are known for their economic development thanks to potato farming. While fish sauce is a typical food of the Southwest region. First, the sweet potatoes will be boiled thoroughly and then placed on a plate with boiled pork and green vegetables. Vegetables should be vegetables that grow naturally such as leaves, coconut shells and some herbs. Next is to prepare the fish sauce to make the dipping sauce.
The fish sauce here must be choc fish sauce to make it taste good. Fish sauce mixed with chili, ginger, seasoned with lemon, sugar and monosodium glutamate to taste. Finally enjoy. Raw sweet potato paste, eaten with white rice, is very tasty and throws off the rice.
fried gourami
Vinh Long is famous for having delicious giant fried fish with a distinctive taste that is not found anywhere else. When you go to a restaurant in Vinh Long or an ecotourism area, you are sure to be impressed by the whole fried giant fish served on a large plate, the aroma of the fish wafting through the air.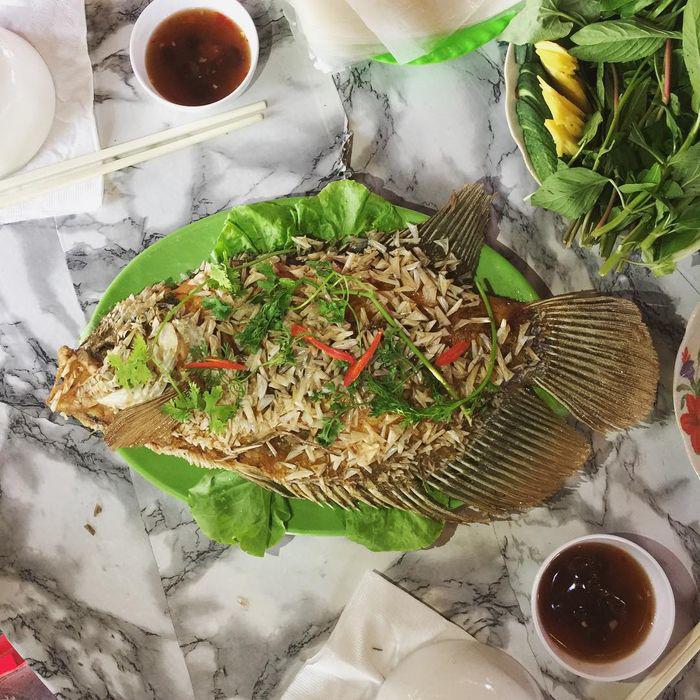 What's special is that the fish meat is still crispy from processing to cooling. The taste is fresh and savory, the fish meat is soft when used with spicy and sour fish sauce, served with fresh vegetables, rice paper rolls will make anyone who enjoys it once, it's hard to forget it.
Young fish cooked in crab soup
Usually, when traveling to the West, people will think of the traditional snakehead fish and sour soup. But apart from that, there are many other types of fish cooked with tamarind sauce which is also very tasty and one of them is mackerel. The youngest fish are river fish, small in size, the largest not more than 15cm long. They often live in groups and often appear after the Tet. In the past, in Vinh Long, this fish was quite a lot, but today it is gradually decreasing.
The youngest fish cooked in tamarind sauce is best cooked with kale. Young fish sour soup in the past had a better taste because people used kale which was grown naturally. Today, although still with the same taste, people still feel less because of the loss of natural products. Apart from kale, there is more tomatoes and some spices. The tamarind sauce pot is as simple as that, but from the shape to the taste, people always remember it.
spring roll cake
Cu Lao May rice paper craft village in Tan Thanh hamlet, Luc Si Thanh commune, Tra On district, Vinh Long province has a tradition of hundreds of years, always operating all year round to serve visitors near and far.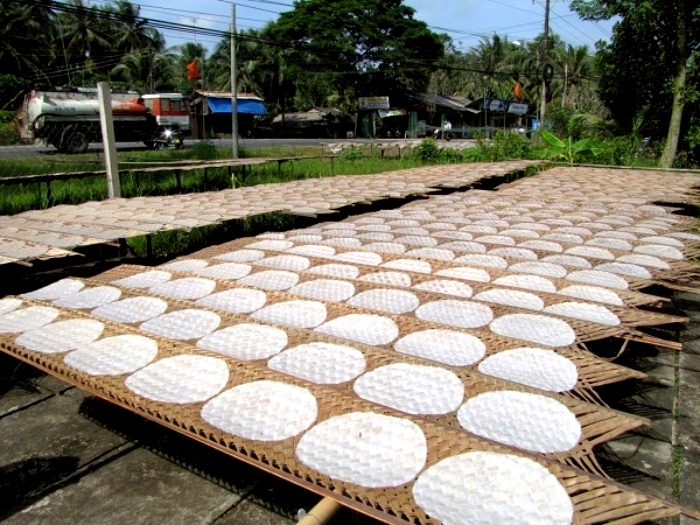 In this place make cakes by hand, without using chemicals, the cakes are very delicious, when you eat them you will feel the softness of the rice paper. For example spring rolls, sweet rice paper, grilled rice paper. Cu Lao May rice paper is one of Vinh Long's signature dishes favored by many tourists and would be very suitable as a gift for relatives.
You are reading the article
5 delicious Vinh Long specialty dishes "forget the sadness", there are old "poor people" dishes that have become famous dishes
at Blogtuan.info – Source: Eva.vn – Read the original article here