Giải trí
Do not blanch the meat the way you are doing, you must add this step to make the meat really clean, free of residue and toxins
With many people thinking that simply boiling or blanching meat over boiling water will make the dirt in the meat removed. However, according to experts, this is not necessarily true.
Pork contains high levels of nutrients, in it contains protein, vitamins and essential nutritional minerals. It is a food often used to prepare dishes in the family because it is easy to prepare, easy to eat, popular and rich in nutrients.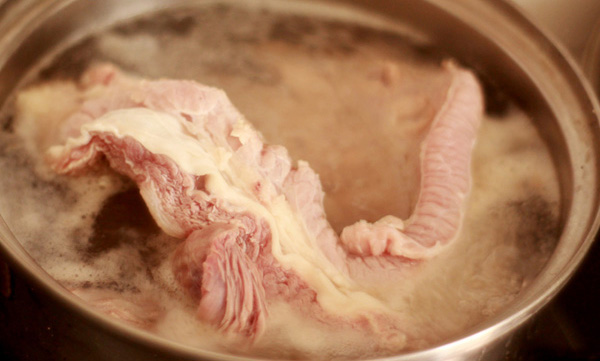 However, not everyone knows how to properly clean pork. Many people have a habit when buying meat, only briefly washing it or even not washing it at all, but putting it in boiling water to blanch, which seems to ensure the safety of the meal, but in fact does not eliminate the impurities in the meat.
Soak the meat before blanching
Some people have the habit of washing meat and then putting it in a pot of boiling water to blanch. But that's the wrong way to do it. When buying, you need to soak the meat first. When you see the water turns red like blood, which means that the meat has basically run out of blood and impurities, we can take the meat out, rinse it with water a few more times.
In this situation, some chefs revealed that their trick to cleaning meat before blanching is to soak the meat in salt water, this way the secretions in the meat can flow out on its own, so the meat after cooking will not be smells fishy.
Blanch the meat in cold water with ginger, onions and cooking wine added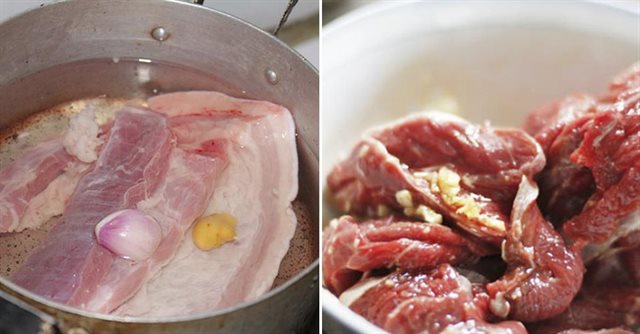 According to experts, before cooking, if we blanch the meat in boiling water, it's actually completely unnecessary. Because blanching meat through boiling water can only reduce some of the bacteria that are clinging to the surface of the meat, and even more cannot remove the residual weight gainers and antibiotics in the pork. But most bacteria only die at very high temperatures (above 100 degrees Celsius).
So in this way it will not be possible to remove impurities in the meat, but even cause the toxins if present in the meat to seep back into the interior. The reason is that when the meat is put into boiling water, it will cause the denatured meat to shrink, making the meat hold the dirty chemicals without excreting outside.
The meat we buy from the market will often have dirt, excess secretions and a fishy smell, if the meat is not cleaned, the meat after processing will have a bad smell. Therefore, it is very important to remove these dirty things.
So let's start with cold water. You put the meat in the pot, then add an appropriate amount of water, you can also add a little ginger onion and cooking wine to eliminate the fishy smell, let it simmer until it boils. After blanching, you skim off the foam on the top and then remove the meat and wash it.
You are reading the article
Do not blanch the meat the way you are doing, you must add this step to make the meat really clean, free of residue and toxins

at
Blogtuan.info
– Source:
24h.com.vn
– Read the original article
here