Gia đình
How to make carp lotus flower floating cake to welcome the real Korean New Year 2022
April 1, 2022 15:09 GMT+7
Coming up to the real Korean New Year 3/3 of the lunar calendar, please refer to how to make floating cakes in the shape of lotus flowers and carp to show off your talents!
Cakes shaped like lotus flowers and carp have beautiful colors that seem difficult to make but are actually very simple.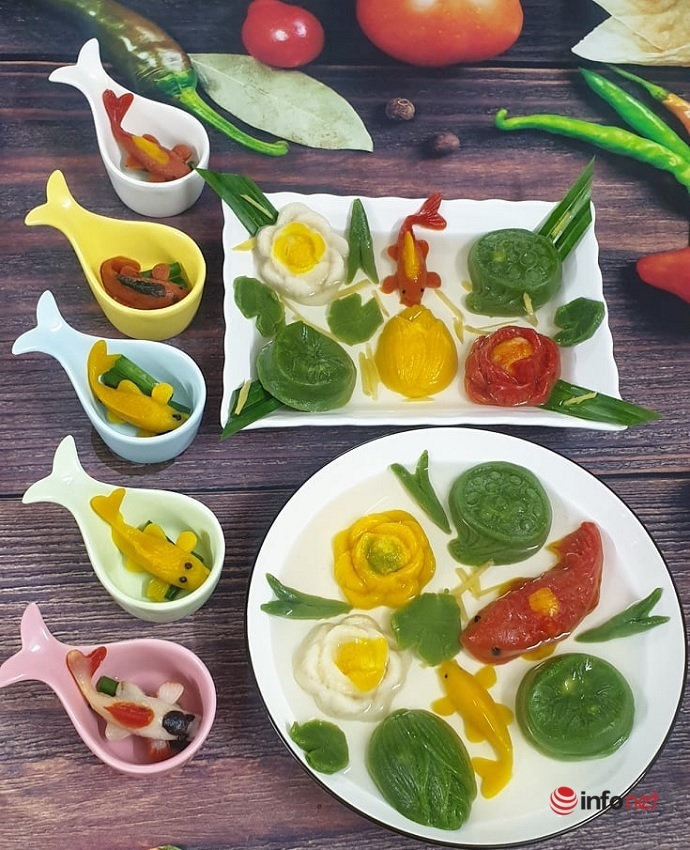 Lotus cake and carp floating cake are very beautiful.
Resources
– Glutinous rice flour: 400g
– Potato powder: 40g
– Cold water: 400ml
– Natural colors:
+ Gardenia flowers soaked in hot water to create yellow color: 3-4 flowers (can be replaced with gardenia powder or turmeric starch)
+ Gac fruit to make red color: 4 seeds of Gac fruit still have the meat layer, take the meat and beat it
+ Green tea powder: 1 teaspoon
+ Black cocoa powder to create black or dark brown color: 1 tsp.
How to make pie crust
Mix glutinous rice flour with potato flour, then divide the dough into 4 parts:
– Create white powder color: Mix 1/4 of the powder with hot water about 50-60 degrees Celsius (adjust more or less water compared to the recipe depending on the water absorption of the powder, the expiry date is the old powder. will absorb more water than the new powder).
– Create dark brown color: From this white color, take out 1/4 of it and knead it with black cocoa powder, we get a dark brown powder.
– Create yellow powder: Mix 1/4 of the powder with the reserved watercolor (for as many grams of water, save as many grams of water). If you make turmeric starch, add a few grams of turmeric powder to reduce many grams of potato starch.
– Create green powder: Mix green tea powder with 100ml of hot water, put the powder into the stuffing.
– Create red powder: 1/4 of the remaining powder is crushed with Gac meat.
Knead each mixture for about 9-10 minutes to make the dough smooth and then cover it with plastic for about 30 minutes-1 hour for the dough to swell.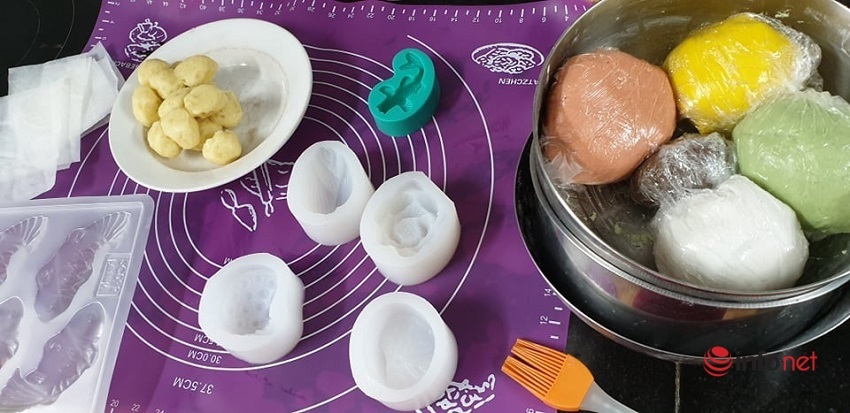 How to make cake
– Cake ingredients:
+ Green beans without shell: 100g; Or fresh lotus seeds: 200g or dried lotus seeds: 100g
+ Sugar: 50-70g (more or less sweet depending on taste)
– Making:
Dried green beans or lotus seeds soaked in water for 2-3 hours, then steamed until soft, pureed while the beans are still hot, pour into a pan, add a little water and sugar with 1 tablespoon of cooking oil, slug the beans until dry and roll them into balls. 1/3 or 1/2 the weight of the shell.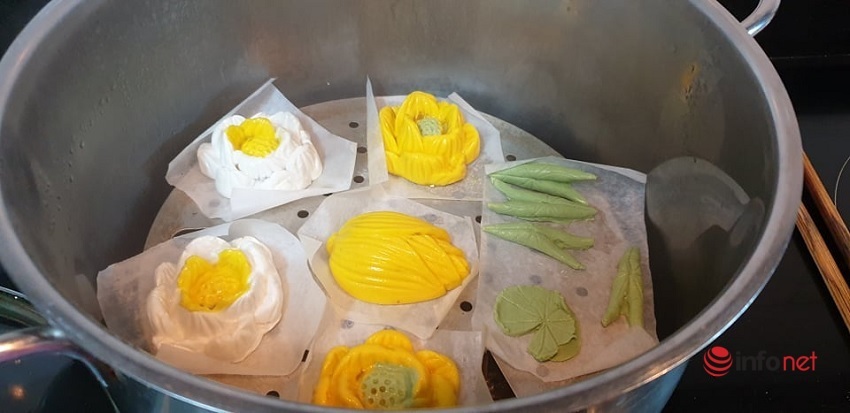 Shaping
When the dough is well-baked, take out the dough to cover the filling, usually 3 parts of the shell and 1 part of the filling. If you want a lot of filling, you can make 2 shells and 1 part or the ratio depending on you, but you have to be careful when steaming or sticking out.
Close the cake into a lotus mold (including lotus leaves, lotus petals; or you can even replace it with a fish mold and then pour out a cut stencil that has been cut out a little larger than the shape of the mold)
Put both the paper and the floating cake that has been shaped into flowers or fish into the steamer, steam for 12-15 minutes depending on how big or small your cake is, if you don't steam it too carefully, the cake will swell and then deflate and become out of focus. When steaming, cover the pot with a large cloth towel, so that the steaming water does not drip onto the cake.
When the cake is done, leave it to cool and then pour the sugar water on top.
Cake broth
– Mix sugar in water (the amount of sugar depends on how sweet you like to eat more or less), bring to a boil, then add some sliced ​​ginger, a few sticky rice leaves for fragrance, then pour over the cake and enjoy.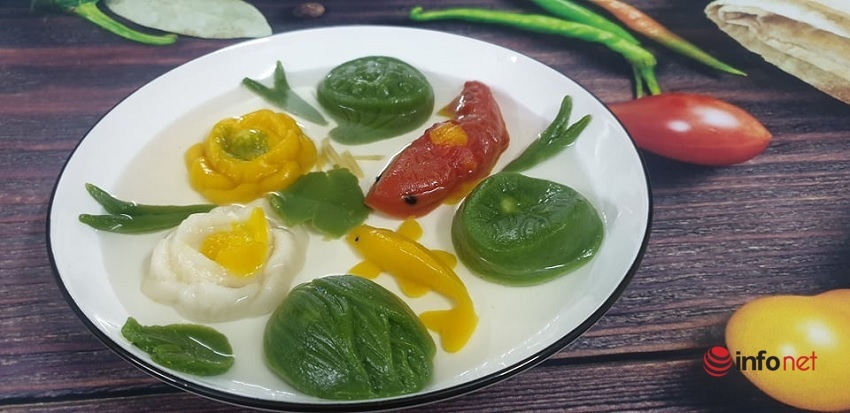 Attention
– Dumplings shaped like this can be frozen after steaming and cooled. When using, take it out to defrost naturally and then re-steam. This is very convenient when there is work at home.
– If making food coloring, just divide the dough into small pieces, add food coloring to each small dough ball, knead it and create color.
– The leftover small pieces of dough are not enough to shape a lotus or fish, you can roll up the ball and boil it like a regular floating cake.
Good luck!
Ha Viet Anh
You are reading the article
How to make carp lotus flower floating cake to welcome the real Korean New Year 2022

at
Blogtuan.info
– Source:
infonet.vietnamnet.vn
– Read the original article
here