April Fool (1/4) is a rare occasion when people can freely lie to tease each other without fear of distractions. Many "big guys" in the technology industry also take advantage of this day to joke with customers in their own way.
Just tricking the century makes the technology world "rub its ears and pull its hair"
Speaking of pranks, it's hard for any business to surpass Google. This group is famous for its mischievous pranks that make customers "swallow sweet soap". In 2004, Google followed the April Fools' Day communication when it released 2 pieces of information that sounded very mythical, making it impossible for everyone to distinguish the real from the fake.
First, Google posted a job advertisement for an engineer position at the upcoming research center on… The Moon. Thousands of gullible people submitted applications only to be overjoyed to learn that this was just an April Fool's prank by this corporation.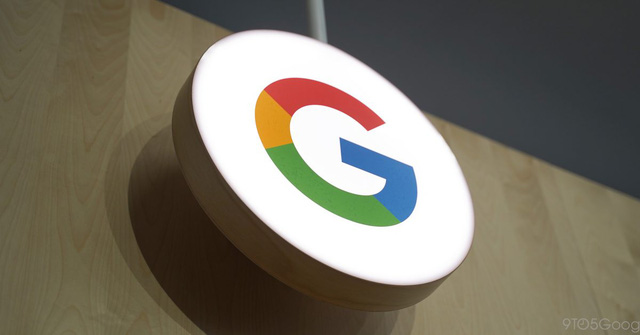 However, on the same day, Google also announced another extremely hot news: it will launch a completely new email service, with up to 1,000 MB of memory space – equivalent to more than 500,000 messages. .
At that time, Hotmail only gave users 2 MB of storage space, while Yahoo Mail was slightly better with 4 MB. With 250-500 times the memory capacity of the competition, Google's new service will help users no longer have to delete messages after each reading.
Immediately, the above announcement attracted the attention of the media and global users. Most were skeptical, not believing that Google would create such an "excessively convenient" service. The technology world also did not "sniff" any information related to this project before.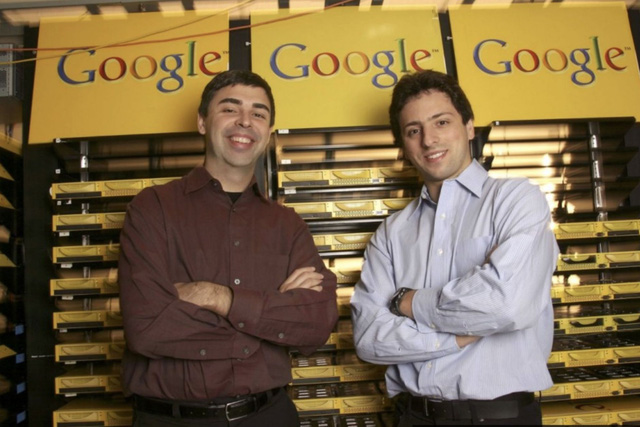 The two founders of Google: Larry Page and Sergey Brin.
Not to mention, the press release that Google gives is written quite intimately and cutely. This further confirms the belief of the online community about another prank is grounded.
"The inspiration for us to create Gmail came from a Google user. She complained about the poor quality of current email services. She said it took her hours of sorting and searching. search for messages, or delete messages frantically because there is not enough space left.
So she asked us: 'Can't you do anything?'
The idea of ​​a better email service caught the attention of a Google engineer, who at first thought it was just a 'think for fun' project. After millions of M&M pills were digested, Gmail was born"writes Google co-founder Larry Page.
It can be said that, in the eyes of everyone, it is a myth that Google creates something that is not a search engine bar.
The prank has been around for almost 2 decades
According to Georges Harik – Google's startup director at the time, it took the media a long time to realize Gmail was a real project.
"The journalists called and asked us: 'Are you guys joking or doing it?'"he recalled. "It was quite funny at the time."
Previously, the CN site expressed skepticism about the authenticity of the information: "Google also played a prank on the tech world on April Fools' Day". Financial site The Motley Fool also couldn't believe his eyes: "Like an April Fool's joke from Google. Really!"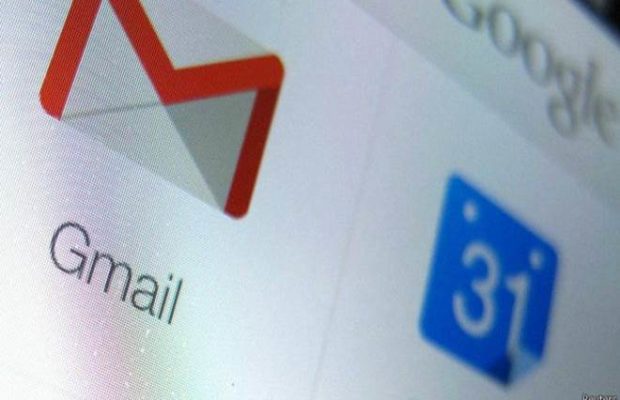 Many people consider this an obvious PR stunt, but Sergey Brin – co-founder of Google – does not think so.
In the book "In the Plex", journalist Steven Levy once told: "Years later, Brin is still excited about the 'reverse' trick – trick by not lying". The former Google manager also confirmed: "Back then, Google was planning a crazy April Fool's prank, one that could still last into the next day."
The "Gmail" trick may not be the funniest thing Google has ever done on April Fools' Day, but it's certainly the most important.
This turning point turned a fledgling startup into one of the largest Internet companies in the world just a few years later. They don't just stop at email, but also expand to many related fields such as cloud storage, web applications, …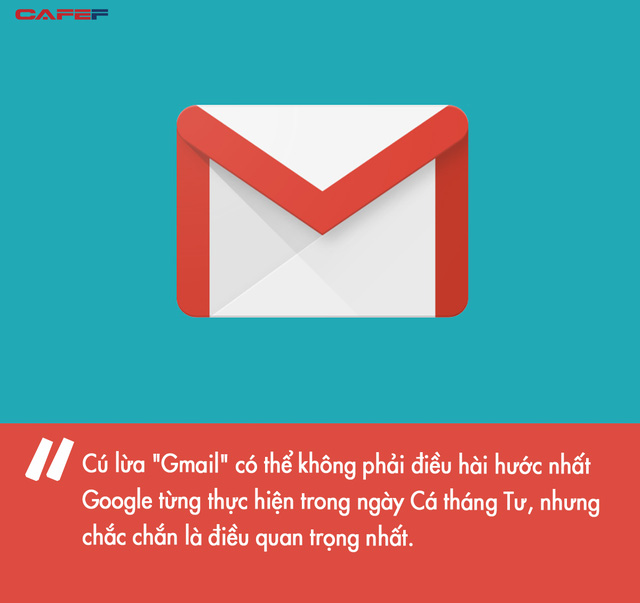 18 years on, many of Google's once-strong rivals also have to find ways to imitate Gmail. They copy it so meticulously that people forget how bad email used to be before this century's trick: cramped, slow, and full of spam. You can't even sort messages by content. Memory is not enough, forcing you to spend hours deleting old messages or buying more storage from vendors.
The birth of Gmail, using Ajax instead of plain and old HTML, proved to everyone how smooth web applications can be. It shows us the power of cloud storage.
Currently, Gmail is the most popular email platform in the world, with more than 1.9 billion users. According to estimates, this email service can achieve "huge" revenue of up to 120 million USD / day thanks to advertising.
Indeed, no one expected that Google's April Fools' trick that year would last for 18 years and dominate people's lives so much!
(Source: Slate, Time,…)
You are reading the article
Lasting for… 18 years, forever changing the history of technology, becoming the "separate" object of 1.9 billion people around the world

at
Blogtuan.info
– Source:
Soha.vn
– Read the original article
here