Cư dân mạng
World
"Showbiz giants" 3 years 3 weddings, 50 years old got into a cotton car with a supermodel 28 years younger
Nguyen Quang Minh, also known as Minh Cats (born in 1960, lives in Ho Chi Minh City) is a pretty popular name, attracting special attention from the public. He is known as "media tycoon", "showbiz giant" in Vietnam. In addition to the illustrious and "noisy" successes in his career, this businessman also made the public sob with the story of 3 years of getting on a flower car with 3 beauties.
Noisy "media tycoon"
Mr. Nguyen Quang Minh is the Chairman of the Board of Directors, General Director of Cat Tien Sa Company – a large media, event, and game show company in Vietnam. Some popular reality TV shows of Cat Tien Sa must be mentioned such as: Vietnamese Voice, Universal Dance, Vietnam Supermodel, The Remix,…
Although it has never been made public, it is also implicitly guessed that the owner of Cat Tien Sa's huge fortune comes from advertising revenue and sponsorship of national and international programs. Remember in 2015, he did not hesitate to order a gold-plated, diamond-encrusted iPhone 6 for the judge of the Voice of Vietnam program, singer Dam Vinh Hung.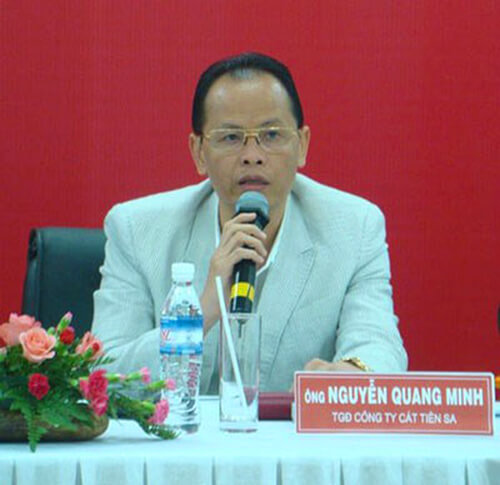 Portrait of "boss" of Vietnamese showbiz
In the past, Mr. Nguyen Quang Minh was known as an actor of the Military Troupe, then transferred to the Youth Theater. However, with this role, he did not achieve much. Quang Minh then quickly turned to Bulgaria to study directing.
After returning home, he had a relatively large amount of money in hand and a Doctor of Arts degree. After that, he cooperated with Miss Ha Kieu Anh to perform the variety show "Vietnam loves and miss" at Hoa Binh theater.
In 1999, he organized the first and only Miss Vietnam contest. However, the unfinished ending of the Miss Vietnam contest that day could not make him give up his dream of being a "boss" of the long-legged world. The contests of Miss Tay Do, Vietnam Supermodel,… were held after that.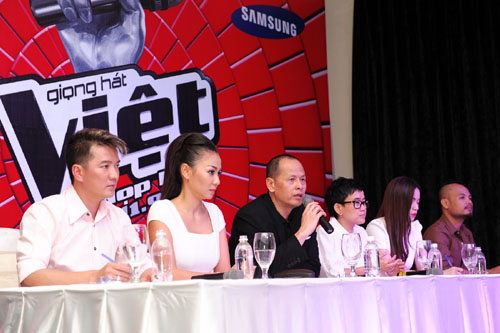 The incident of fixing the results at the Vietnamese Voice contest is a scandal in Vietnamese showbiz history
The career of the media "tycoon" also encountered a lot of noise, most notably the incident of fixing the results in the Vietnamese Voice contest that his Cat Tien Sa Company bought the production format for and broadcast on the Internet. VTV3 in 2012.
Mr. Nguyen Quang Minh personally must admit that the result-fixing scandal has hit him a very hard blow. He once confided: "At that time, I simply thought that I was sincere, true to the nature of the truth, and people would believe me just saying it. But the truth is not like that. I should have been silent and just said that it was true. trouble".
3 years on a flower car with 3 beauties
In his youth, Mr. Nguyen Quang Minh could not have had a bright role on the stage, but when he was older, he was extremely impressive in the role of a giant peach blossom. The first wife of the giant Quang Minh is Duong Thu Huong, the director of foreign affairs of a venture capital fund in Vietnam.
Thu Huong was born into a noble family. In 2007, the couple went to Da Lat to get married. At that time, those who attended also wished their life to have such a wedding – the most luxurious, sweet, and romantic wedding.
But a year after the billion-dollar wedding, the two quickly "went their separate ways". Their parting made many people regret it.
Tycoon Nguyen Quang Minh is famous for digging flowers when he gets on a flower car with 3 wives in a row
After a quick marriage with a beautiful businesswoman, this media "boss" quickly found herself a new pink shadow, whose beauty is not inferior to her first wife. That is MC Chuc Anh – 1st runner-up of Miss South Mekong 2008 contest. In 2009, Cat Tien Sa company organized the contest "Charming MC", Chuc Anh won the first prize excellently.
Also from this chance, the beautiful MC made the businessman drunk. They really fell in love with each other and immediately had a grand wedding. Weddings are just as expensive and lavish as the first.
But happiness did not last long, the couple quickly signed the divorce papers. The time from love, marriage to parting with his second wife Quang Minh lasted less than 1 year.
In October 2009, people saw him again at his wedding with supermodel Huynh Thanh Huyen. This 3rd wife is famous "like alcohol" with a beautiful smile and perfect three-round measurements.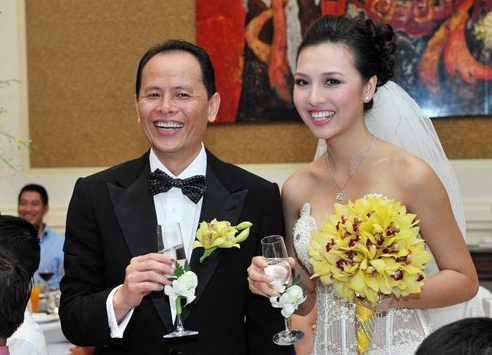 At the time of marriage, supermodel Thanh Tuyen was very young, only 22 years old, and the giant was 50 years old. They have a 28 year age difference. The image of the groom walking next to the beautiful 22-year-old bride caused a stir in the public.
Being the brightest name of the Vietnamese model village and having won the Silver Award for Vietnamese supermodel in 2009, but since getting on the car with the businessman, Thanh Tuyen has retired from her career to take care of her small family.
After getting married, the supermodel in turn gave birth to 2 sons for the rich and powerful tycoon. It is she who has kept the "fluttering" heart many times of the tycoon, who is famous for peach blossom. To date, their marriage is still stable after many years of attachment.
On social networks, Thanh Tuyen also limits interactions, updates photos and private life. Only a few times the two appeared side by side at entertainment events.
Up to now, giant Nguyen Quang Minh is 62 years old. He is also the Editor-in-Chief of an electronic magazine. Since 2013, Mr. Nguyen Quang Minh has been the President of the Vietnam Model Association. By 2021, he will continue to be trusted to hold the position of Chairman of this professional society (term of 2021-2026).
https://soha.vn/dai-gia-showbiz-3-nam-3-dam-cuoi-50-tuoi-len-xe-bong-voi-sieu-mau-kem-28-tuoi-20220401224710037.htm
You are reading the article
"Showbiz giants" 3 years 3 weddings, 50 years old got into a cotton car with a supermodel 28 years younger

at
Blogtuan.info
– Source:
Soha.vn
– Read the original article
here