Sức Khỏe
Bach Mai Hospital doctor points out foods to improve lung function after Covid-19
According to the doctor, F0 who has recovered from the disease has a complete and balanced diet with vegetables, fresh fruits, protein, and limited processed foods, so there is no need to take additional vitamins or supplements.
What to eat to improve lung function with post-Covid-19 patients?
Diet as well as exercise play an extremely important role for the patient not only during the F0 period but also to help the patient recover to the best health after recovering from the disease.
About the fact that many people arbitrarily supplement and take synthetic tonics for the purpose of improving the health of patients who have recovered from Covid-19 Dr. Do Tuan Anh – Pediatric Center, Bach Mai Hospital said that a balanced diet and adequate water intake are important keys for the recovery of F0s.
Proper nutrition can also help improve lung function in post-Covid-19 patients. The most important thing is that we need to provide enough energy, protein, vitamins and minerals to help regenerate the muscle, immune and energy systems for the body to function.
When the patient has a complete and balanced diet with vegetables, fresh fruits, protein, and limited processed foods, there is no need to take additional vitamins or supplements. In case of not getting enough nutrition from food, patients should consult a nutritionist to supplement the necessary micronutrients for the body.
Also according to Dr. Do Tuan Anh, patients and their families can refer to some of the following food groups: First, the group of fresh fruits including pears, apples, grapefruits… These are fruits that contain many vitamins and are rich in nutrients. Antioxidant, great for the respiratory system, boosts immune function.
The second is green vegetables such as: broccoli, spinach, kale, cabbage, tomatoes… These vegetables contain a lot of essential vitamins as well as minerals, helping to strengthen the body's resistance. . In particular, garlic and ginger are two spices that are very good for the body's detoxification process as well as have a virus-killing effect. Third, about drinks, you should drink green tea, because it has a strong antioxidant effect, promotes heart health, fights cancer… Foods that help support the immune system against Covid-19 include soups. chicken, potatoes, coconut water, oats, yogurt…
Exercises to improve lung function after Covid-19
In addition, shortness of breath is one of the problems of post-Covid patients. To improve lung function after Covid-19, Dr. Do Tuan Anh shared: "Besides supplementing with food and vitamins, patients need a suitable lifestyle and exercise regimen for the body to fully recover. Simple breathing exercises to improve blood flow to the lungs and the conduction pathways in the thoracic cavity, helping to improve lung function."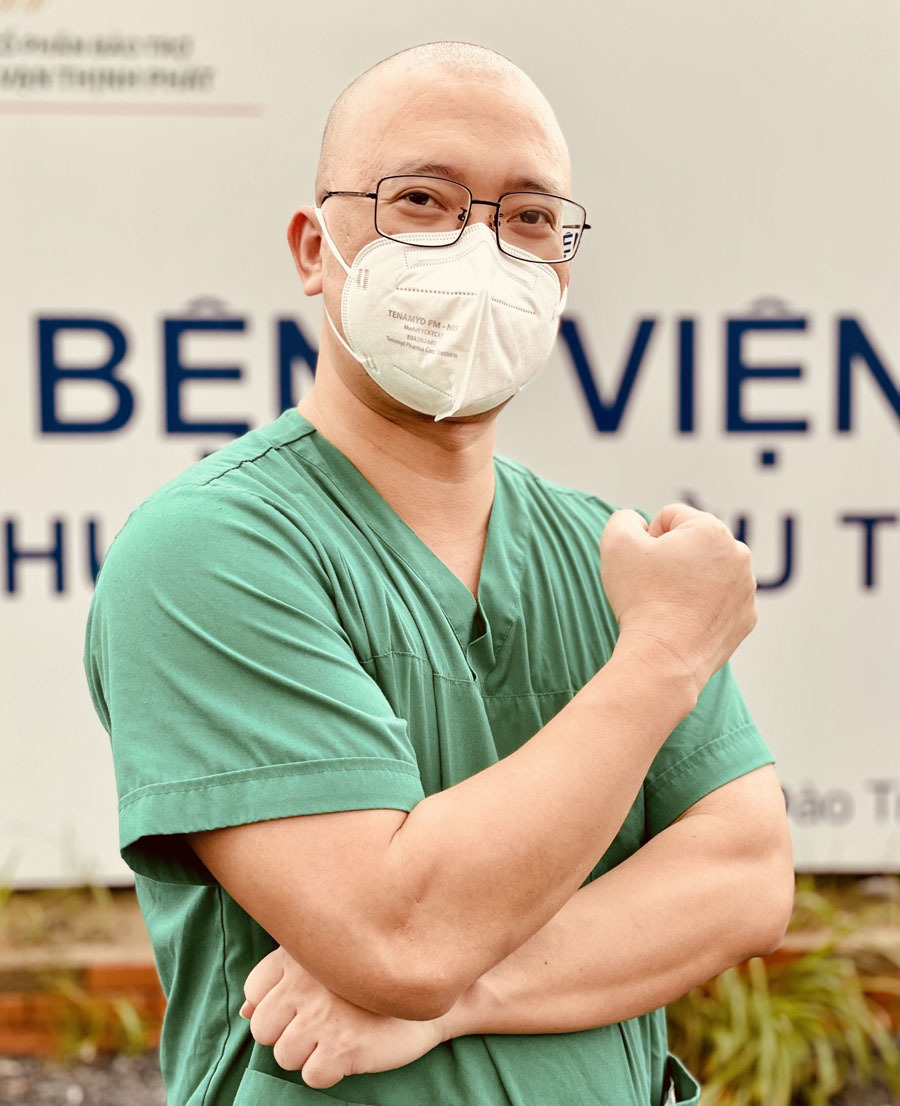 Dr. Do Tuan Anh used to treat patients with Covid-19 at Field Hospital No. 16, Ho Chi Minh City and consulted for F0 patients in Hanoi.
Accordingly, we should perform exercises such as brisk walking, aerobics, cycling, push-ups, squats… with moderate intensity and gradually increasing. This helps increase heart rate and promotes blood flow, which can help the lungs recover faster.
If a person who has just recovered from Covid-19 is subjective, keeping the same intensity of exercise as before the illness will cause the body not to have time to recover from damage (muscle damage/metabolism/nutrition). In addition, rushing to practice again and practicing improperly will lead to prolonged recovery time, even disease recurrence and extra layer of complexity such as shortness of breath, chest pain. , decreased mobility, muscle spasticity, fatigue, dizziness, lightheadedness, and other cardiovascular and respiratory problems.
According to Dr. Do Tuan Anh, the optimal and safe time to exercise is recommended after 7-10 days of symptoms of Covid-19. Patients should not exercise again while still having symptoms, should wait at least 7-10 days after the symptoms are gone. When returning to exercise, exercise slowly and gradually increase the intensity. Especially people with heart problems, respiratory problems, fever, cough, shortness of breath or prolonged chest pain, they need to pay more attention. Listening to your body is always the right advice in all situations because recovery and adaptation depend on each person's body.
For those who enjoy intense exercise, it is advisable to talk to your doctor/trainer. The recommended route is 4 weeks of training to return to a normal state of exercise.
Dr. Do Tuan Anh added: "Some cases after recovering from illness only achieve 50% of their productivity and strength compared to before. That causes them stress and insomnia. Don't worry too much when your body doesn't recover. Even if F0 has no symptoms or mild symptoms, self-healing, after 7 days, you should only practice 50% of your ability and strength compared to when you were healthy…".
To improve health gradually, the patient should have a reasonable rest and get enough sleep. This will help strengthen the immune system against Covid disease. Besides, you should practice Yoga. Practice has proven that practicing Yoga and meditation helps to improve lung health, recover the body after Covid-19 infection.
Patients should also not smoke, limit exposure to polluted dust, toxic chemicals to avoid increasing the risk of lung infections and developing other respiratory diseases. At the same time, seriously implement 5K to avoid reinfection with another variant of Covid-19.
Ngoc Trang
You are reading the article
Bach Mai Hospital doctor points out foods to improve lung function after Covid-19

at
Blogtuan.info
– Source:
vietnamnet.vn
– Read the original article
here