Business
'Forever in my heart the image of an enthusiastic and brave cadre'
The infinite grief of those who stayed
From 6:30 a.m. on April 2, in the campus of the Southern National Funeral Home (Go Vap District, Ho Chi Minh City) hundreds of people came. Those are the associates, colleagues and people of the city who came to offer condolences to the family of Mr. Le Hoa Binh.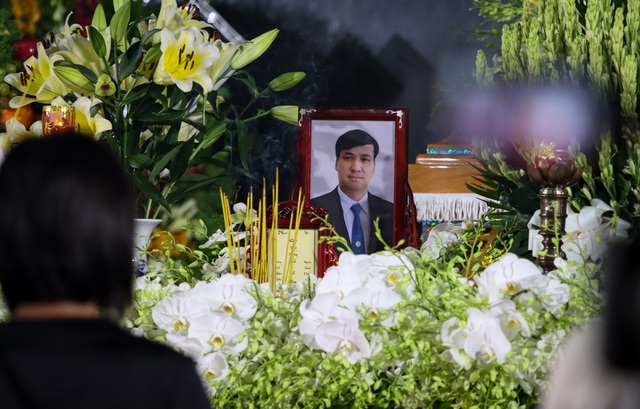 At the memorial service, there were memorial flower baskets placed in front of the photo, the last message in the funeral book and the silent tears of the visitors.
During his work, Mr. Le Hoa Binh was evaluated as a cadre close to the people, living modestly, making many important contributions to the development of Ho Chi Minh City. His sudden passing has left an infinite sadness.
Representative of the Funeral Committee, Mr. Phan Van Mai, Chairman of Ho Chi Minh City People's Committee, read a farewell eulogy: "We have not ceased to be shocked by his sudden departure. He left behind a lot of enthusiasm, unfinished plans. In this infinite sadness, we will forever keep it in our hearts and in our memories. My memory is the image of an enthusiastic, brave and energetic cadre facing all difficulties". Besides, Mr. Phan Van Mai also reviewed the special imprints during the 26 years of persistent dedication of Vice Chairman of Ho Chi Minh City People's Committee.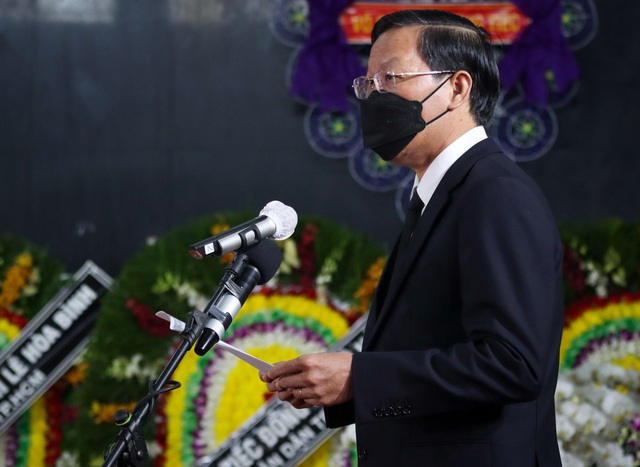 Mr. Phan Van Mai, Chairman of Ho Chi Minh City People's Committee read the farewell eulogy.
Besides thanking, Ms. Nguyen Thi Thu Huong couldn't help but be moved when she mentioned the deceased: "Sending you lots of love. Up to this moment, the whole family still can't believe and accept the fact that you're gone forever…"
During his life, Mr. Le Hoa Binh was a filial son, an exemplary husband and father, who always loved his family fully. He passed away when many plans were still unfinished, the whole family was extremely sad but also very proud of him.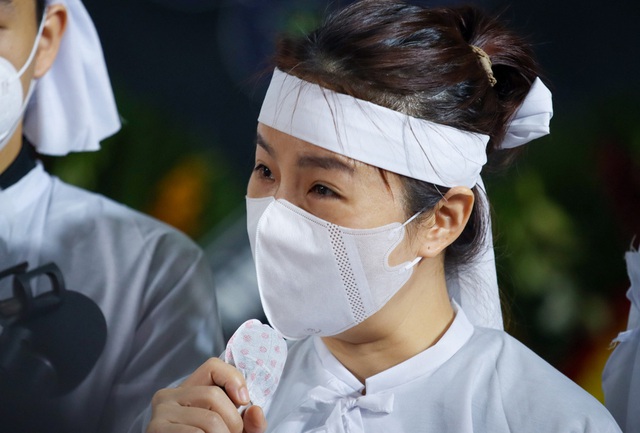 Mrs. Nguyen Thi Thu Huong, wife of Mr. Le Hoa Binh, could not hold back her emotions when talking about her late husband.
Saying goodbye at the end, Mrs. Nguyen Thi Thanh Huong and her children wished him to leave in peace. Mrs. Huong will represent him to take care of his mother, brothers and sisters and raise his children to grow up according to the guideline that he has oriented, living in the world needs one word of heart, having a heart for life, work, and family. friends and people around.
Besides, the children promise to study well and do well in the upcoming university entrance exam, Xu will study a doctor according to her mother's profession, Meo will enter the Polytechnic University according to her father's wish. father…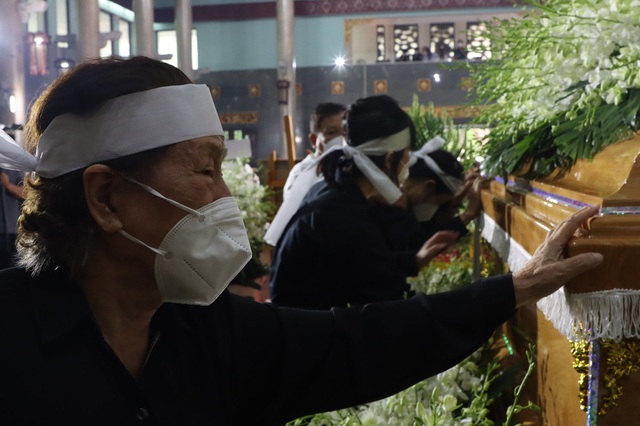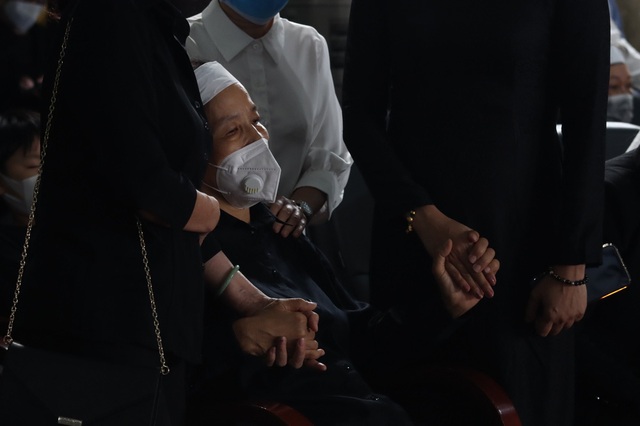 The grief of those who stayed…
Fill in the unfinished projects
At the memorial ceremony of Mr. Le Hoa Binh, many people silently shed tears. "Comrade Binh is a loyal and emotional person, his departure is a great loss to everyone. Although I have not had many opportunities to work directly, I have always known him as a calm person, His sudden departure has left a lot of grief, my heart will forever remember his image." an officer shared.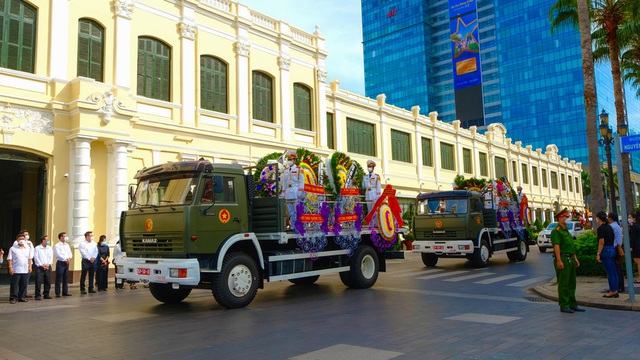 From 7:40 a.m., cadres, civil servants, officials and employees of the office of the People's Committee of Ho Chi Minh City stood in line to wait for the hearse of Mr. Le Hoa Binh. This is considered a final goodbye. When the convoy passed, some people couldn't help but feel sad and emotional.
A member of the Office of the People's Committee shared: "In the collective group of brothers in the office, many people have sent poems and lines of thoughts about Mr. Le Hoa Binh. During the Covid-19 outbreak in Ho Chi Minh City, there were heavy-duty jobs. It's both urgent and urgent, I think only those who are wholeheartedly devoted to the city and the people can quickly solve that workload."
Ms. Chau Minh Hien (member of the People's Council of Ho Chi Minh City) said: "Just last Saturday, I met him at the City Council meeting, he promised to meet the young man once a month. But this Saturday, he is here to see him off. He left when the projects were planned. Unfinished plan, everyone will always turn to him and continue to do what he left. Hope the family will overcome this pain, and always be proud of having a wonderful father, husband, and brother. ".
Touched by the last farewell for Vice Chairman of Ho Chi Minh City People's Committee Le Hoa Binh. CLIP: Phu Tuan
Mr. Le Hoa Binh is from Tinh Ha commune, Son Tinh district, Quang Ngai province. He has professional qualifications as a construction engineer, a master of engineering, and a bachelor of economics. Advanced Degree in Political Theory.
During the 4th epidemic in Ho Chi Minh City, Mr. Le Hoa Binh directly directed the rush to build and renovate the field hospital system and ensure enough oxygen for the people.
Before these contributions, President Nguyen Xuan Phuc signed a decision posthumously conferring the Third-class Labor Medal to Mr. Le Hoa Binh. This decision took effect from March 31, in order to recognize the outstanding achievements in anti-epidemic work of Mr. Le Hoa Binh.
At 7:20 a.m. at km21+700 of Ho Chi Minh City – Trung Luong Expressway towards Ho Chi Minh City to Trung Luong (Thanh Duc Commune, Ben Luc District, Long An Province), the car carrying Mr. Le Hoa Binh on his way to work had an accident. traffic. Despite being coordinated by doctors at Long An Provincial General Hospital and Cho Ray Hospital in a timely manner, Mr. Le Hoa Binh passed away.
The People's Committee of Ho Chi Minh City has directed the relevant agencies of the city to coordinate with the authorities of Long An province to investigate the cause of the accident. The Standing Committee of the People's Committee of Ho Chi Minh City has also assigned to handle the work that Mr. Le Hoa Binh is directing so that the work will not be interrupted.
https://soha.vn/tien-biet-ong-le-hoa-binh-mai-luu-trong-tim-hinh-anh-nguoi-can-bo-nhiet-huyet-ban-linh-2022040200401211.htm
You are reading the article
'Forever in my heart the image of an enthusiastic and brave cadre'

at
Blogtuan.info
– Source:
cafebiz.vn
– Read the original article
here