Games
Losing face-to-face with G2, Perkz and his teammates were called the biggest joke in League of Legends on April Fools' Day
As we all know, yesterday – April 1, also known as April Fool's Day, a series of entertaining jokes and lies were made in all fields. And the village League of Legends It is no exception when a team dubbed "Super Team" – Vitality was eliminated from the LEC playoffs in a way that could not be more "clown".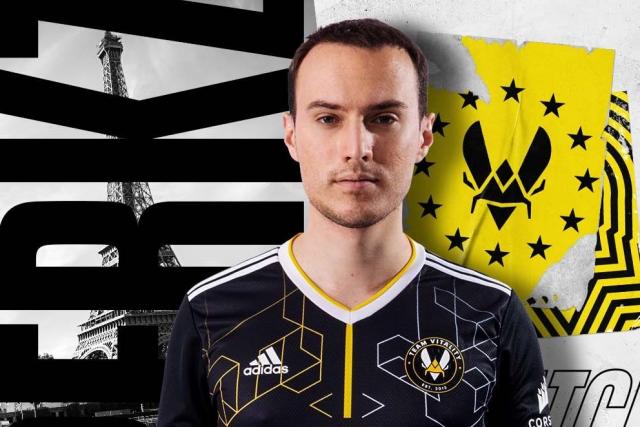 Perkz and his teammates just got eliminated from the LEC playoffs in a way that couldn't be more "clown"
Specifically, on the evening of April 1st (European time), the match in the middle loser bracket G2 Esports and Vitality has officially taken place. After 3 games, G2 defeated VIT with a quick 3-0 score, through which they also kicked their old player, Perkz out of the championship race. After this match, G2 still has to meet MSF before reaching the finals of the losing bracket.
It is worth mentioning here that VIT's macro decisions, moves are like they are playing some innocuous match. It was Perkz who voluntarily left the team to find a way to get the barracks at the 44th minute and made his 4 teammates unable to fight and could only run away. Perkz himself was then also "circled" by G2 and defeated, causing all previous advantages that VIT built to be completely abandoned.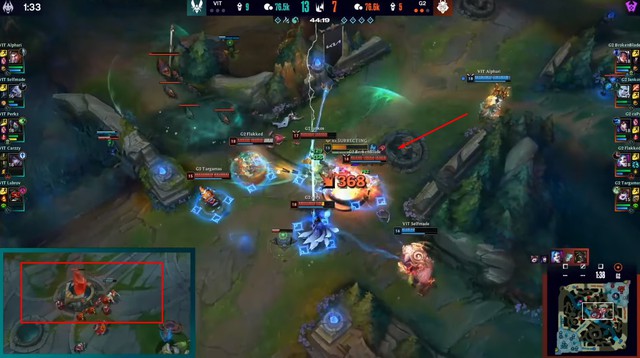 In the midst of intense combat, Perkz left to eat the enemy soldiers' house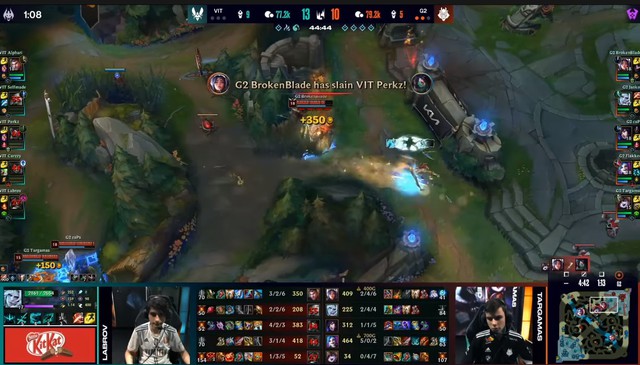 And then the guy himself got knocked down
Immediately after witnessing this extremely "clown" loss, Perkz and his teammates, the community couldn't help but criticize and find ways to mock Vitality. For example, Azeal of the LCS channel compared VIT's disqualification to an April Fool's joke, but the consequences are more real than ever. Gamers even posted pictures of the VIT team on Reddit and thought that this was the biggest joke in LoL on this April Fool's Day.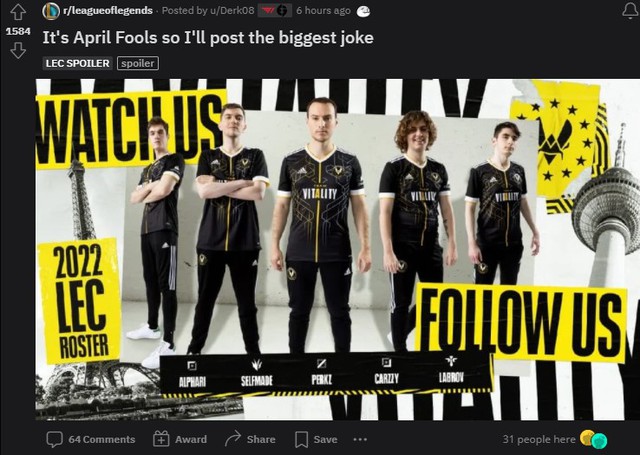 Perkz and his teammates were called the biggest joke in LoL on April Fool's Day
Basically, the signs of Vitality's failure have appeared quite early when this team lost 0-3 in the first week of LEC Spring 2022. And until now. When we look at VIT playing, we still don't see the image of a cohesive team. Instead, there are players with not bad skills but can not find a common voice and compete too sporadically.
It is unclear after this defeat if Vitality has changed in terms of gameplay or if they are still playing as a single ranked team in the summer tournament. If they choose to continue "comedy", it is likely that VIT will miss the opportunity to participate in Worlds 2022.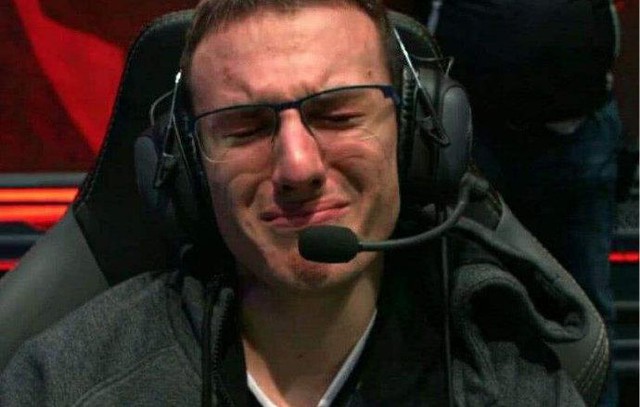 If they keep playing like this in the Summer Split, Perkz and VIT won't even make it to Worlds
https://gamek.vn/thua-sap-mat-truoc-g2-perkz-va-dong-doi-bi-goi-la-tro-dua-lon-nhat-lang-lmht-trong-ngay-ca- thang-tu-20220402083229902.chn
You are reading the article
Losing face-to-face with G2, Perkz and his teammates were called the biggest joke in League of Legends on April Fools' Day

at
Blogtuan.info
– Source:
gamek.vn
– Read the original article
here