Business
Not only the upcoming 1,200 billion issuance partner, there are nearly 55,000 shareholders who are accompanying Duc on a new journey of 1 tree – 1 child.
Hoang Anh Gia Lai (HAGL, HAG) has just announced the Annual Report 2021, the letter of the head continues to affirm his expectations for the new journey of 1 tree – 1 animal: "Inheriting the achievements achieved in 2021, HAGL sets a target of strong growth in 2022 and the following years. Specifically, the revenue target of 2022 will be raised to more than 4,800 billion dong and profit after tax reached 1,120 billion dong.
HAGL will also conduct a private placement of shares to raise equity of VND1,200 billion to invest in banana and pig farming. This solution will help increase the financial adequacy ratio, invest to increase profitable assets, thereby increase business efficiency and reduce risks, increase the value and attractiveness of HAGL shares.
Notably, not only partners participating in the offering, banks… HAGL also received the companionship of a large number of investors in the market when the number of shareholders by the end of the year suddenly increased to nearly 55,000 people.
Currently, HAGL's charter capital is 9,275 billion VND; in which, Duc owns 320 million shares, equivalent to 34.5% of capital.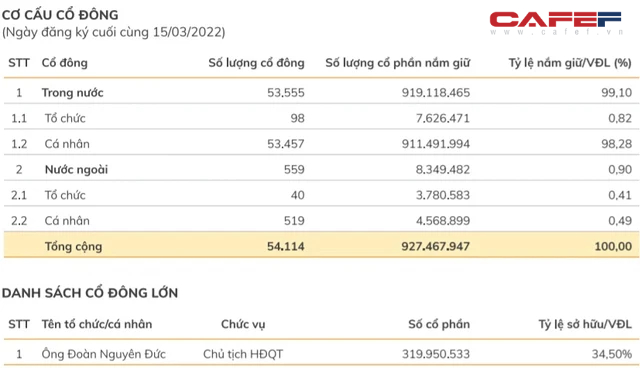 In which, in the period of 2021 – 2022, HAGL sets out two main orientations, including:
+ In 2021, with the goal of prioritizing extensive restructuring to reduce bank debt, HAGL has completed a 49.5% reduction in total liabilities, bringing it down to VND13,767 billion. Specifically, short-term loans decreased by 71.4%, equivalent to VND 6,262 billion. During the year, the Group also classified mature long-term debts into short-term loans, making short-term loans increased by 1,000 billion dong.
Long-term loans also decreased by 38.1%, equivalent to 3,554 billion VND because the Group did not take new loans during the year but tried to pay off due debts.
In general, the indicators of quick solvency in 2021 have significantly improved compared to the previous year. The short-term ratio increased from 0.58 times in 2020 to 1.04 times at the end of 2021. Especially, the quick ratio increased to 0.98 times, which is an optimistic signal.
Debt-to-equity ratio 0.45x at the end of 2021 vs 0.49x at the end of 2020 and debt-to-equity ratio 1.77x at the end of 2021 vs 1.81x by the end of 2020…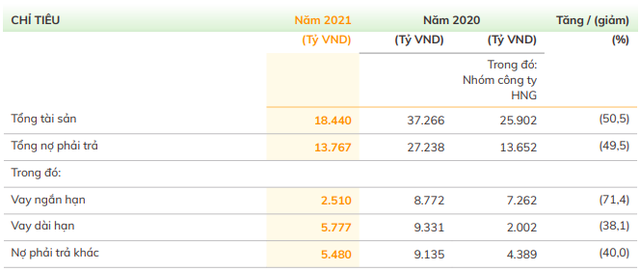 + From 2022 onwards, The Group aims to strengthen financial restructuring measures to reduce bank debt to a stable level. At the same time, continue to stabilize and improve the efficiency of production and business with 2 main areas of fruit trees and pig farming.
Regarding fruit trees, by the end of 2021, HAGL has planted 5,000 hectares, in 2022 will plant another 2,000 hectares. In 2021, the fruit industry will still play an important role in the Group's operating structure with the main product being bananas. By the end of 2021, the fruit tree area of ​​the Group will be about 10,000 hectares in Vietnam, Laos and Cambodia, of which the banana area is about 5,000 hectares.
Regarding the livestock segment, the Group will start investing in the pig farming industry from 2020, in 2021, revenue from this industry will also account for a relatively large proportion of the revenue structure.
In 2021, the Group has built 7 clusters of pig farms with a capacity of raising about 400,000 pigs per year. The Group expects to build 9 more clusters of barns by 2022, bringing the total number of barn clusters to 16 with a capacity of more than 1,000,000 pigs per year (2,400 breeding sows and 60,000 pigs each). pork ).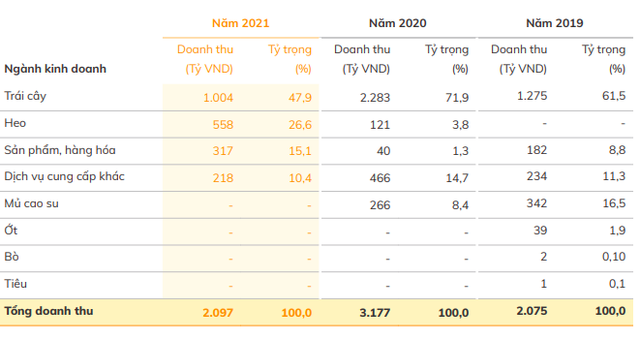 "HAGL's competitive advantage is having a large land bank far from residential areas, suitable climate and soil, geographical distance and favorable transportation conditions to seaports and markets. Banana and pork products are two basic and essential foods for life, a large consumer market.
The bright and new feature of HAGL is the creativity in using complementary resources from the banana industry to create a special competitive advantage for the pig industry. Waste bananas from the farming industry (about 200,000 tons/year) are a rich source of nutritious raw materials for pig feed, helping to reduce product costs.
Moreover, the product "banana pork" is a unique product that is both delicious and meets the criteria of organic products, which is highly appreciated and well received by consumers.
HAGL is confident that this business strategy is suitable with the modern consumption trend of society, when customers are more and more concerned about health and product quality." elected Germany sent.
https://cafef.vn/khong-chi-doi-tac-phat-hanh-1200-ty-sap-toi-co-gan-55000-co-dong-dang-dong-hanh-cung-bau-duc- tren-hanh-trinh-moi-1-cay-1-con-20220401181115763.chn
You are reading the article
Not only the upcoming 1,200 billion issuance partner, there are nearly 55,000 shareholders who are accompanying Duc on a new journey of 1 tree – 1 child.

at
Blogtuan.info
– Source:
cafebiz.vn
– Read the original article
here