Giải trí
Taking drugs to enhance physiology, suspecting systemic toxicity-Life Health
Using oriental medicine of unknown origin to enhance physiological ability, the man had to be hospitalized urgently because of acute liver failure, hepatomegaly, cholestasis, rough skin, diarrhea, chronic enteritis.
Recently, the Department of Poison Control, Cho Ray Hospital has received male NVD patients. living in Dak Lak used to use kidney tonic for 2 years for the purpose of improving physiological health. After that, he continued to take Oriental medicine to treat hepatitis. Mr. D. hospitalized with symptoms of itchy skin, papules, darkening and jaundice.
MSc. Doctor Doan Uyen Vy, in charge of the Poison Control Clinic – Cho Ray Hospital, said that after the internists checked and screened all of them but could not find the cause, the patient was transferred to the Department of Toxicology and Infectious Diseases. It was found that the cause was poisoning caused by long-term oriental medicine.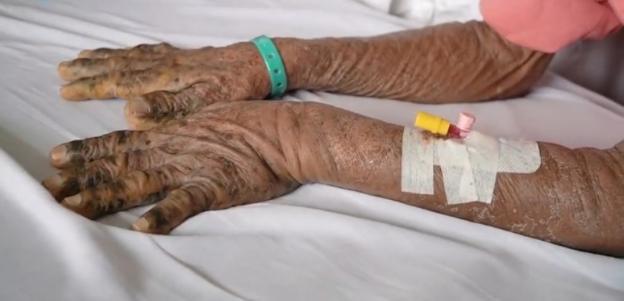 Unusual, rough, dark hands of NVD patients infected with traditional medicine. Photo: BVCC
Recently, Cho Ray hospital has received many patients with poisoning due to prolonged use of drugs and encountered liver diseases, dark skin, jaundice, eyes, prolonged diarrhea, and even kidney damage. , leading to acute kidney failure, acute heart failure due to the use of Oriental medicine.
According to MSc. Dr. Doan Uyen Vy, in the past 20 years, there has been evidence from the world medical literature that Oriental medicine of unknown origin contains heavy metals and causes toxic diseases if used for a long time. In the books of Eastern medicine, there are medicines like Hung Hoang, Chu Sa used to treat many skin diseases, infections, malaria, sedatives, anticonvulsants, insomnia, syphilis, children crying at night… This medicine is derived from rocks, minerals containing arsenic and mercury.
Because Oriental medicine is often prepared by hand, or even with modern packaging, the dosage is often uneven in the pills. Even, there are pills that are prepared containing arsenic and mercury content 10-30 times higher than the dose in the guidebook of Oriental medicine.
Therefore, patients who use these medicines for a long time will be at risk of poisoning from toxic heavy metals. These metals will accumulate gradually, by the time of full and clear symptoms, the patient has had moderate toxicity. When poisoning is too severe, it can turn into subacute and acute poisoning, leading to rapid death.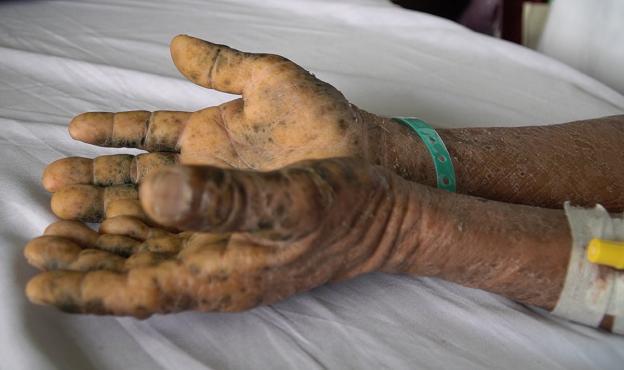 Arbitrary use of Oriental medicine for a long time, without control causes damage to many organs. Photo: BVCC
It is worth noting that patients hospitalized due to drug poisoning often have healthy bodies, no diseases related to organs such as kidneys and liver, but then symptoms appear and the disease gets worse. more. Most people who are poisoned by traditional medicine often have initial symptoms such as jaundice, yellow eyes, rough skin, darkening of the skin, prolonged diarrhea, causing chronic enteritis, and loss of protein through the intestines.
MSc. Doan Uyen Vy said that Western medicine or Eastern medicine all have poisons used to treat diseases, but when used, they must be used in the correct dosage. Use for a very short time and closely monitor the patient's condition. If the patient arbitrarily uses it and uses it for a long time, it will easily lead to the gradual accumulation of toxins in tissues and organs, damage to tissues and organs, or experience side effects of the drug. moderate to severe. It is a drug-induced poisoning.
Therefore, when using any drug for a long time to treat a disease, if you want to know the safety of the drug, know whether you are likely to be poisoned, poisoned or not, the patient should go to the hospital. for advice and guidance on how to use drugs safely, and at the same time to prevent drug poisoning.
You are reading the article
Taking drugs to enhance physiology, suspecting systemic toxicity-Life Health

at
Blogtuan.info
– Source:
24h.com.vn
– Read the original article
here