If in the past, many people kept the concept that women should stay at home to take care of the family and take care of children, in today's modern life, everything seems to have gradually changed. A mother in the 4.0 era can completely control her life, succeed in her career, but still take care of her family and children. And of course they all receive support and help from their husbands.
Ms. Phan Nu Uyen Nhi (29 years old, living in Da Nang) is also a wife and mother like that. Despite being quite busy, sometimes stress is inevitable, but the mother of two always makes people admire about her career and family life. How to maintain the positive energy and optimism of a modern woman in the 4.0 era, let's listen to a little sharing of Nhi on the journey of being a wife and mother.
Make a clear schedule for work and family time
Currently, Ms. Nhi spends about 1/3 of the day at work, 1/3 of the time taking care of housework such as shopping, cooking, washing, cleaning, and playing with her children. The rest is the young mother's time for learning and self-development.
Her 2 children are Quynh Chi (10 years old) and Kha Doanh (2 years old). When the second child was young, it was quite difficult to take care of her, but now that she is older and can send her grandparents, the mother of two children has more time to do other jobs.
"For me, work can be flexible so I still have time for my family. Talking about my career, I don't dare to admit success is just having a clear career and not having to work too hard. Benefits The key to being a modern mom who both works and takes care of the family is confidence, initiative in time, effort and finance, being able to arrange a day however you want.
It can be said that this is freedom, not depending on servants, grandparents or a third party to raise children. Or wait for money to support from her husband, for example. But it is true that I had to make a lot of effort with sleepless nights, plowing to study and being away from my first baby for a few years. Everything has difficulties and trade-offs.
Of course, in order to have a stable family life as it is now, there must be efforts from both. My husband is also a person who tries very hard and knows how to share for his wife. I think that's a motivation to help me better support my family." The mother of two children confided.
When too much pressure, quit work and go out
While taking care of her career and taking care of her family, Nhi does not deny that this is really stressful. However, the choice of settlement will depend on the circumstances of each family. There are many mothers who choose a career, and others sacrifice their dreams to take care of their children.
"Every person's situation is different, so I can't say what is right or good. I just think a good mother is a mother who knows how to do well within her ability. I like to do it because I like to be on my own. I take care of my family and have a career I'm passionate about.

The work is not heavy but quite stressful. Because my work is especially creative, it is easy to fall into a state of burnout. Every year, I have about 1-2 times like that about 1, 2 days to 1 week. Every time like that, I quit my job and go out."the mother of 2 children confided.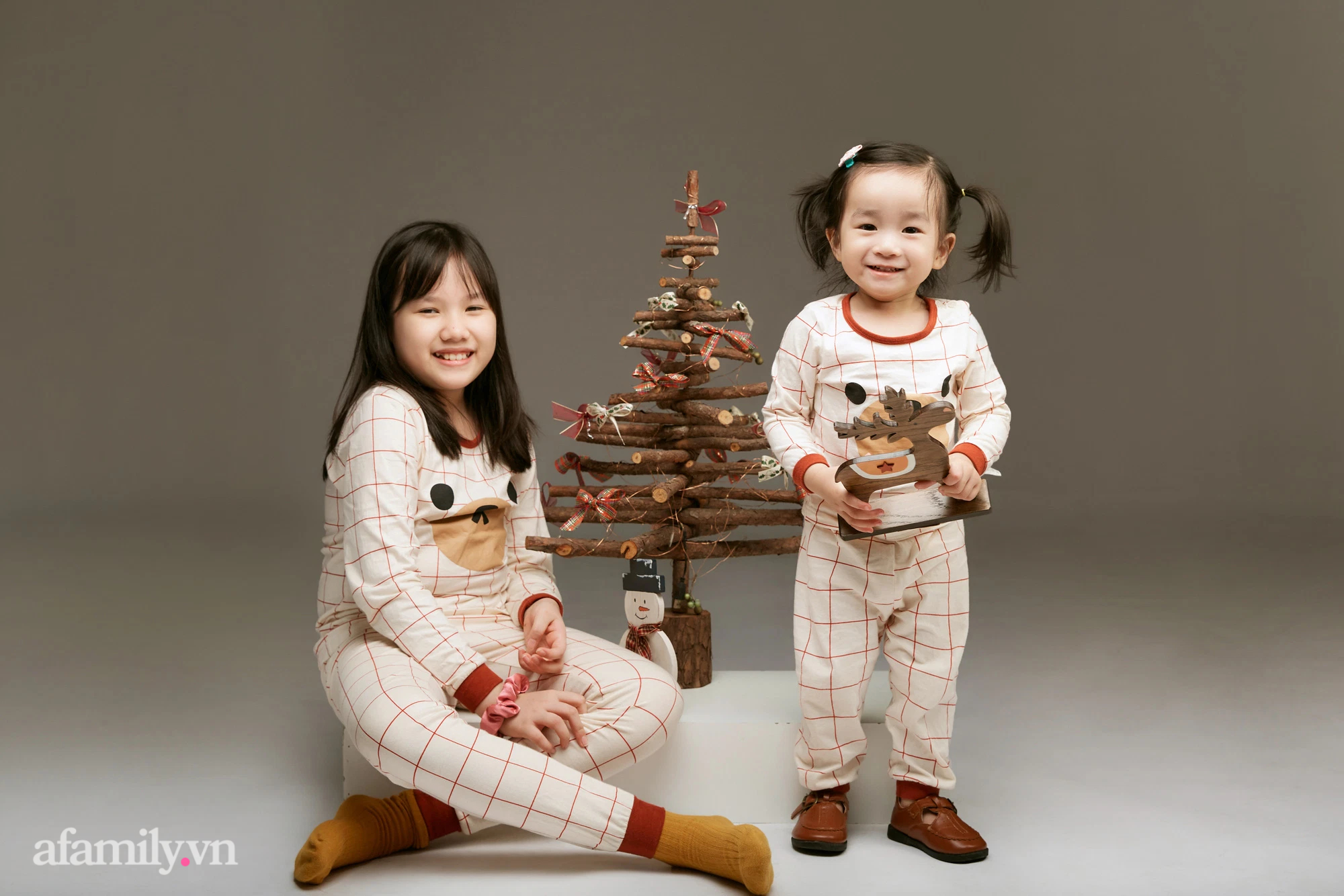 Not arguing, but also not pampering the children
Nhi's two children are quite far apart in age, but they are both obedient children with personality. While Quynh Chi outwardly quiet but outgoing, has a very high personality and creativity, Kha Doanh is a very independent, friendly girl who can get along with anyone. In the family, Nhi will be a little softer, while her husband Nhat Minh will be stricter. She and her husband agree and come up with the most reasonable parenting point of view.
"Me and the children rarely have conflicts. I say no to heated arguments or excessive pampering. Everything is in moderation. The children always think that the mother is "quite gentle" and feels good. However, the difficult thing when teaching a daughter is that she is more emotional, thoughtful and sensitive, so before there is a problem, it is necessary to educate her child, she has to think to speak. I also have many friends who raise my children very well and learn a lot from them."Ms. Nhi confided.
In addition to taking care of children and developing a career, it is also extremely important for a mother to take care of herself. A happy mother makes the family, especially the children, happy. Understanding this, Nhi is also very conscious in taking care of herself, keeping in shape and trying to keep her health at a stable level.
"There's really no secret. But I'm just a little harder than others to cook for the whole family Eatclean style more. When the kids are a little older, I spend time practicing. The hardest thing is probably psychology and sleep of the mother. I always prioritize sleeping when I have the opportunity"the mother of 2 children confided more.
https://afamily.vn/gap-me-bim-hien-dai-thoi-40-thanh-cong-trong-su-nghiep-chu-toan-viec-gia-dinh-phuong-phap-nuoi-day- children
You are reading the article
Succeed in career, take care of family

at
Blogtuan.info
– Source:
Afamily.vn
– Read the original article
here