Baby "disappeared"
At approximately 4:30 p.m. on August 21, Mr. H, as usual, took his 2-year-old son to the Nguyen Van Cu (Bac Ninh City) park to play. this afternoon, weather It was cool, so this place was pretty crowded. Seeing his son playing on the swing, Mr. H went to the sales area to buy a bottle of water.
A few minutes later Pak H eagerly entered, but Gia B was nowhere to be found. Thinking that he is busy, he is lost somewhere, Mr. H runs around the park looking for him. However, even though he asked everyone, "announcing" all the "suspicious" areas, Mr. H could not find his son. At this moment, the father's heart blazed with extreme panic.
Information about a 2-year-old boy who suddenly mysteriously disappeared while hanging out with his father in the park was immediately reported to the Bac Ninh City police.
A large squad of local police, mobile police, and even sniffer dogs were deployed to search for Gia B's grandson. On the evening of August 21, not only the police, the victim's family, but many good people also lit torches, handing over each one of them. trees, and looked to every edge of the water in Nguyen Van Cu's park in hopes of finding B. Towards dawn, the search for the 2-year-old boy yielded no results. .
Child B seems to have disappeared without leaving any clues. The incident became serious and caused panic in the surrounding community.
Photo when child B disappeared (photo file)
strange woman
After assessing the entire incident, the leadership of the Bac Ninh Provincial Police Department dispatched the Criminal Police Department to take over the work and coordinate with other professional units to investigate and trace Gia B's whereabouts.
Currently, said investigators, the case has indications of kidnapping. However, who abducted, for what purpose, is not at all clear. By studying the social relationships, business, and even family love of B's ​​grandson, investigators believe that was not the cause of B's ​​sudden disappearance.
Many surveillance teams were sent to "attend" hundreds of subjects with criminal, criminal and drug records, especially those who had been convicted of kidnapping and human trafficking. However, all that was collected was only zero.
Currently, the task force in charge of reviewing all security cameras in the area of ​​Nguyen Van Cu park and other streets found suspicious images.
Therefore, when Mr. H went to buy water, a fat woman approached B. After a few minutes, this person got on a motorbike to go with B. The picture was there, but the quality was low, so the police could not identify the face, even the car number plates mentioned above.
Continuing to check more roads, in the Bao Son bridge area, this woman "lost track". Investigators said, surely this woman must be domiciled in the area across the bridge. However, this is a big challenge. On the other side of the Bao Son Bridge was an area where a large number of tenant workers gathered. If you open an examination, it will take a long time, while cases need to race to find Gia B quickly.
While the verification of the mysterious woman has not been carried out, the Bac Ninh Provincial Police have received the information provided by the public. Therefore, through a police statement, a resident realized that in the dormitory area of ​​the Khac Niem ward (Bac Ninh city) there was a woman with many similar characteristics.
Reaching the address given by the people, the scout learned that this woman had left the house in the morning, where she was going. However, neighbors say, on the night of August 21, this person brought a baby boy and said it was his son.
This information helps investigators unlock the big knot in this case. During a search of the motel room, the child's family members confirmed that there was a set of clothes Gia B was wearing on the day she disappeared.
Scramble
The suspect who kidnapped Gia B's nephew was identified as Nguyen Thi Thu (32 years old). Thu works as a laborer and rents a house in the Khac Niem ward. According to information from the ministry, this woman was from Cao Bang, but neighbors said Thu confessed that she used to live in Tuyen Quan. This coincided with the fact that scouts obtained an image of Thu's motorcycle with a Tuyen Quang provincial control plate.
The fact that Thu kidnapped B's nephew and left so early has given rise to many theories. First, maybe the subject wants to sell his grandson across the border, second, maybe the subject has other goals. Bac Ninh Provincial Police immediately contacted the northern border provincial police, asking for help to review and prevent Thu from selling grandson B through your country.
At this time, the motorbike that Thu used was also identified as Bpk. Dang Van Bang (33 years old, domiciled in Yen Son, Tuyen Quang). Anh Bang has a love affair with Thu.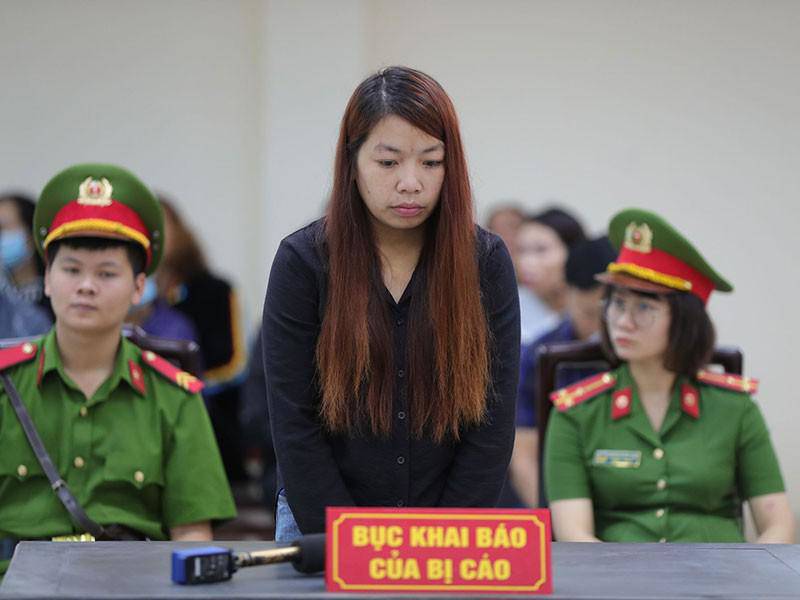 Court collection (photo file)
Seeing the possibility that Thu took B to Tuyen Quang, the Bac Ninh Provincial Police coordinated with the Tuyen Quang Provincial Police and the Criminal Police Department – Ministry of Public Security to conduct a review. After learning that Thu had brought a baby who looked like B's grandson to Bang's house, the police secretly rushed to arrest and rescue Gia B safely.
At the police station, Thu confesses that he has the intention of kidnapping a baby boy to bring back and tells Bang that it is the child of two, with the aim of getting married.
On the afternoon of August 21, 2020, Thu went to the park area of ​​Nguyen Van Cu and found that Gia B was playing alone. Thu came over to get acquainted, bought a toy for her granddaughter, then took Gia B to the car and headed straight for the motel room.
At 7 am on August 22, Thu took a motorbike to take Gia B's grandson back to Hanoi and back to Tuyen Quang to stay at his lover's house until he was arrested.
Later, in the trial of the case, taking into account the seriousness of Thu's behavior, the Bac Ninh Provincial People's Court sentenced this woman to 5 years in prison.
You are reading the article
The missing baby and the second to second race to find the mysterious kidnapper
at Blogtuan.info – Source: Eva.vn – Read the original article here