Giáo dục
What is special about the set of documents to win a full scholarship to study Economics in 3 continents?
The admission criteria of each school in each country are very different and the requirements for each set of documents are also different. But that's not to say that they don't have anything in common.
I am currently a first-year international student studying Economics in Europe with a full tuition scholarship.
Realizing the special interest of students about studying abroad, I would like to share my application process to study abroad, successfully entering a series of international universities from 3 different continents such as: University of Amsterdam, Erasmus University Rotterdam, Aalto University (100% scholarship), Texas Christian University (Dean's Scholar), University of South Florida (Presidential Scholarship), VinUniversity (100% scholarship), APU Japan (80% scholarship) …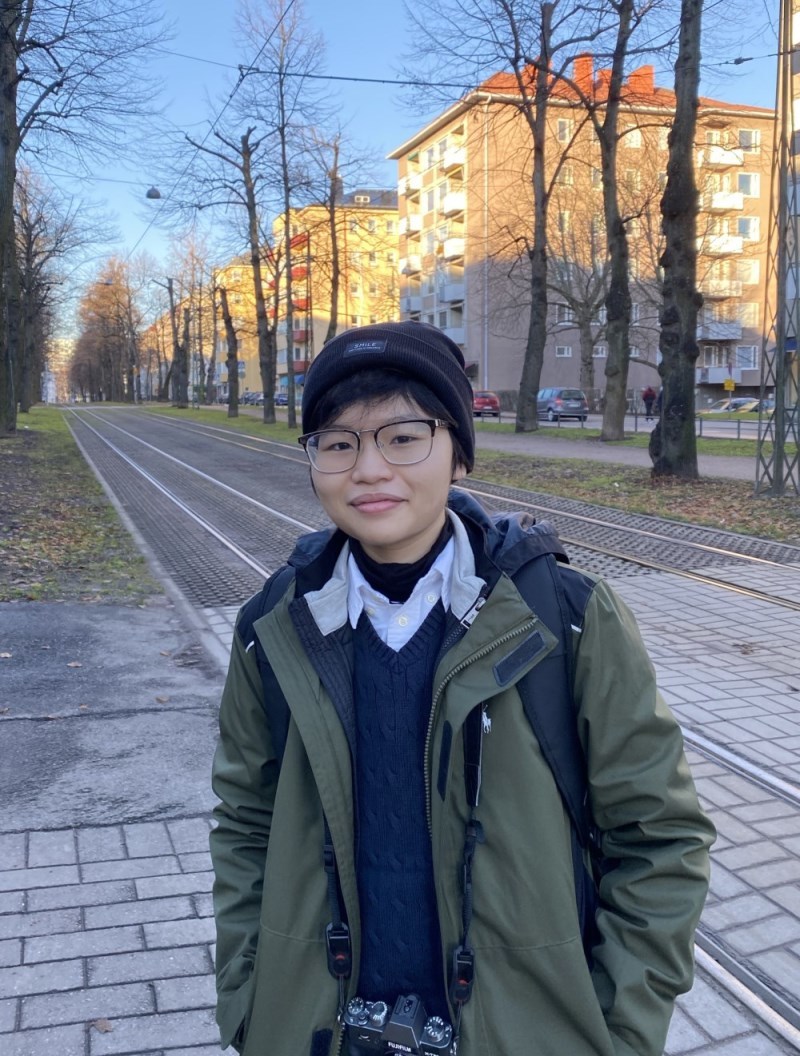 Pham Ngoc Anh – the author of the article
Although my family oriented me to study abroad from an early age, I only really seriously learned about studying abroad at the end of 11th grade and the beginning of 12th grade.
Like so many of you here when I first embarked on this path, everything was very confusing to me at that time, I was like drowning in a sea of ​​information with dozens of questions like: "Which country should I choose as my destination?", "Which school should I choose?", "This school requires high marks, the other school has a very competitive rate, how did I get here?"… and countless other questions.
Honestly, if I say I don't feel nervous, worried, or self-conscious about myself at all, I'd be lying. So how did I overcome those pressures and have enough strength to fight with prestigious schools from the US, Japan, Netherlands, Finland, international universities in Vietnam?
In my opinion, in order to answer the question of which school is suitable, it is indispensable for experienced people and orientation consultants.
Too much information on the internet has made it difficult for many of you because the information may not be completely accurate. It's extremely important to find yourself the first to go ahead and help you come up with a list of schools that match your profile and family's financial ability, saving you a lot of time in confusion.
After having a list of suitable schools, it is also time to draw up a clear application plan.
In fact, the admission criteria of each school in each country are very different and the requirements for each set of documents are also different. But that's not to say that they don't have anything in common.
Through my scholarship application experience, I have drawn some characteristics of the schools, no matter where, the application file to study abroad also requires at least the following items:
Academic – Academic
Grade point average (high GPA reflects your whole learning process, so right from the first years of high school you should take care of your GPA if you don't want to "regret." But this does not mean that GPA is low. You will lose your chance. Remember that you can also demonstrate your academic ability through standardized tests or through academic competitions…).
High school diploma (if you have not graduated yet, you can add it later).
The awards at the competition are academic at all levels (this is also one of the important parts to help you stand out among thousands of other contestants).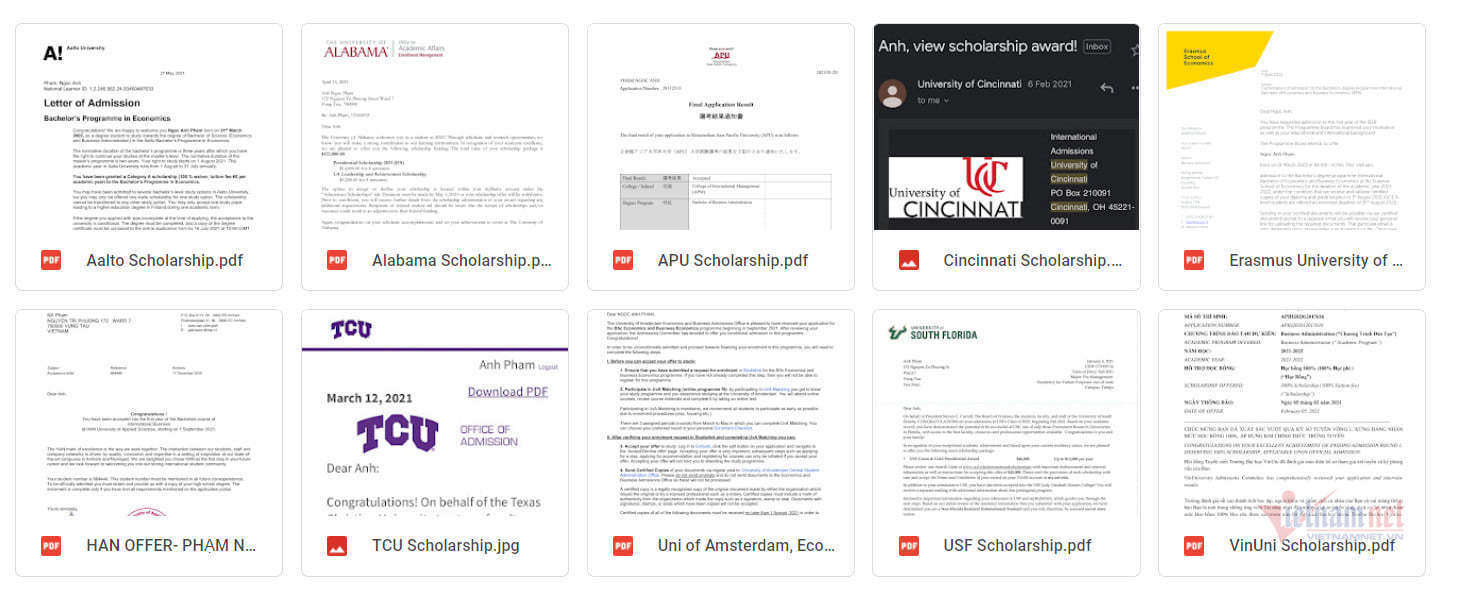 Schools that agree to grant scholarships to Pham Ngoc Anh
Standardized Tests – Standardized Tests
First, I tried to complete standardized tests like IELTS and SAT as soon as possible, so that if I don't get a satisfactory score, I still have the opportunity to retake the exam to keep up with the early submission deadlines of the schools.
My advice is that if you really have a dream to study abroad, you should prepare these exams as soon as possible, not simply to "beautify your profile" but more importantly, the skills The skills we learn in the process of studying for those exams are also essential for the university environment.
There are many schools that are not required to submit but if they do, it will make you stand out a lot.
Extracurricular Activities – Extracurricular Activities
A good application package requires not only academic results but also impressive extracurricular activities.
It's not always good to have too many extracurricular activities, you need to know what really stands out and is constructive for your growth. It will be even more impressive when that extracurricular activity is directly related to the field of study for which you are applying.
Extracurricular activities should be started as soon as possible, avoiding the case of "water to the feet to jump" and then "fake" extracurricular records to be timely submitted.
Achievement Description – short description for extracurricular activities. Some schools do not require this section, but when you write a description of the activities you have participated in, it is also a great way for you to reflect on how you have grown through those experiences. Ideas for the Essay and Interview section.
Documents
This is a simple but extremely important part that many of you are often subjective and then it is time to turn back because there are too many things to prepare.
– Identity documents (eg citizen identification, passport)
– School profile
– Scoreboard of standardized tests (if any)
– Types of certificates of merit
– Types of extracurricular certificates
– CV (some schools do not require it at all, but it is a plus point)
A small note when you submit to foreign schools is that you need to have a notarized translation of the original documents that are not in English, and need to be prepared as soon as possible. When you have all the translations and originals, you should scan them beautifully and put them all into a general drive file so you are always ready when required by any school.
Recommendation Letter – Letter of Recommendation
I prepared 2 letters of recommendation for scholarships from my homeroom teacher and from my SAT teacher.
The purpose of the cover letter is to let the school have a different perspective of you. In order to choose suitable "referrals", I recommend that he or she stick with you for at least a year, enough to see your development, who has "heart", has "vision" " to be able to give the most objective comments about you.
Those are common sections for profiles. After I had the most basic set of documents, I continued to prepare more carefully for the individual requirements of each school.
Overall, I have come a very long way to achieve a bit of an achievement like today. My starting point is not outstanding, but the most important thing is to have a reasonable application strategy, take care of the components of the application, and above all, the essay and interview.
Pham Ngoc Anh – Co-founder of AppLike Education
You are reading the article
What is special about the set of documents to win a full scholarship to study Economics in 3 continents?

at
Blogtuan.info
– Source:
vietnamnet.vn
– Read the original article
here