Giới trẻ
Avoiding 27 points and still failing university, candidates should immediately remember this useful advice of experts
According to experts, the 2022 university admissions season candidates should consider the necessary and sufficient conditions when applying for a major, not just looking at the hotness of the industry and the school, but need to look directly at their abilities.
Last year, many students regretted that they did not pass the university entrance exam right away at NV1 and even failed all their aspirations. One of the most "stormy" stories of this admissions season is the fact that there are candidates who get 27 points but still fail college. It is known that candidates registered up to 9 aspirations, but all are hot fields of some hot schools in Hanoi.
So what should candidates pay attention to this year's enrollment season to increase their chances of being admitted right from NV1?
It is predicted that for this year's engineering sector, besides the Information Technology industry, industries such as Automation, Mechatronics, Business Analytics or Logistic… are hot industries with great attraction to candidates.
This year, the Ministry of Education and Training plans to adjust the technique in the virtual filtering process when applying for admission. Although candidates have enough points and pass conditions with many aspirations, the system still considers the aspirations from top to bottom that students register on the system. Therefore, it is very important to register an aspiration on the system. If you want to study any major, you need to prioritize that aspiration.
With years of experience in recruitment consulting, Associate Professor Vu Duy Hai – The deputy head of the admissions department of Hanoi University of Science and Technology said that when deciding to close or open any new training major, the school also had a thorough analysis, survey and research on job needs. employment, labor needs, future orientation as well as the development of the profession compared to the situation of economic and social development, polls of businesses, students,…
All training programs that the university announces admissions to give learners certain job opportunities. Every discipline has its own potential. So instead of following the crowd, in the process of choosing a major, choosing a career, candidates need to consider and learn carefully.
"I think that the candidate's number one priority when choosing a career is based on the candidate's passion and interest and then needs to be considered and calculated based on his or her own ability. Before choosing a major, candidates also need to pay attention to the training fees of that program to suit the economic conditions of their families.
Because, in recent years, along with the trend of autonomy, the tuition fees of universities have increased significantly. The majors that are considered "hot" often have higher tuition fees than other majors.
Therefore, when choosing a major, candidates need to pay attention to financial issues between disciplines, between training systems in the same industry. This consideration is necessary because it is necessary to have a plan to prepare funds for 4-5 years of study, even 6-9 years for the Medicine and Pharmacy sector," said Associate Professor Vu Duy Hai.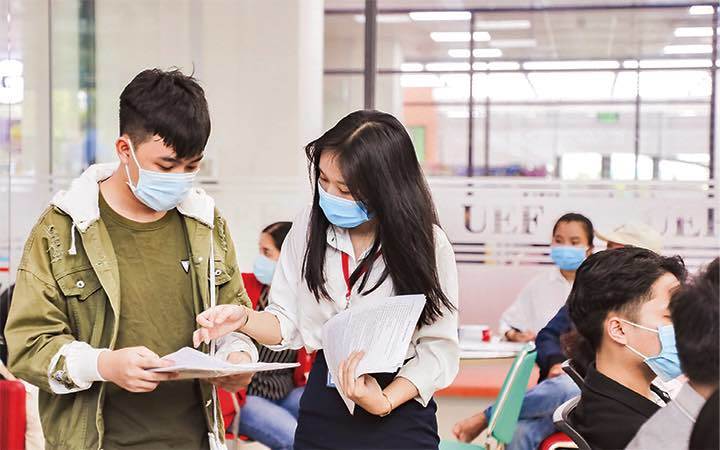 Choosing a career needs to consider the financial ability of the family.
According to Dr. Ha Thuc Vien – Vice President of Vietnam-Germany University, when society develops, there are often some professions or fields that are in high demand to meet the development trend of the times and many people call it hot industries. . This increase in human resources will attract candidates' attention to certain professions that make certain fields of study very hot at a certain time.
"The same industry, but there will be many different training schools, quality and programs, so not all high schools are the same. If you really want to pursue hot majors, you must first consider your ability to apply to a school with benchmarks equivalent to your ability, don't go to the top schools because you can. The standard score will be very high and they will lose the opportunity right at the NV1 exam," said Dr. Ha Thuc Vien.
Also related to this year's college admissions issue, Master Nguyen Thi Kim Phungdeputy director of the Center for Admissions and Corporate Relations, University of Finance – Marketing, said that the number of candidates pouring into hot industries too much causes the benchmark to increase, while the output may exceed the market's demand. labor school.
"Therefore, candidates must consider the needs of that industry in the following years. You can see the human resource forecast of the labor market. In addition, choosing a major must also take into account the economic conditions of the family, the capacity and suitability of each person, instead of following the tastes of the new market, which are really wise choices. Nguyen Thi Kim Phung said.
Hoang Thanh
You are reading the article
Avoiding 27 points and still failing university, candidates should immediately remember this useful advice of experts

at
Blogtuan.info
– Source:
infonet.vietnamnet.vn
– Read the original article
here