Giải trí
Crossing Vietnam by train and things to know-Travel
The journey from Hanoi to Saigon is a journey of flavors, sounds and stunning sights for any visitor.
Travelers on the train lasting about 30-35 hours will admire the idyllic and typical beauties of Vietnam, from historic lands to bustling suburbs, from rice fields stretching to the countryside. green hills and sparkling sea.
The first railway line of Vietnam was built in 1881 with a length of 71km connecting Saigon with My Tho. After that, the trans-Vietnam railway began to be exploited in 1936. Up to now, Vietnam's railway network consists of 7 main lines connecting 35 provinces and cities through many special terrain types.
Famous for the Thong Nhat Expressway (the 1726km Hanoi – Saigon railway line), you can travel the entire length of the country.
The North – South train is not just a transfer, it is really a pilgrimage, a trip containing many interesting things, a memorable experience that every person should have in life.
For Xuyen Viet, choose the right type of chair you need
The journey across Vietnam will go through nearly 40 large and small stations and it takes nearly 36 hours, equivalent to a 2-day route to complete the trip. Therefore, you need to choose the right type of seat to have the most comfortable journey.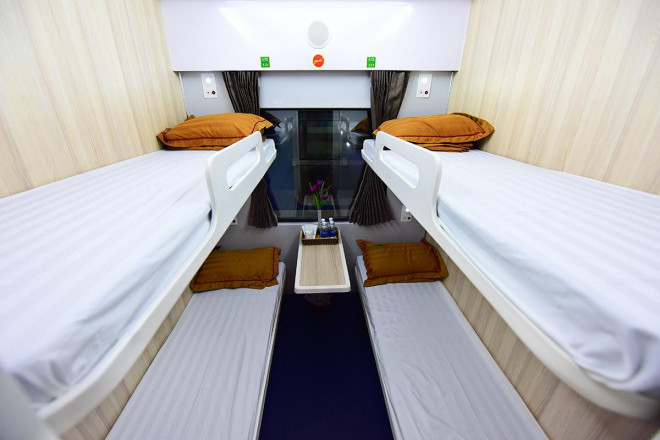 Currently, Vietnam railways provide 4 main ticket classes: hard seats, soft seats, and sleepers. Hard seat: this is the lowest priced chair, the seat is made of wood and the train is very crowded. Soft seat: this type of seat can be adjusted to recline about 15 degrees like a passenger car seat, suitable for short journeys, day trips. Hard bed: each bed is about 80x190cm long, spread with 3cm thick hard mattress is the best choice for long-distance guests. 1 car has 6 beds, arranged into 3 floors.
Soft bed: This is the most comfortable car, each drill has only 4 beds, can rest, eat and have enough privacy for you. Because of these facilities, the price of a bed is often high, sometimes approximately the price of an airline ticket.
One secret to hunting for cheap train tickets is to book tickets very early, at least 1 month before departure.
Going by train, you just need to arrive 15-30 minutes early and comfortably wait for the train to run. No long waits and no baggage check.
There are 3 ways to buy train tickets:
Buy online on dsvn.vn
Buy directly at the station
Buy through agent
Limit carrying a lot of hand luggage
Space on board is quite tight, so try to avoid carrying large suitcases or large, bulky backpacks. The corridor is very narrow so you will have a hard time getting your luggage off the bus. If you're staying in a bunk bed, the only space for luggage is under the bottom bunk and chances are your bedmate will take up this space.
Bring snacks and entertainment for the long trip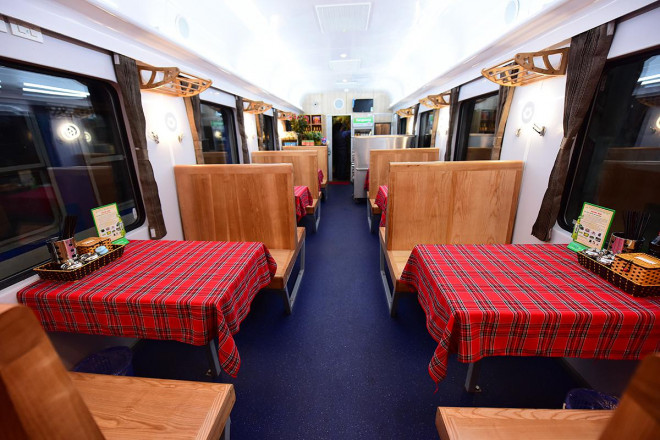 Sitting on the train you can admire the surrounding scenery, chat with many people, make new friends. Some trains have free WIFI for you to comfortably lie down and surf the web or chat to kill time. So prepare for 4G and offline entertainment.
Note that the power socket to charge the phone battery is not in the hard seat compartment
You can buy some snacks during longer train journeys, but mostly just instant noodles. If you are going on a long trip, we recommend bringing your own food and snacks.
Always pay attention to the important assets in sight
On the train, each train car is like a miniature society, especially the hard seat car. All elements gathered here. Some people lie on the side of the train, people lie on benches even under the deck, things can be quite mixed in the hard and soft seats.
Petty theft on trains is rare these days, but if you're taking a long-distance train overnight and sleeping, it's best to keep it safe and keep valuables with you at all times.
Some problems on the train that you should prepare mentally in advance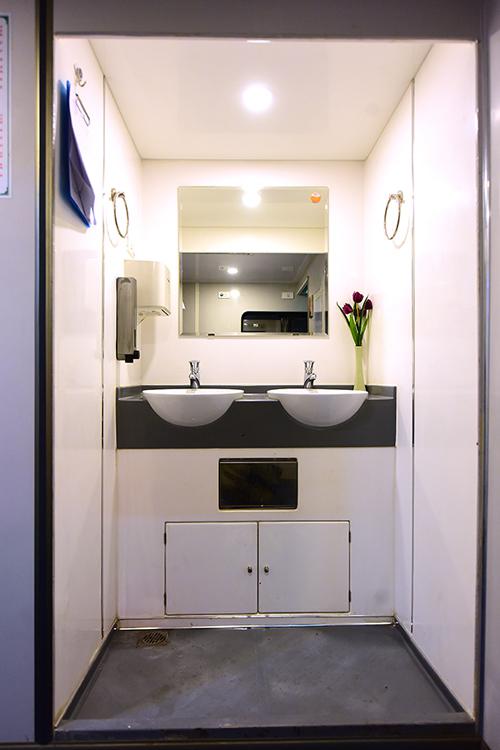 The common living space will sometimes not be kept clean and hygienic. The toilet often smells, try to go late or earlier because in the morning and evening the demand is very crowded, forcing you to wait or find another toilet very difficult. Note further that the ship does not have a shower for bathing.
And because it is a train, the journey is quite shaky and noisy. The method of restriction according to folk experience is "First, end of the train" and often the luxury cars are also at the end of the train.
You are reading the article
Crossing Vietnam by train and things to know-Travel

at
Blogtuan.info
– Source:
24h.com.vn
– Read the original article
here