Located deep in Lane 72 Tran Hung Dao (Hoan Kiem District), the famous "75 Old Mixed Tea" shop for 46 years is always busy with customers coming in and out. According to the shop's owner, Ms. Le Minh Dung (1960), at present, at the moment when Hanoi has not completely stopped the epidemic, the shop sells on average 500-700 cups of tea a day with the same price of 50,000/cup. . Depending on the customer's criteria for adding ingredients, there are cups up to 75,000 VND.
"Expensive" is the most feedback about the restaurant
According to customer feedback that Ms. Dung has received over the past few decades, "expensive" is the most popular response. However, there was a peak day when the shop sold up to 1500 cups, to the point that Ms. Dung had to laugh and say: "…it's often scary to see guests".
Nearly five decades, people are still impressed with the restaurant mainly because of the expensive price. Come with familiar, simple desserts; Many guests have put a big question mark: Is the quality worth the price. However, out of curiosity, many people have become "intrinsic customers" of the most expensive old tea in Hanoi.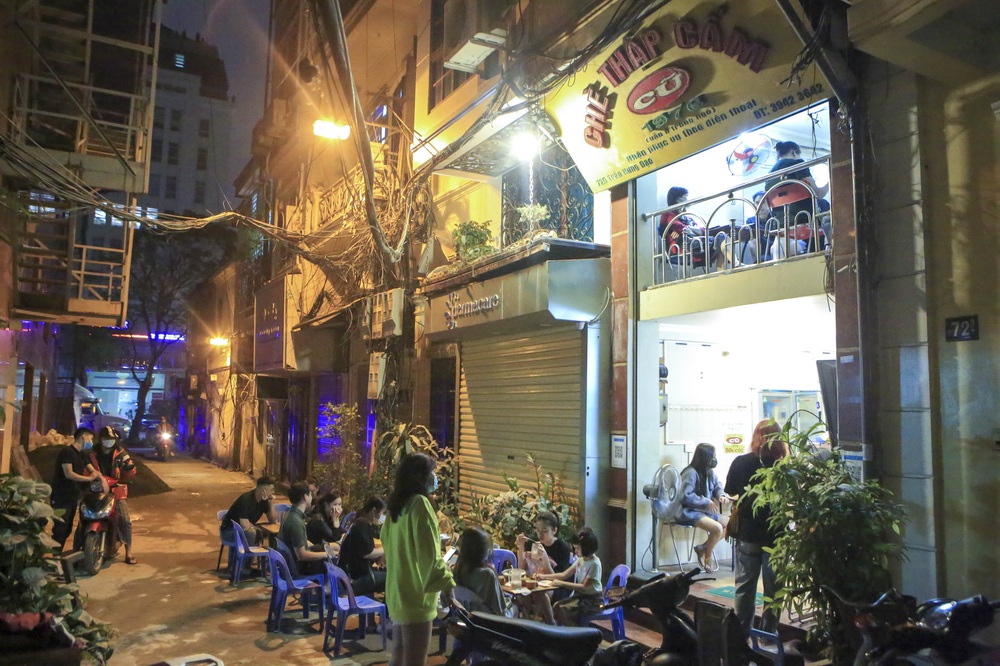 Old 1976 mixed tea is always crowded whether it's day or evening.
Clean space, enthusiastic service, diverse menu,… these are the most basic impressions of each guest when entering "Old mixed tea 1976". Although not very spacious, the shop always attracts customers because of its neatness and order. Although not elaborately decorated, the "old Hanoi" feature is still evident because of its long time and favorable geographical location.
Combined from nearly 20 basic ingredients, at present, "Old Mixed Tea 1976" has diversified the menu with 72 different types of tea. In particular, mixed tea is always loved by diners because of its unique traditional and creative taste.
Tradition is the combination of familiar ingredients such as green beans, red beans, fried nuggets… mixed with thick, greasy coconut milk. All are processed meticulously, meticulously and never using prepackaged ingredients. And creative in people's eyes because many additional ingredients are fruits such as jackfruit, longan, custard apple…
"This is my first time eating at this restaurant. At first, when I saw the price, I thought it was quite expensive. But after eating and feeling it, I recognized it as very worthy and delicious. My favorite point about the tea here is the tea here. It's a pearl with a filling, but there are three types of filling. And I really like chocolate. The coconut milk here is also especially delicious than other places."Ms. Thuy Tien (Gia Lam) confided.
If I put chemical sugar in my tea, I'm not human
At the shop, there is an old lady Mai (Khanh Hoa) who, despite being over 80 years old, still sits in a corner every day to enthusiastically greet customers and accept the responsibility of cashier to "less her hands". It is known that he is the one who founded the shop "Old mixed tea 1976" and is also one of the first people to bring tea from the South to become more popular in Hanoi.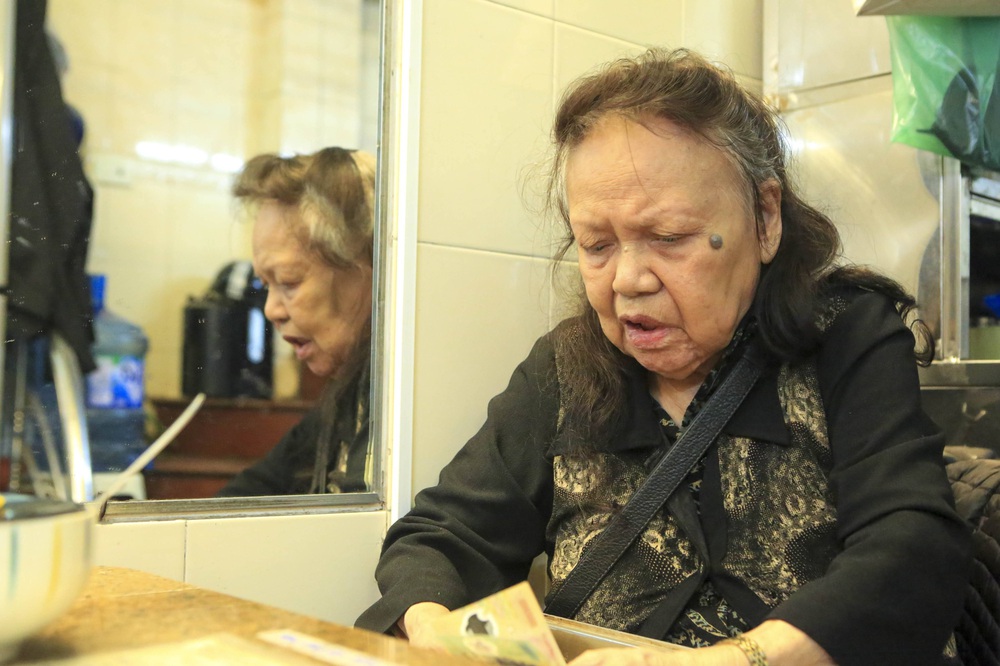 Mai took on the responsibility of cashier to "less hands free"
Although confused in old age, Mai always remembers fond memories of the shop's famous mixed tea from a young age. During the period of gathering in the North, he often took on the job of cooking for the soldiers. "Since the old days, I have cooked everything well. When I was young, I cooked tea for the soldiers. After the soldiers finished eating, it was so delicious, they brought the pan over and told me to continue cooking." grandpa recounted. Since then, after deciding to stay in Hanoi with her husband, Mrs. Mai decided to sell tea as a long-term profession to earn a living.
In addition, he especially emphasized: "Selling this tea, I never dare to put anything harmful. I never put sugar in it. I put chemical sugar in tea, I'm not human."
Sharing about some criteria for choosing ingredients to make a famous and expensive tea, Ms. Dung, daughter of Mrs. Mai, who has been teaching the profession since the age of 36, said: "Ingredients must be carefully selected, especially pearl powder because it is very difficult to make. Fresh fruit is the first criterion. My preservation method must also be good. Every day, I still check everything myself even though it is a good idea. The staff here are well versed in their work, there is something they have to do by themselves."
According to her, choosing flour to make pearls requires the most experience and difficulty. With pearl filling, especially chocolate, Ms. Dung must always import from Germany to be able to make a really satisfactory and quality ingredient.
Sincerely devoted to the career of selling tea inherited from Mrs. Mai, Ms. Dung never intended to open any other establishments. Although selling expensive goods and having a famous brand name for many years, she is still determined to maintain quality instead of chasing quantity.
Therefore, when it comes to future plans, she plans to pass the profession on to her young daughter. Part of it is to preserve the precious craft that Mrs. Mai is passionate about, and part of the desire to keep the old taste in the competitive "food city" for a long time.
Gradually over time, the guests came to "Old Mixed Tea 1976" not only because of temporary curiosity, but because of the worthy quality that held them back.
Ms. Phan My Linh (Da Nang) when coming to Hanoi, her friend took her to eat here for the first time, she couldn't help but be praised: "Each place has a different taste. But the tea here is not too sweet. It has the fatty taste of green beans, and the pearls are also delicious. Outside here in addition to ingredients from beans, there are also fruits. Normally when I eat tea there is only 10,000 VND/cup. At first I looked here and saw 50,000 VND/cup, man, I was shocked. Fifty thousand is a very expensive price, if sold in Da Nang, the price would be fine. No one eats this. But it's really worth it, because the tea is so delicious."
Although popular tea has an expensive price, Mrs. Mai's shop, Ms. Dung always has a huge number of regular customers. As a longtime customer, Ms. Phan Thu Giang (Cau Giay) always chooses the shop as the ideal place to meet and talk with friends and colleagues.
She recounted: "I have been eating tea here for 43 years now, since I was 3 or 4 years old, when I was a kid. But everyone in my family eats tea here. My friends also eat tea after growing up. I've tried most of the 72 tea dishes here, the mixed dish is the famous dish at this shop. At 50,000 VND for a cup, I think it's totally worth it. In Hanoi, I haven't seen any tea shops. as good as this restaurant."
https://soha.vn/quan-che-thap-cam-bi-phan-anh-dat-nhat-ha-thanh-ngay-cao-diem-ban-het-1500-coc-20220404004459148.htm
You are reading the article
Peak day sold out 1500 cups

at
Blogtuan.info
– Source:
Soha.vn
– Read the original article
here