Ô tô - Xe máy
The price of Toyota cars suddenly increased, many customers announced that they had dropped the deposit and "turned the car"
In the latest price adjustment, Toyota Vietnam increased the price of up to half of the business model, causing many customers to declare that they had dropped the deposit and turned the car because not only the price increased but the waiting time for the car was too long.
After much speculation, on April 3, Toyota car dealers said that they had announced the new selling price to apply from May 1 to here. According to the new price, up to 9 models out of 17 models in business of Toyota Vietnam increased by 5 to 40 million dong.
Among the cars that increased in price, the highest level increased by 40 million VND were 3 high-end imported cars Toyota Land Cruiser Prado, Land Cruiser 3.5 and Alphard. Similarly, 4 imported mid-range car models also increased sharply by tens of millions of dong, namely Toyota Cross (up 16 million dong), Camry (up 18 to 21 million dong), Raize (up 20 million dong) and Yaris (up 16 million dong).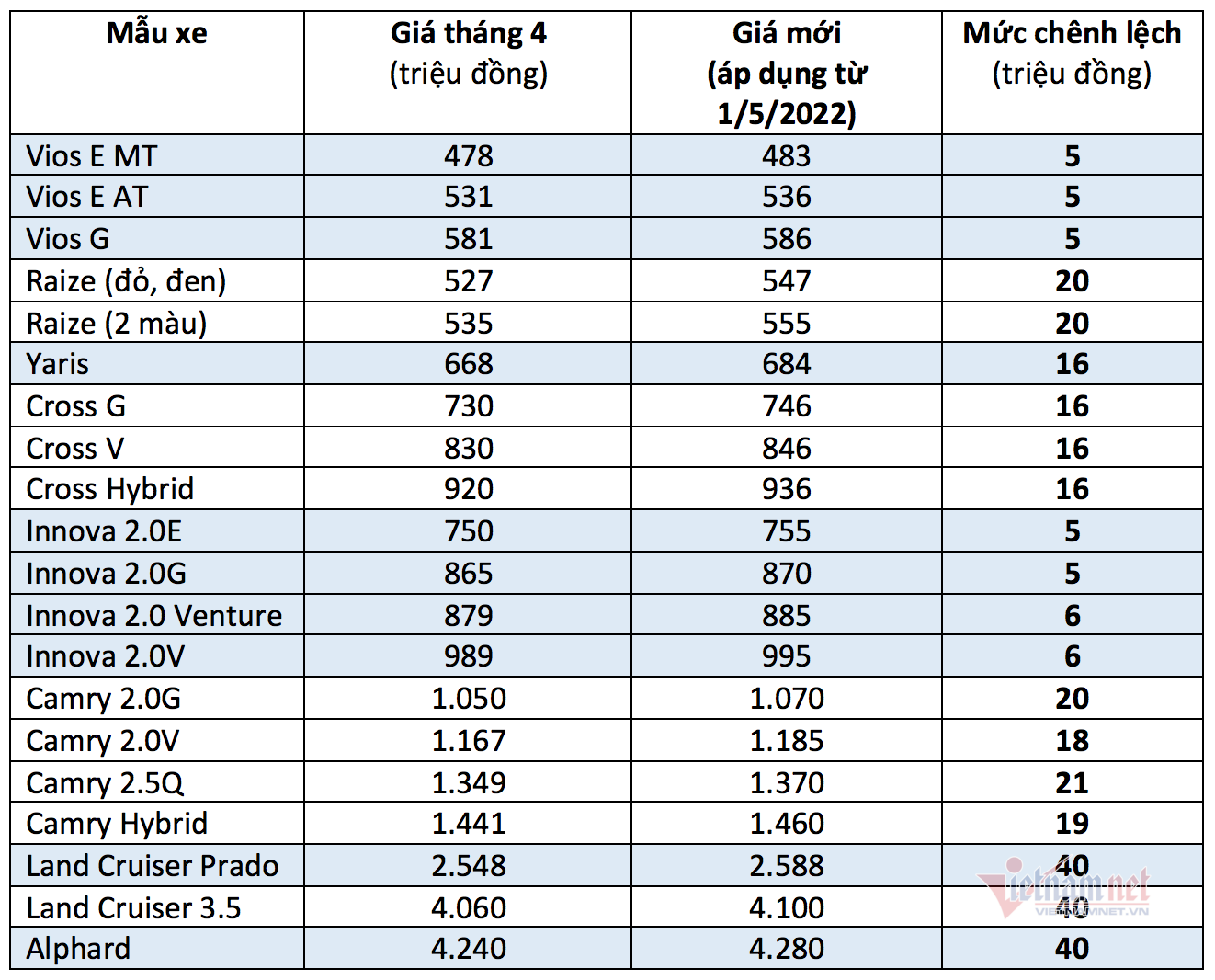 New price list of Toyota Vietnam
Thus, this is the first public price increase of Toyota Vietnam in 2022. Before that, many imported Toyota models appeared in short supply, customers who waited for a long time were suggested to add new money. taken early.
The state of "selling beer with peanuts" with Toyota cars has appeared since December last year and continues to the present. The model with the most "difference" is the Land Cruiser with a difference of 500-700 million, even in the south there are dealers who report an increase of nearly 1 billion VND, but it is not easy to get a car right away.
With new models launched for a while such as Toyota Cross, Raize, Camry, the difference is from 20 to 50 million VND depending on the dealer. Many sales (sales staff) explain that the source of goods is small, customers who are not "quick hands" have to wait without an exact appointment date.
Even with 2 new models Veloz Cross with Avanza Premio launched on March 22, was also immediately caught up in the "beer with peanuts" vortex. Dealers suggest that customers buy more accessories worth VND 40-50 million for Veloz Cross CVT Top version to receive the car for delivery early in April, otherwise need to wait until June, July. This accessory package includes glass stickers, floor coverings, dash cams… are criticized by customers as being twice as expensive as buying outside.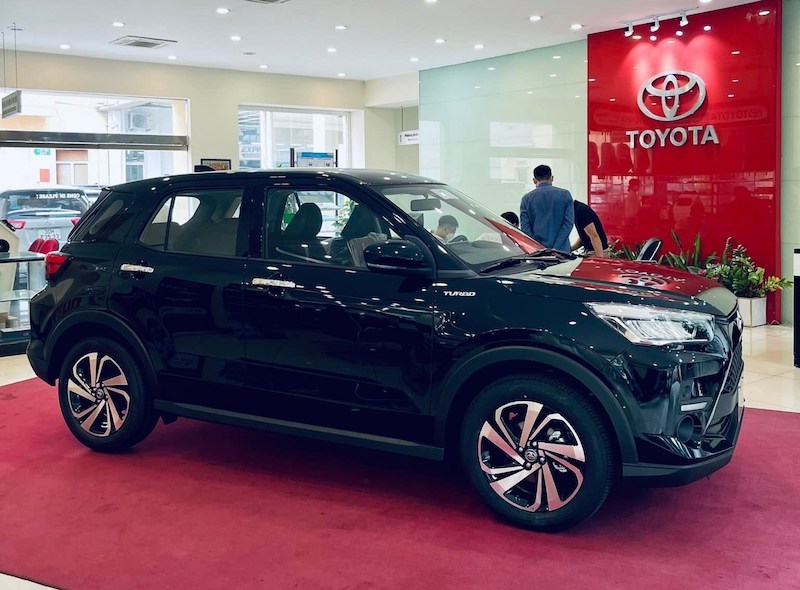 Many customers decided to "turn the car around" because they were tired of waiting for Toyota Raize for too long, now adding an "increasing price" factor.
Currently, Toyota Vietnam only installs Vios, Innova and Fortuner, of which Vios has good sales, Fortuner is no longer at its peak and Innova is about to "disappear". The consumption of Vios in 2021 is less than 20,000 vehicles, down 34% compared to 2020. Here, Vios and Innova models also increase in price by 5 million, which may make it difficult for Toyota Vietnam to sell assembled cars. more important.
Many customers looking to buy a car that has been sold Toyota whisper that the price will increase in the coming May, in addition to those who have prepared to accept because the market is short of Toyota cars, there are still customers who decide to… car.
Mr. Nguyen Quang Duc, director of a construction company in Thach Ban, Long Bien (Hanoi) said that he is looking for a car or two from another company to replace the Toyota Raize that has been deposited since the beginning of the year. "I booked the car in February, the dealer who made an appointment to have a car in August, I also accepted because it was still suitable for the time before my child entered the new school year. But now they say that they may only get the car at the end of the year, even though it has to be done. agree to buy 50 million dong accessories car price 20 million more. It's too absurd for a small car," Mr. Duc said.
In the same situation as Mr. Duc, Ms. Tran Thi Loan (Tay Ho, Hanoi) is not sure when she will have a Raize car even though she has signed a contract to order since January. After the sale called to inform the price increase, Loan is bored and is planning to switch to a small car of size A assembled in the country.
Do not choose a Toyota model that is "famous" in short supply, but Mr. Nguyen Van Nam in Dong Da (Hanoi) is wondering about ordering a Veloz Cross CVT Top car (688 million VND) even though he has considered accepting an additional 50 million VND. accessories are equivalent to the price of 730 million VND, because the dealer has not yet finalized the exact delivery date of the car. Mr. Nam said: "I don't want to have to wait until 3 months to have a car, but the dealer does not agree to put the compensation agreement into the contract if the car is not delivered on time. Probably have to find another car brand available, to avoid confusion. ."
Recently, not only Toyota has had a "scarcity" situation due to the crisis of lack of components and production spare parts, especially semiconductor chips globally, brands such as Ford, Mercedes-Benz, Hyundai, Kia There is also a scene of "long-necked" customers waiting for attractive cars. However, with the simultaneous increase in prices to half of the product range, only Toyota is the pioneer.
Buying a car "beer with peanuts" or selling "disparity" for extra money has actually taken place for a long time in Vietnam with "hot" car models that many people are interested in. Usually only in peak periods such as year-end, Tet or when there is a stimulus from the Government, but when prices have increased and have to wait for a long time, they have never appeared as much as in early 2022.
Dinh Quy
What perspective (or experience) do you have on this issue? Please share the article about the Department of Automobiles and Motorcycles by email: otoxemay@vietnamnet.vn. Appropriate content will be posted. Thank you!
You are reading the article
The price of Toyota cars suddenly increased, many customers announced that they had dropped the deposit and "turned the car"

at
Blogtuan.info
– Source:
vietnamnet.vn
– Read the original article
here