Prepare materials
1. Eggs, potatoes, carrots,
2. Soy sauce, cornstarch
At each age, children need different nutrition to timely develop. In particular, breakfast must be of sufficient quality as a top priority. Breakfast helps provide an abundant source of energy for your baby's healthy activity throughout the day.
Breakfast Besides getting enough nutrients, easy absorption is also a very important factor. However, in reality, many parents because of busy work do not have much time to make a full breakfast for their baby. Sometimes it is a temporary purchase from outside, which is not of sufficient quality and not hygienic.
The following breakfast dish is incredibly quick. It helps mothers to save time while providing adequate nutrition for their babies. This breakfast cake can be a favorite for children and other family members. Not only supplement zinc, calcium but also help provide vitamins to protect eyesight.
How to make potato egg tarts – delicious breakfast
Preprocessing
Prepare the necessary ingredients to make potato meringue: 4 eggs, two potatoes, 1 carrot, soy sauce, corn starch.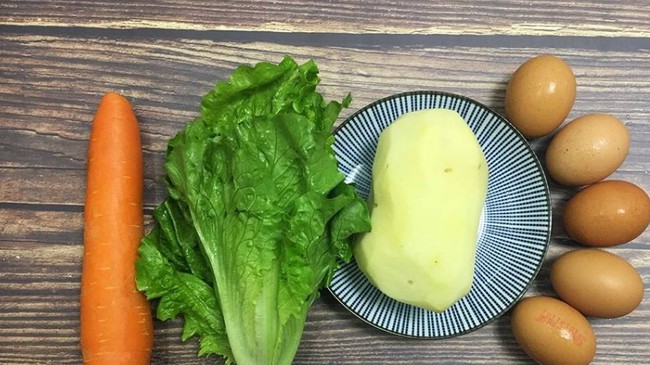 Potatoes, carrots peeled and grated. Add a little salt, soy sauce, and an egg to marinate with grated vegetables.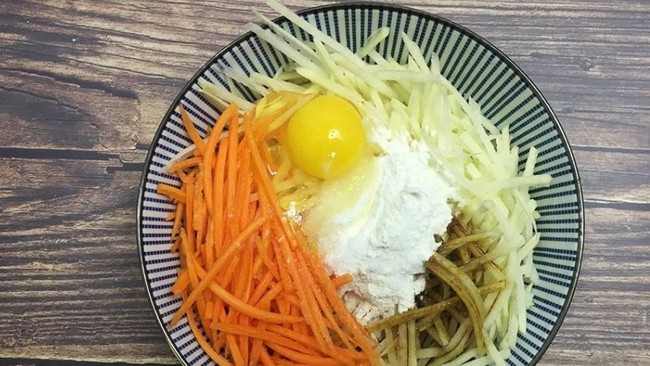 Processing
Heat a pan with the right amount of oil. Add in the marinated shredded potatoes and carrots. Make a circle in the middle.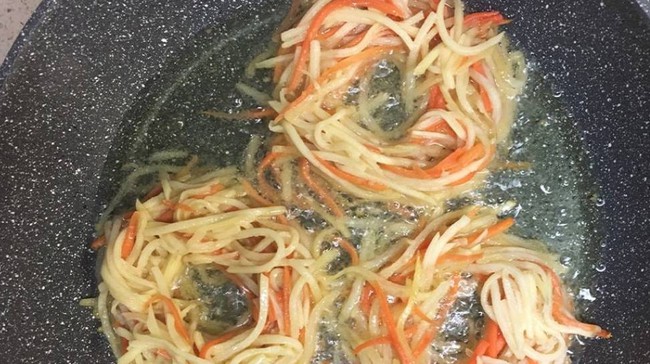 Fry the vegetables over medium heat. Then, separate the egg yolks into the empty space, fry until the vegetables are golden brown and the egg surface is golden.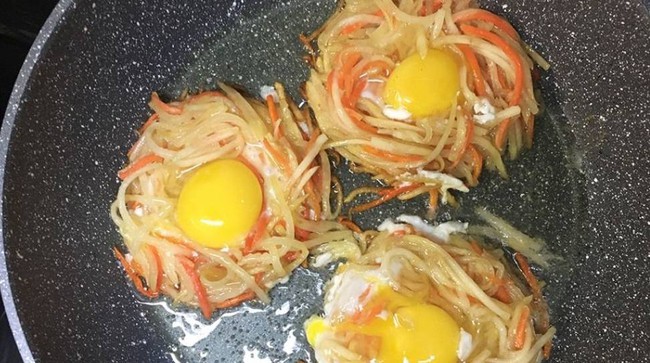 Flip the potato custard pie, fry more until golden. Remove to a plate and enjoy.
The finished product is an even golden potato custard, the eggs are not raw and the vegetables are not scorched. Just a few minutes with simple steps, you're done potato egg tarts delicious and nutritious.
I wish you success with this potato egg tart recipe!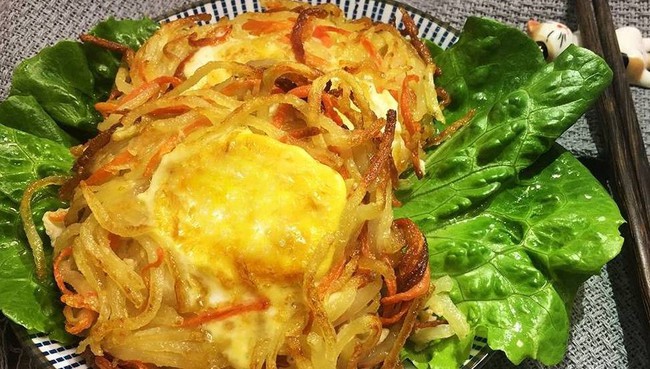 BILLIONChicken eggs are foods with high protein content. In addition, chicken eggs also contain a large amount of calcium and amino acids necessary for the development of the body.
Potatoes contain a lot of starch, protein and trace elements such as potassium and calcium. Therefore, the health of children will be more assured when adequate potatoes are added to the diet.
Vegetables like carrots sometimes children don't like to eat. However, processing in this style of egg tarts is very easy to eat, no longer has a pungent smell. Carrots contain many essential vitamins. At the same time, carrots are good food for the eyes. Because they contain a large amount of carotene, which reduces eye fatigue.
Young children are in a period of development. Add to that the pressure of studying and using a lot of eyes. Therefore, in the diet, it is necessary to add many foods that are good for the eyes.
https://afamily.vn/bua-sang-nay-se-la-mon-khoi-khau-ca-nha-an-vao-khong-chi-bo-sung-kem-va-canxi-ma-con- help-bao-ve-thi-luc-2022040419362088.chn
You are reading the article
How to make delicious and nutritious potato egg tarts

at
Blogtuan.info
– Source:
Afamily.vn
– Read the original article
here