50 Years of "Baby Napalm"
Returning to Vietnam one day in early April, photographer Nick Ut had emotional shares about the photo "Napalm Baby" after 50 years of shocking the world at the opening of his exhibition in space. Art Lavellery Gallery.
22 photos associated with Nick Ut's career as a war correspondent were once again touched by many viewers, especially the photo "Baby Napalm", The work won the Pulitzer Prize in 1973.
In the short clip, legendary photographer Nick Ut told about the journey he took the little girl Kim Phuc (the main character in the photo). Baby Napalm) was burned, his skin was peeled in patches, and cried in pain to the hospital in his car. Fortunately, thanks to the support of Nick Ut, the girl slipped through the narrow door to continue her life.
"At that time, it was very panic, the people ran out, there was Kim Phuc's family, the grandmother was holding a 3-year-old child that he had already lost. I saw Miss Kim Phuc trembling before borrowing a shirt to cover her body for her. Yes, and the little ones cry, they cry.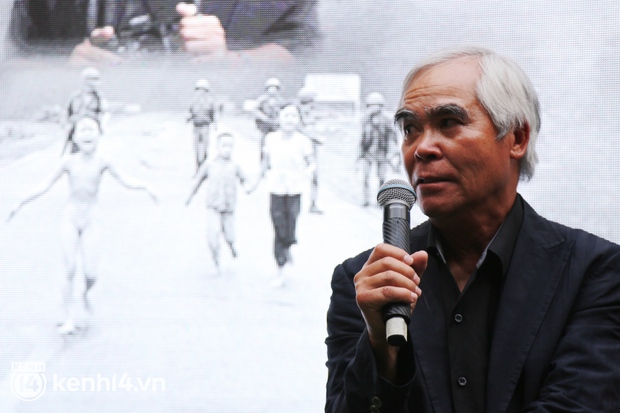 Mr. Nick Ut talked about the time when the photo was taken
There were also a lot of press reporters, but they finished taking pictures and had to run back to quickly transfer pictures. I said that if I don't get Kim Phuc to go to the hospital and leave, later if I become famous, she dies, I will commit suicide. If Kim Phuc dies, the photo will no longer be worth anything…"photographer Nick Ut confided.
When taking Kim Phuc to a nearby hospital, the nurses initially refused to accept them because they did not have enough medicine and facilities. After putting pressure on the hospital, Kim Phuc was accepted for treatment, although at that time, both the doctors at the hospital and Nick Ut, no one thought Kim Phuc would live…, all prayed.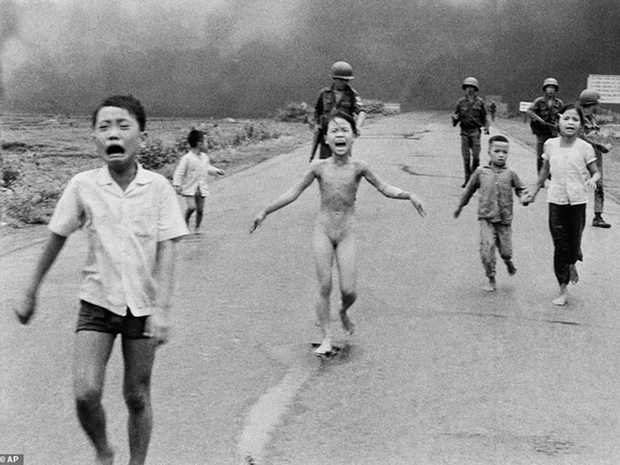 The photo "Napalm baby" shocked the world by photographer Nick Ut
Many people who love Nick Ut were present at the opening of his exhibition at the Lavellery Gallery art space.
Overcoming the crisis, Kim Phuc fortunately survived and became a part of Nick Ut's family. For 50 years, the two uncles and grandchildren consider each other as relatives, often meeting and exchanging. Later, Kim Phuc himself went around the world, working as a peace ambassador to speak out to protect children around the world.
No one wants war to happen…
Although it has been 50 years, for photographer Nick Ut, the images in Trang Bang in 1972 were only fleeting, making him always haunted by war, loss and pain.
Every time he returns to Vietnam, he visits the old village, watching the development of Trang Bang from a painful land makes him extremely happy and happy.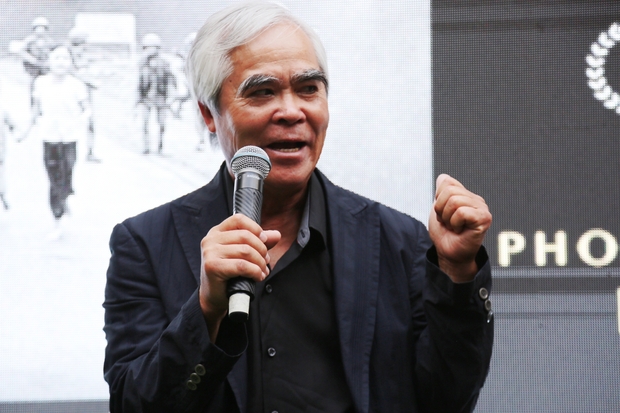 The photographer tells about the process of participating in the operation on the battlefield
"In 1975, when the war ended, I was very happy, I also hope there will be no more war anywhere." Photographer Nick Ut confided.
Although he is more than 70 years old, his enthusiasm and passion for the profession is still burning in his person. Recalling his time on the battlefield, Mr. Nick Ut said he was injured 3 times, but when he recovered, he continued to come to the battlefield to record the most honest stories and images to hope the war could be possible. finish.
Having a precious photo as well as a documentary about Kim Phuc, photographer Nick Ut said that it was not luck. Based on his experience on the battlefield, only he has "film" to be able to record that true image.
To the question of Artist Quoc Trung: "After taking the photo, he immediately took Ms. Kim Phuc to the hospital. In that moment, what made him do this while all the newspapers rushed to send pictures. Was that his instinct? you or not?"photographer Nick Ut shared.
"At that time I was only 21 years old, I saw Kim Phuc's skin on fire, I couldn't think of anything more than the thought of saving this baby. I was also afraid AP if I didn't send the pictures back quickly, I would fire me but I chose to save her more importantly. Fortunately, when I brought Kim Phuc to the hospital, her life was saved, which is my greatest happiness."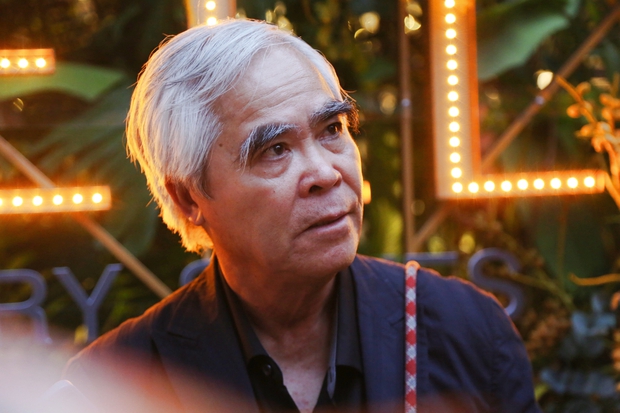 Memories of the war still haunt Nick Ut
Although it has been 50 years, the obsession of war is always in the mind of photographer Nick Ut. Not only himself but also many veterans, they did not want war to happen.
This trip back to Vietnam and the next time, the photographer spends a lot of time doing charity work, the veterans are also having a project to build a children's library, Mr. Nick Ut will join them. participate in that work.
"People who have lived through the war they live are haunted, have a lot of mental crisis, I have the same problem, so I rarely watch war movies. The fierceness of war is not in the battlefield but in the battlefield. Those who are drawn into it, Ms. Kim Phuc is an example."photographer Nick Ut shared.
Photographer Nick Ut is emotional during an intimate conversation on the 50th anniversary of the photo "Napalm Baby" that shocked the world
Photojournalist Nick Ut, whose real name is Huynh Cong Ut, was born in 1951 in Long An. In 1973 he won the prestigious Pulitzer Prize for his photograph Napalm Baby. The photo of a 9-year-old girl named Kim Phuc, screaming and running down the highway, her clothes and skin on fire after the US military's napalm bombing, shocked the world.
Nick Ut is a naturalized US citizen and is a former AP reporter in Los Angeles, USA, covering all kinds of news from earthquakes and wildfires to sports and movie stars.
https://kenh14.vn/gap-nhiep-anh-gia-nick-ut-sau-50-nam-buc-anh-em-be-napalm-gay-chan-dong-the-gioi-neu-co- be-ay-chet-toi-cung-se-tu-sat-20220405122620579.chn
You are reading the article
"If she dies, I'll kill myself too."

at
Blogtuan.info
– Source:
Kenh14.Vn
– Read the original article
here